App Auto-build Platform
Please log in the Tuya development platform (https://iot.tuya.com) using your account, if you do not have an account, you can register first.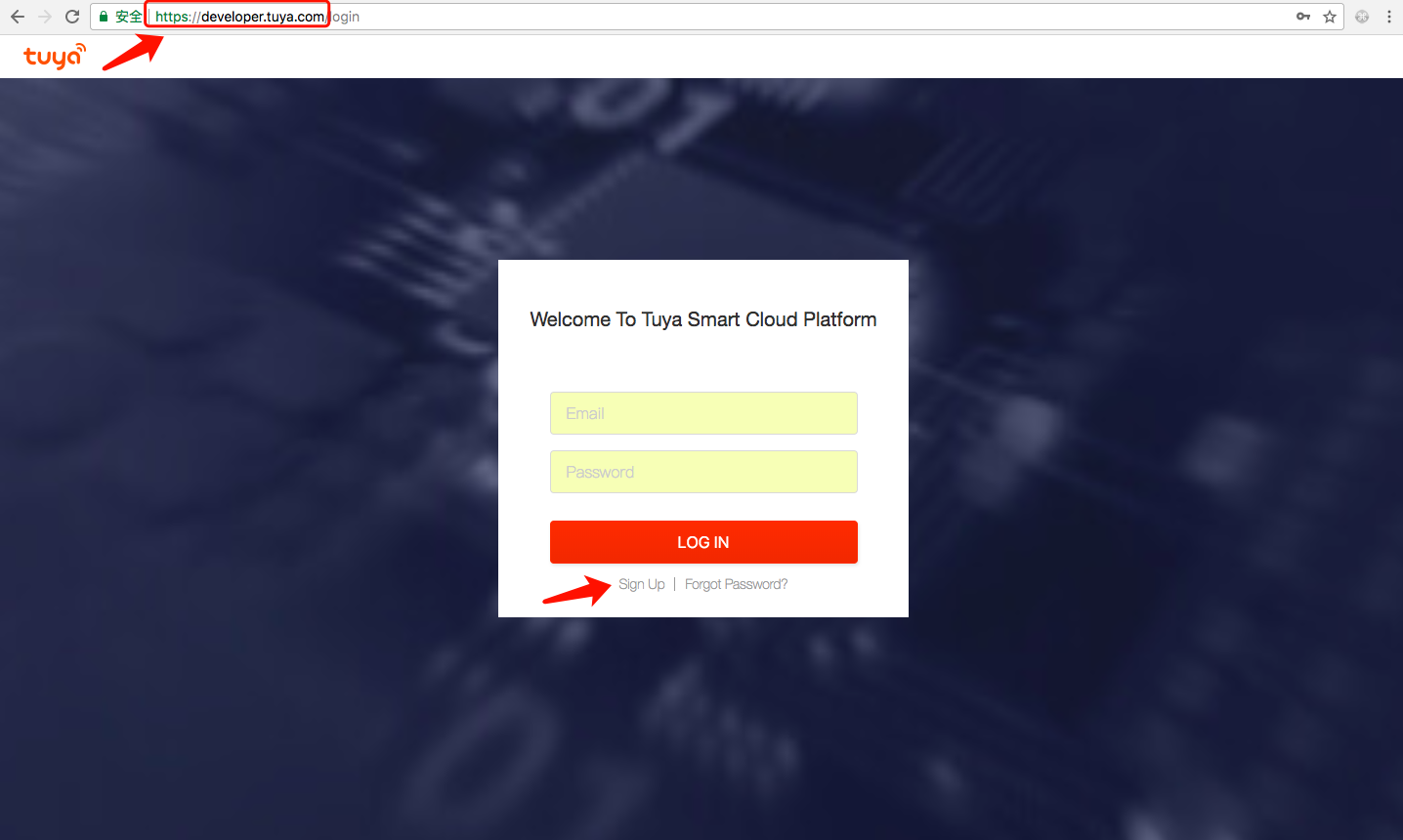 0 code to develop a smart App
Product-Branded APP: click "New App" and complete App information in the pop-up window to generate an App after successful login.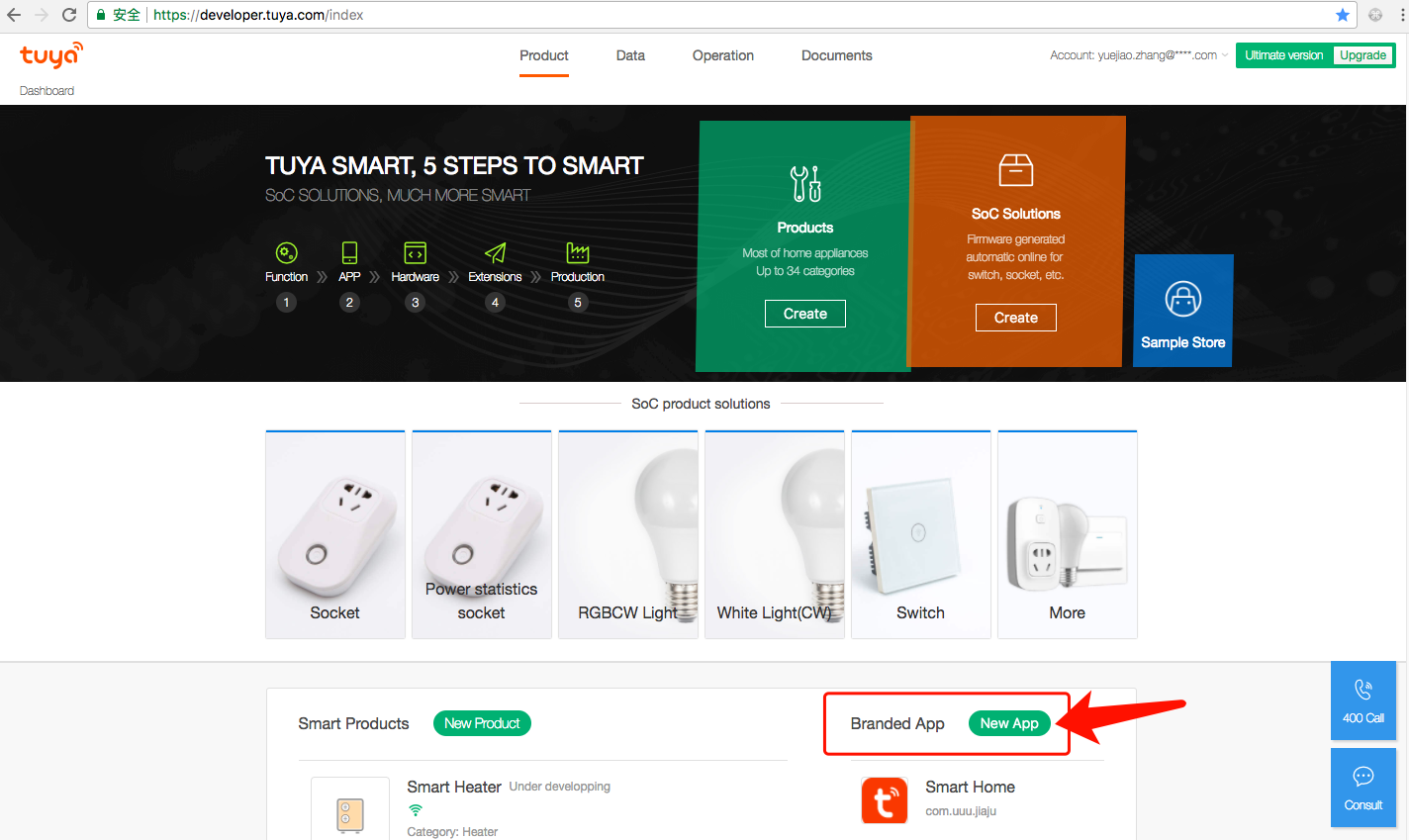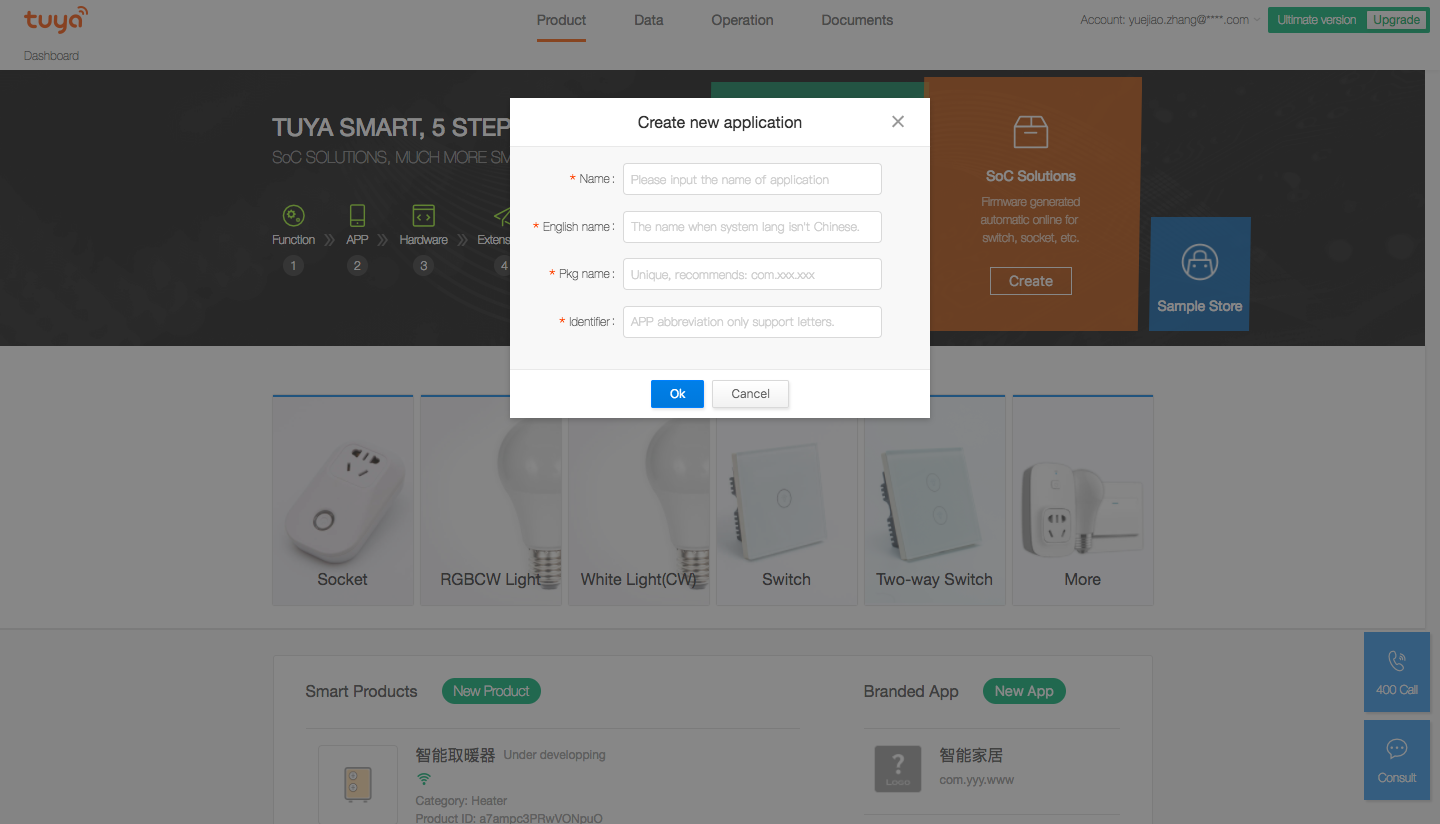 App Name: no more than 40 characters when the smartphone system is in Chinese version;
English name: no more than 40 characters when the smartphone system is in non-Chinese version;
App Package Name: the recommended format of the unique identifier of the App can be com.abc.abc (in the reverse order of the official website) and lower case letters are supported;
App Identifier Name: English abbreviation; and lower case letters are supported;
After an App is generated, you can directly enter the editing page, or enter via the App list; you can create or delete an App on the list… In the following sections, the complete process to create an App will be described in four steps.
Step 1: Personalization and functions
This step is used to customize the interface presentation of a new App, mainly including Brand Personalization, Basic Function Settings and Linked Products: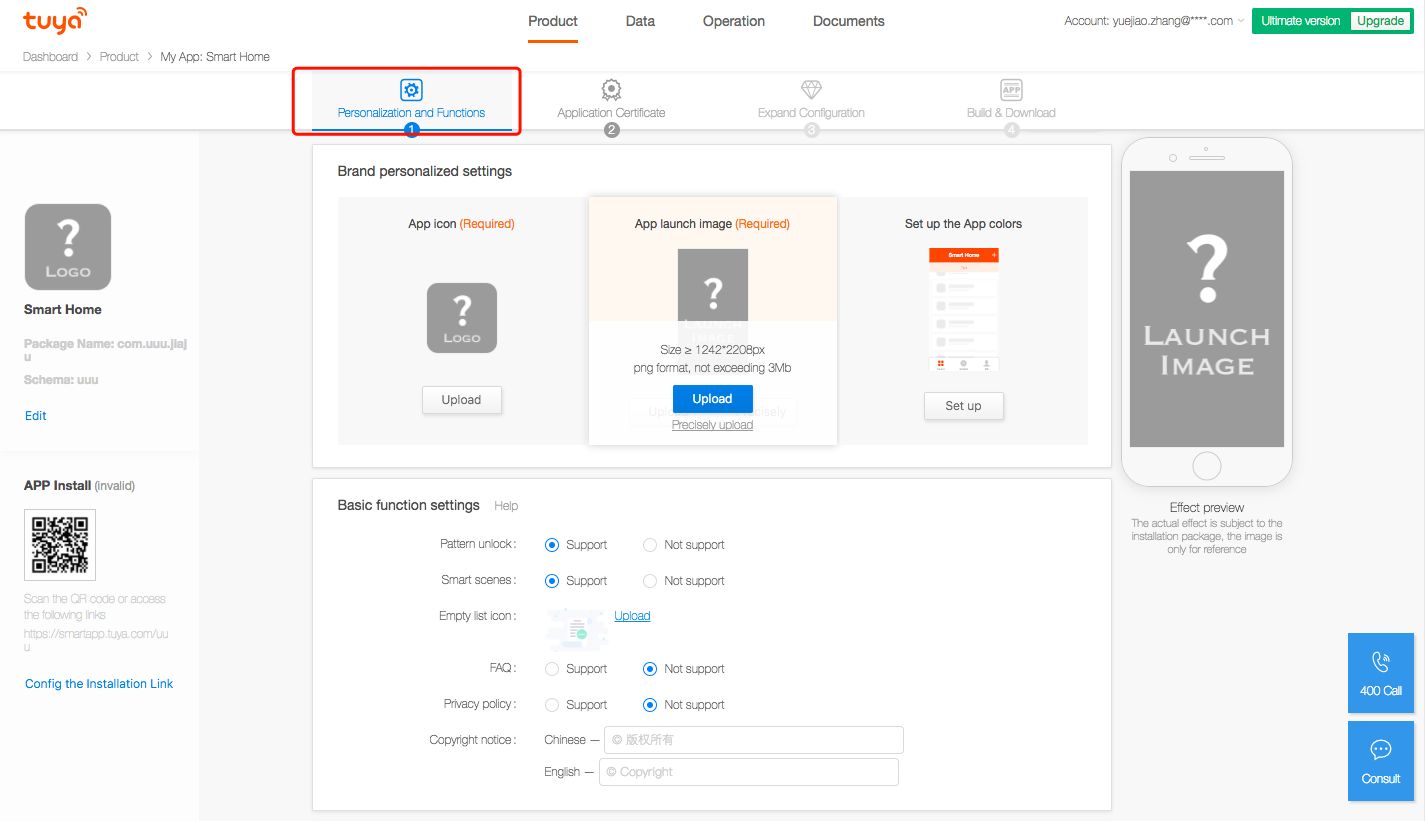 (1)Brand Personalization
It is mainly related to the interface, including the App icon, the launch image and the tone.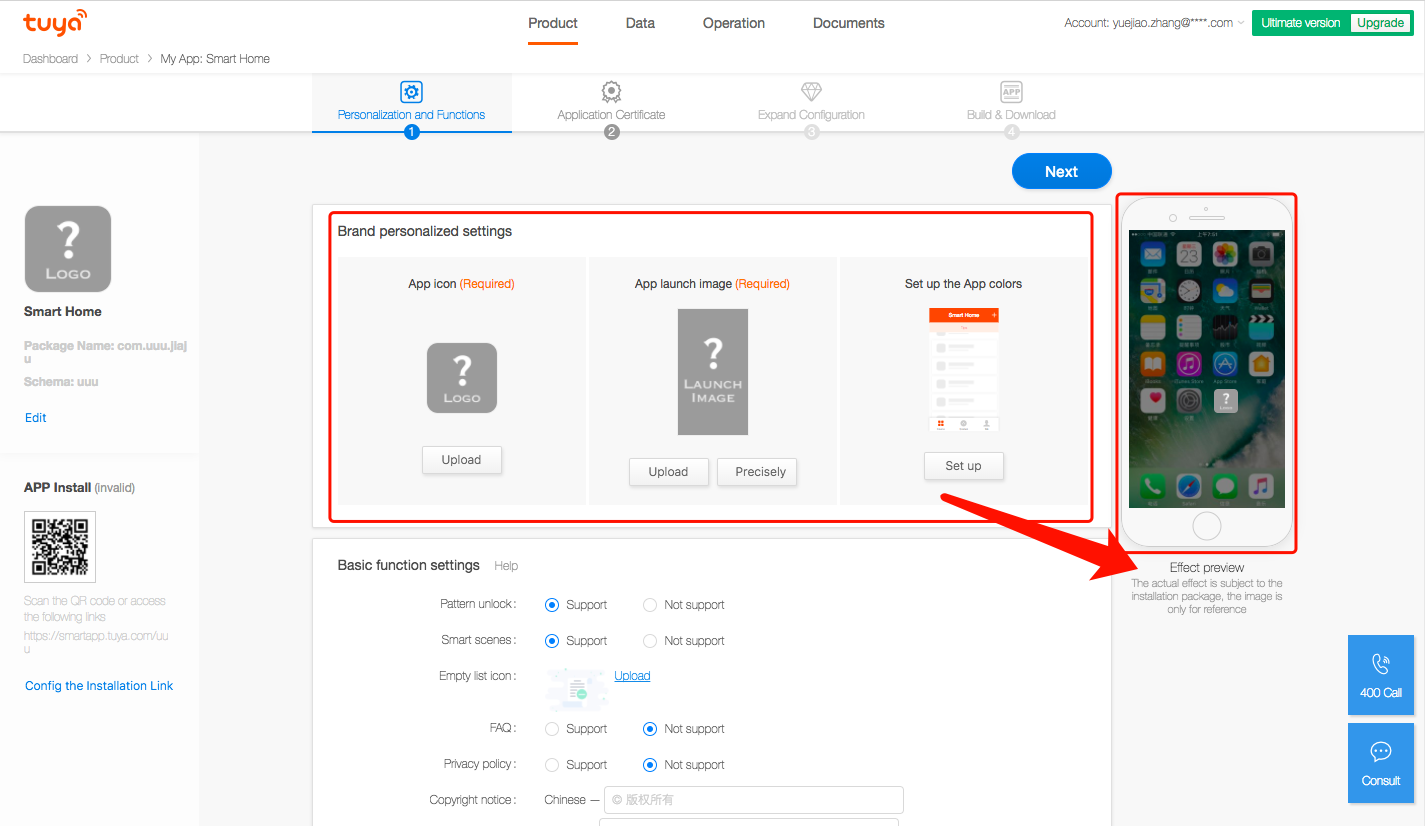 App icon (required): only the png format is supported, and the dimensions shall be 1024*1024px or greater.
Launch image (required): only the png format is supported, the dimensions shall be 1242*2436x or greater, and the size shall not be more than 3Mb.
Tone: the colors of the following items: Title Background, Title Characters, Navigation Background, Navigation Characters, Prompt Background and Prompt Characters. There are 16 preset color solutions for quick selection and the color setting is customizable.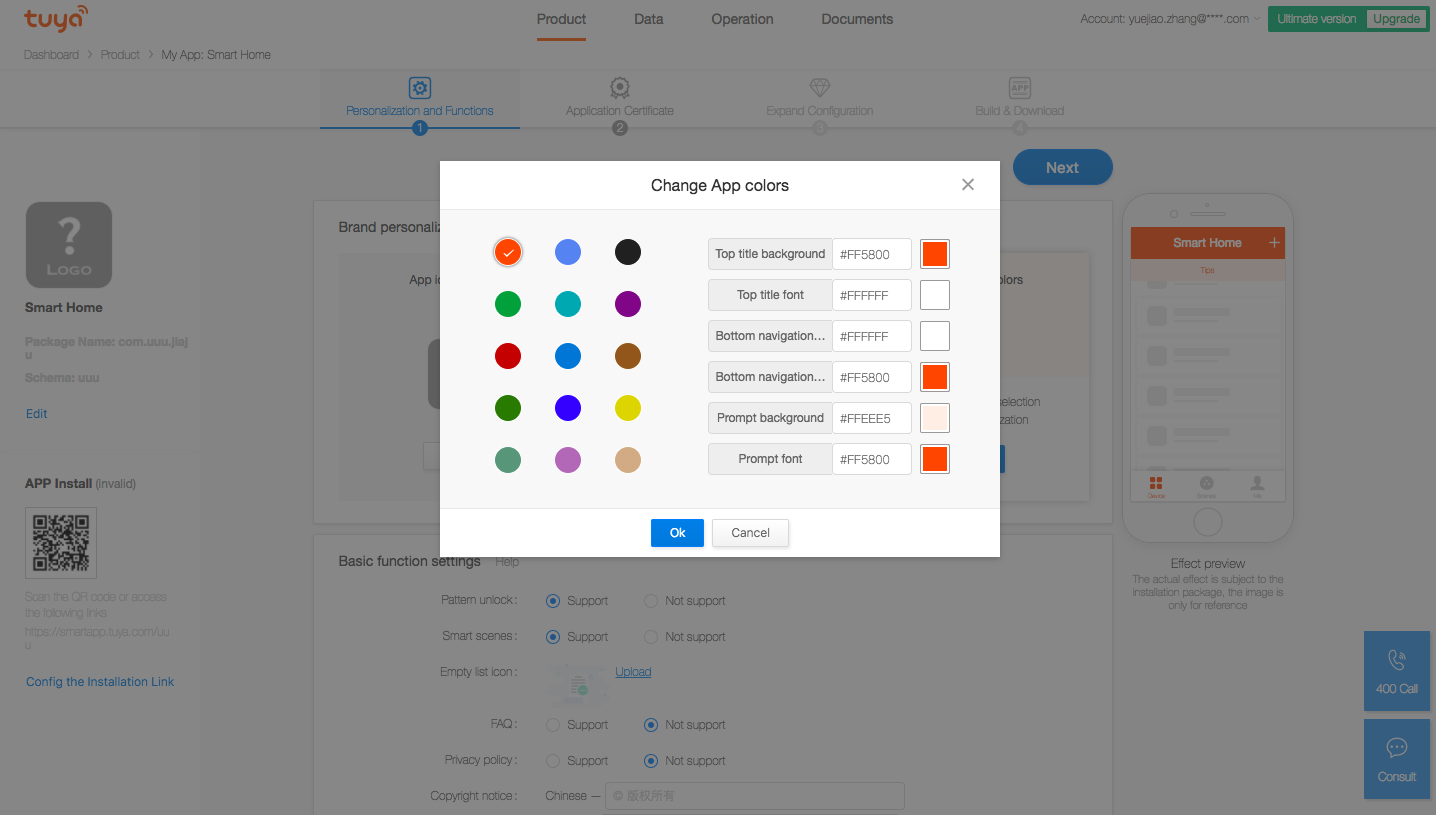 (2)Basic Function Settings
Gesture password

When the gesture password is enabled, the unlocking gesture is required to open the device list page of the App and to view and control the device, for higher security. Therefore, it is recommended to enable the gesture password.

Smart scene

This function is used to achieve the direct linkage control between devices or between the device and the external environment. For an App supporting the smart scene, there is "Smart Scene" in the middle at the bottom of the interface. The smart scene may expand the device intelligentization in a lot of potential fields. A device supporting the smart scene can be configured in the smart scene.

At the later stage, the development platform will release the authority of scene setting in a device. The user will be able to customize the supported scenes of each device.

Blank list icon

The default blank list icon is shown in the figure below, and users can replace by themselves if necessary. However, the icon must be controlled at a proper size.。

Common questions

The function is used to display common questions and answers about the utilization of the device and it is recommended to enable this function. When this function is enabled, the html files in English and Chinese shall be uploaded.

Privacy policy

When this function is enabled, the privacy policies in English and Chinese shall be uploaded. The privacy policy will be displayed on: App-Personal Center-About-Privacy Policy. In addition, the user will see the jumping portal during registration to the privacy policies.

Copyright claim
The copyright claim will be displayed at the bottom of the page of "Personal Center-About". (Optional)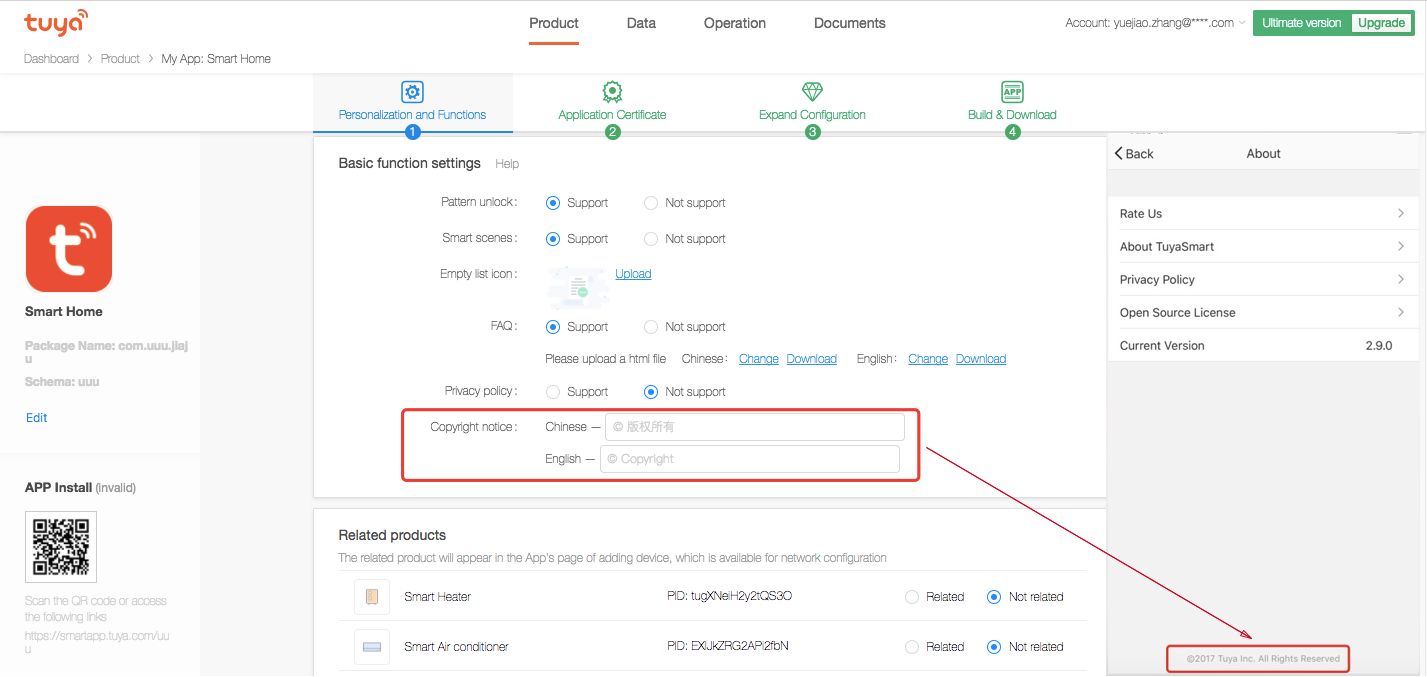 (3)Linked Products
When there is any product linked, the APP network configuration and classification column will display these products and the corresponding network configuration schemes. When there is no product linked, the equipment network configuration list will display the default list.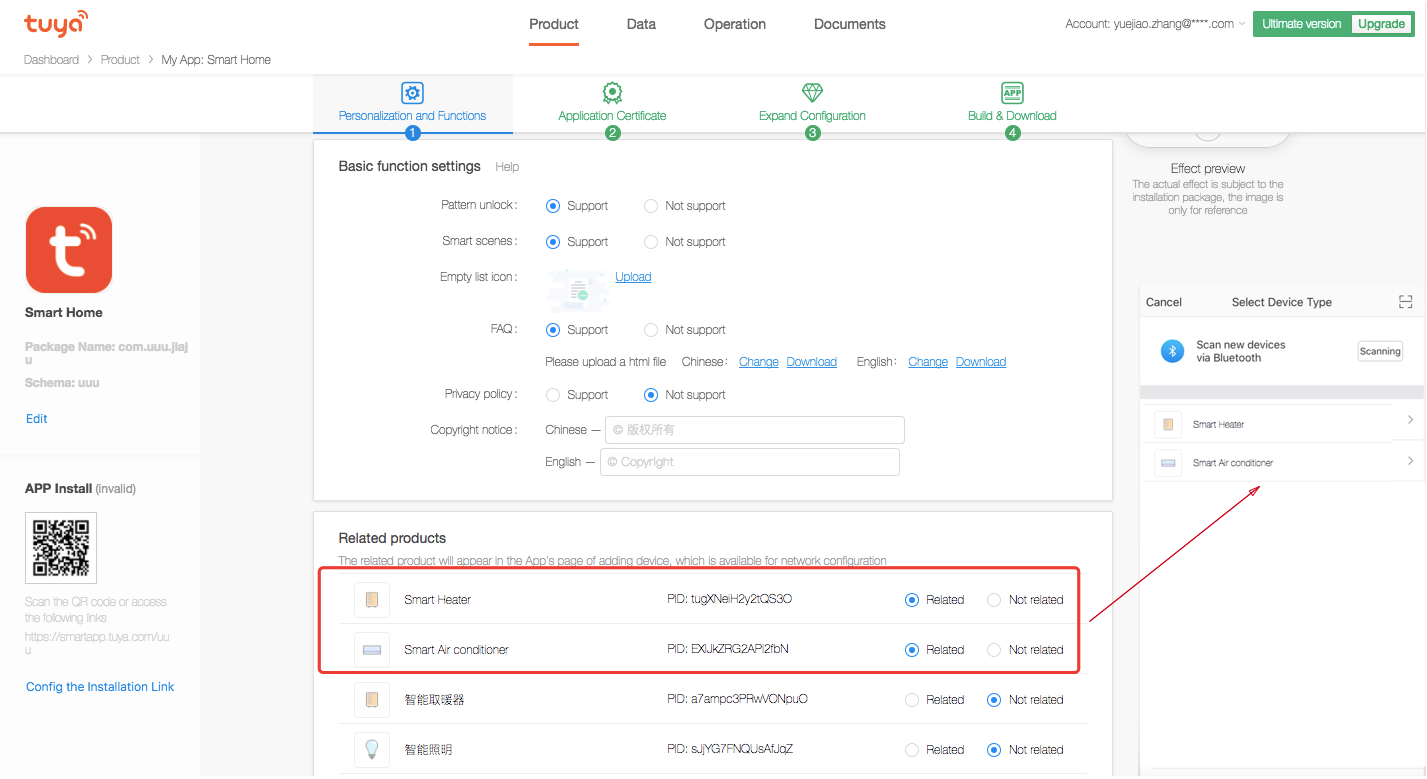 Step 2: APP license
The license is required when building and releasing an APP. Android license can be generated automatically by the platform, while iOS license needs to be uploaded manually. If you have no Apple developer account, you can obtain one at Apple developer platform. If you do not upload a license, a demo APP will be built.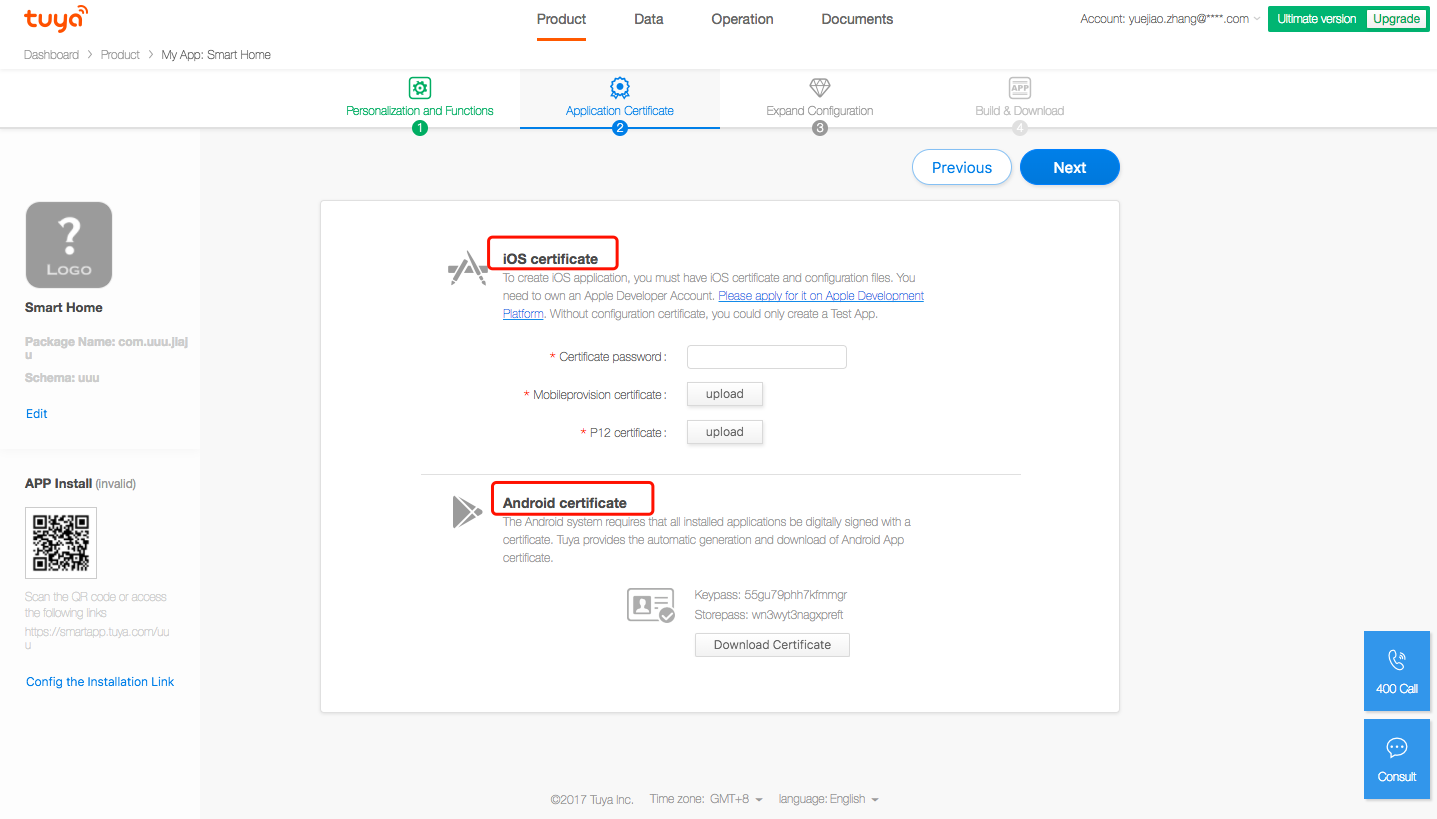 Step 3: Extension configuration
This will help configure other extensive functions, including message push, third party login, map configuration and cloud market configuration.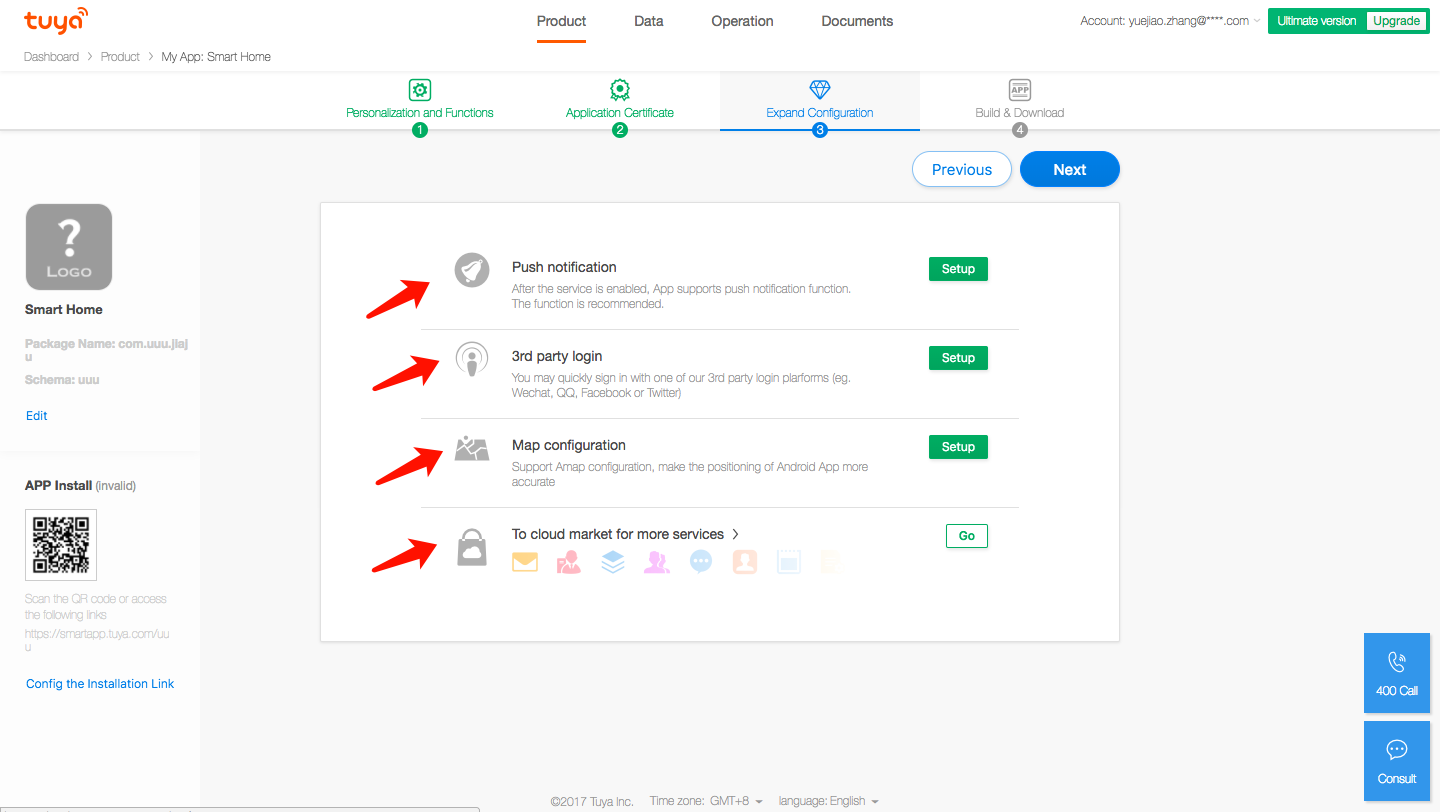 (1)Message Push
After the message push service configuration is enabled, the APP can push messages. It is recommended to enable this service. IOS and Android need to be configured separately.
See Umeng Information Key App Procedures for application procedures of App Key and Secrete of Umeng(www.umeng.com)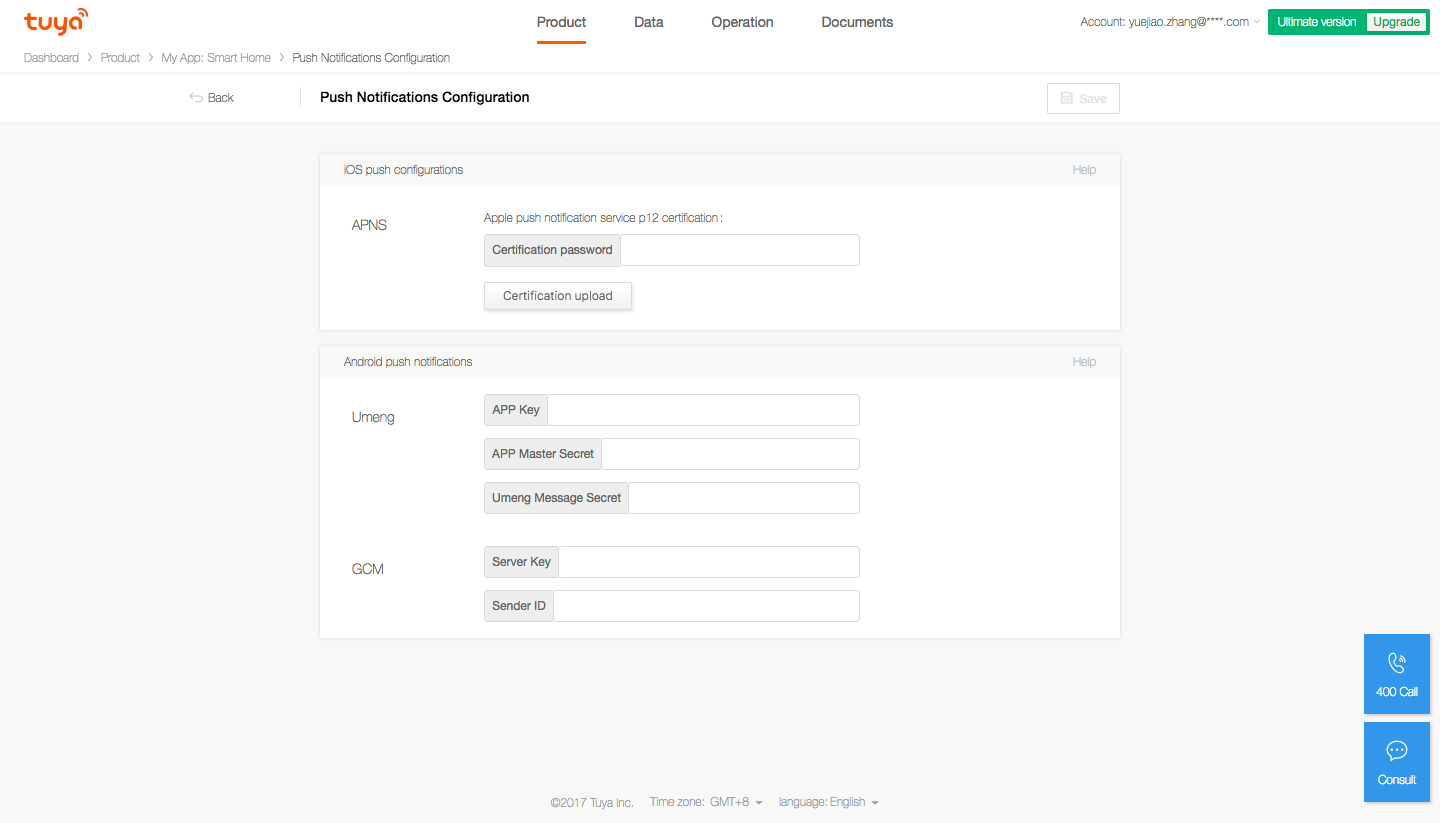 (2)Third Party Login
This will enable logging in the App quickly from a third party platform. This function is optional.
See the application courses in QQ login, Wechat login, Facebook login and Twitter login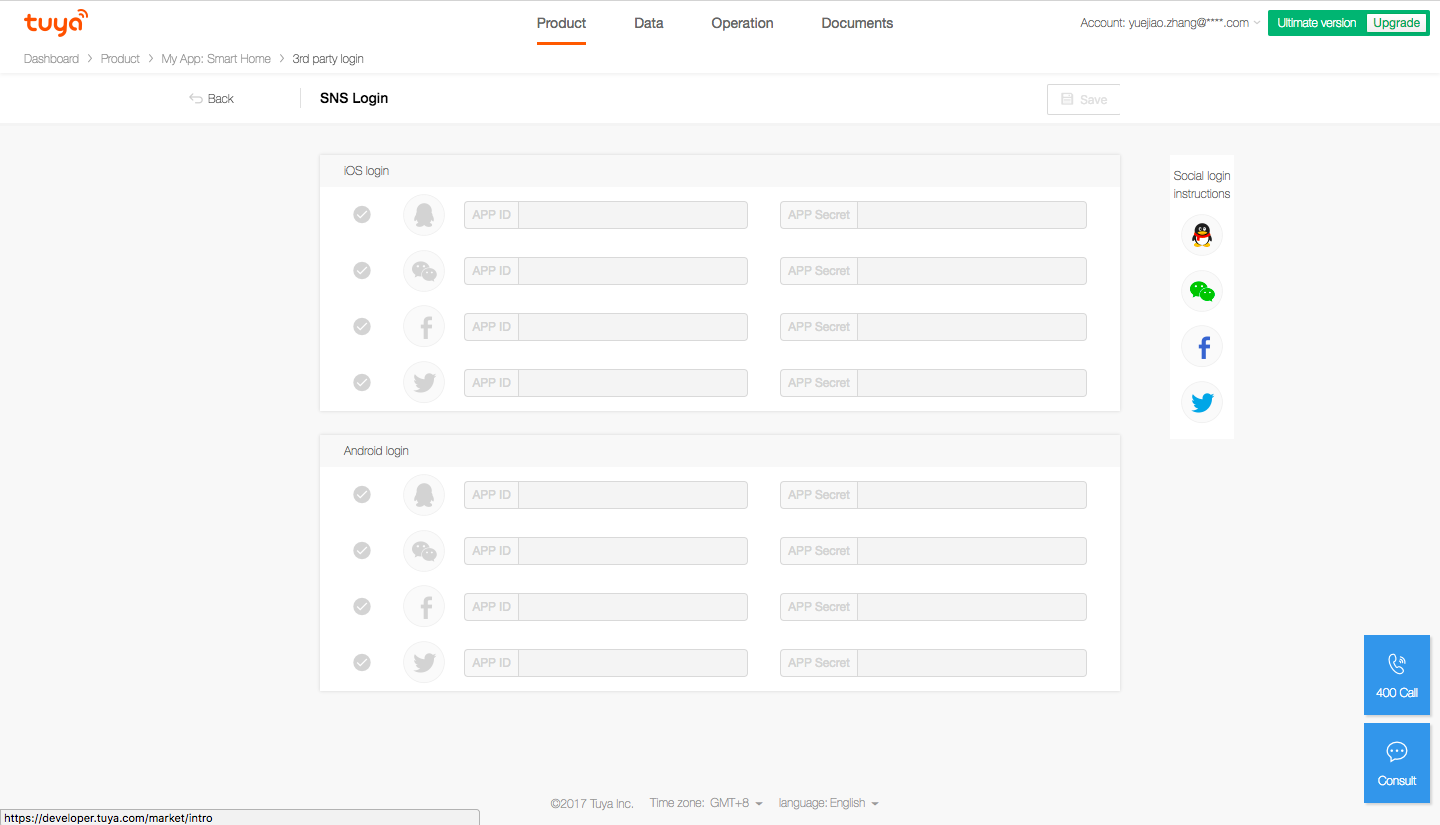 (3)Map Configuration
This enables an Android APP to position more accurately. It is not required on iOS system and is optional on Android system. (If your product depends largely on locations, for example, the air purifier that needs to obtain outdoor PM2.5 data, it's better to enable this function.)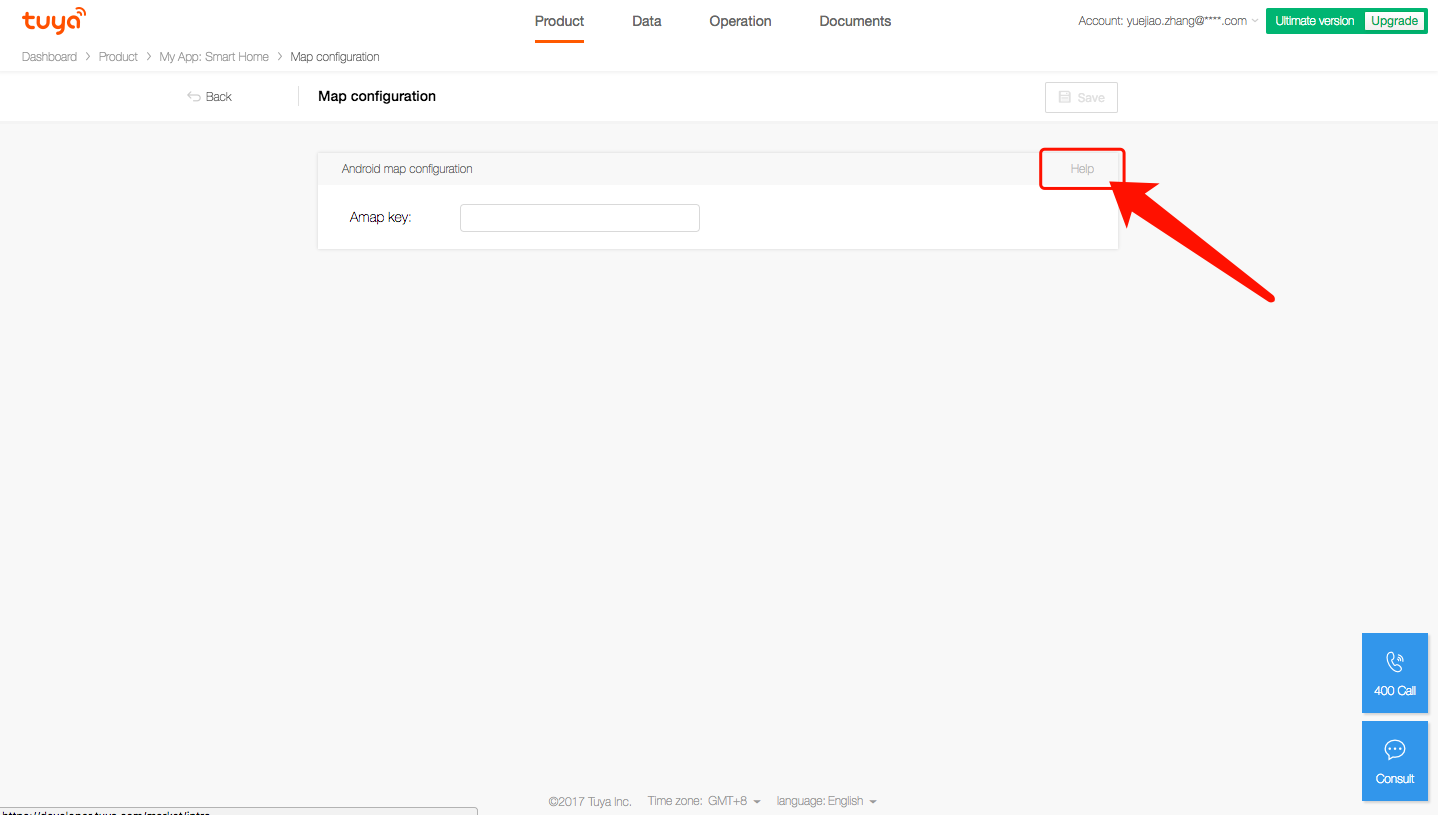 See Gaode Map Key Application for the application course
(4)Cloud Market
This function enables the user to view all the Apps and services supported by the development platform. Different account levels correspond to different view and use permissions on App services. If you want to have more App service permissions, please submit the opening application and our staff will contact you to verify the opening.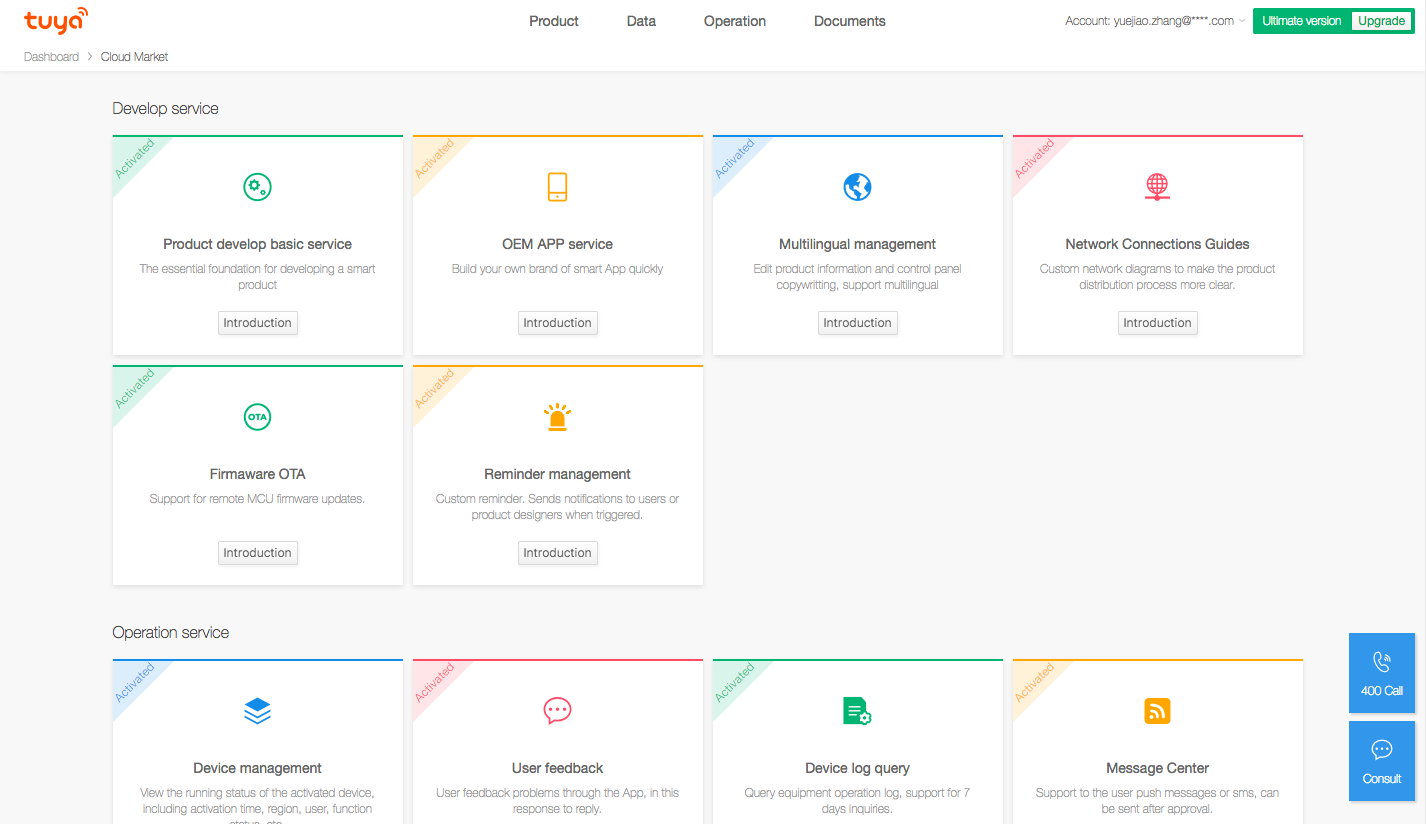 If you do not know your current account level, or you want to know the service permissions of your account, please click the green button of account version on the top right of page and read.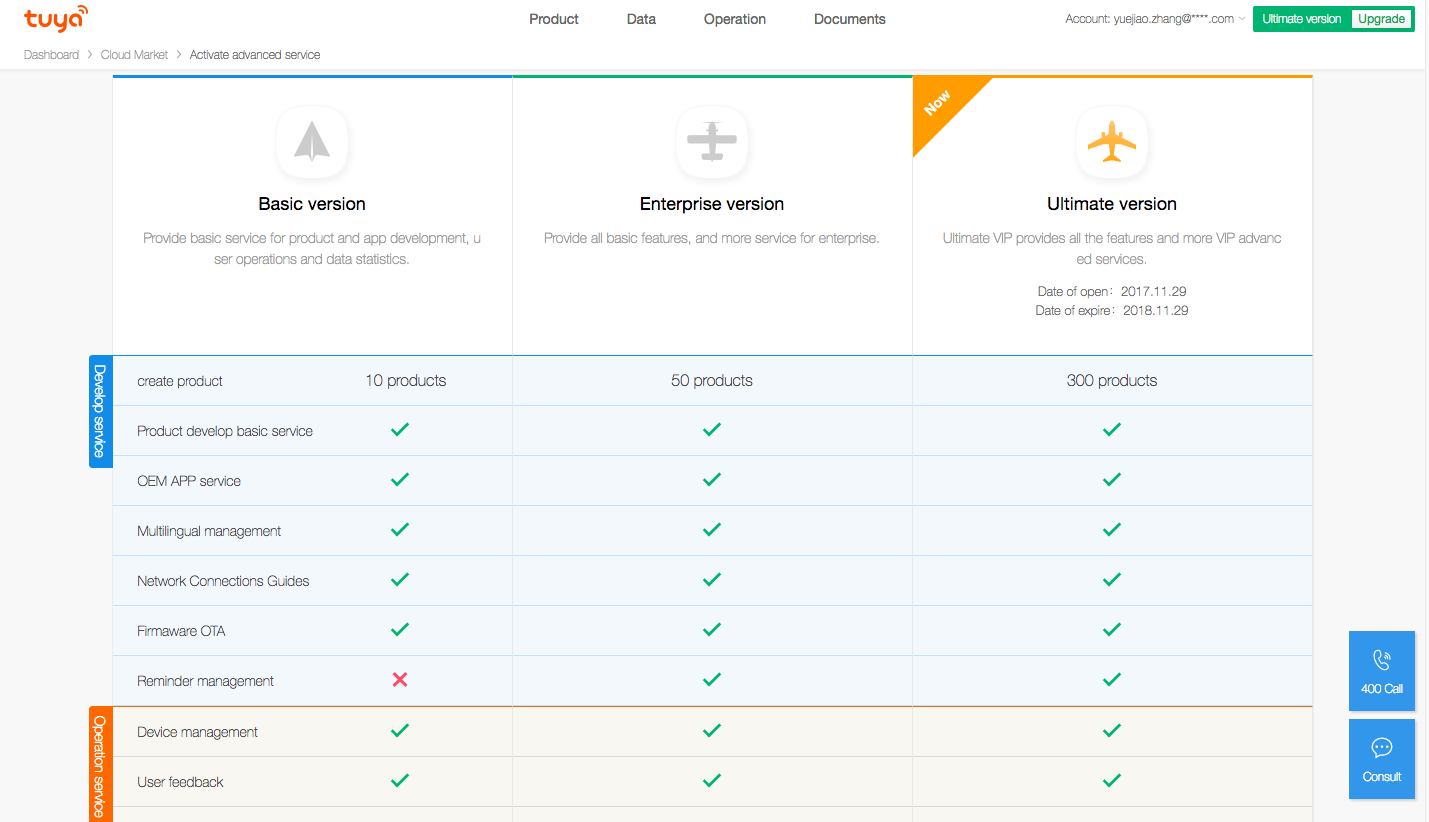 Step 4: Build and Download APP
(1)Build APP
Before execute this function, please ensure that the App configuration is complete and all licenses are uploaded. For an iOS App, when no license is uploaded, only a demo package can be built, and it cannot be released. This is a paid service, if you have already contacted with any service staff of Tuya Smart, you can directly contact it for approval. If still not, please contact our service staff. After the approval, you can download and install Apps of your own brand. You can conduct App tests or demonstration for your clients.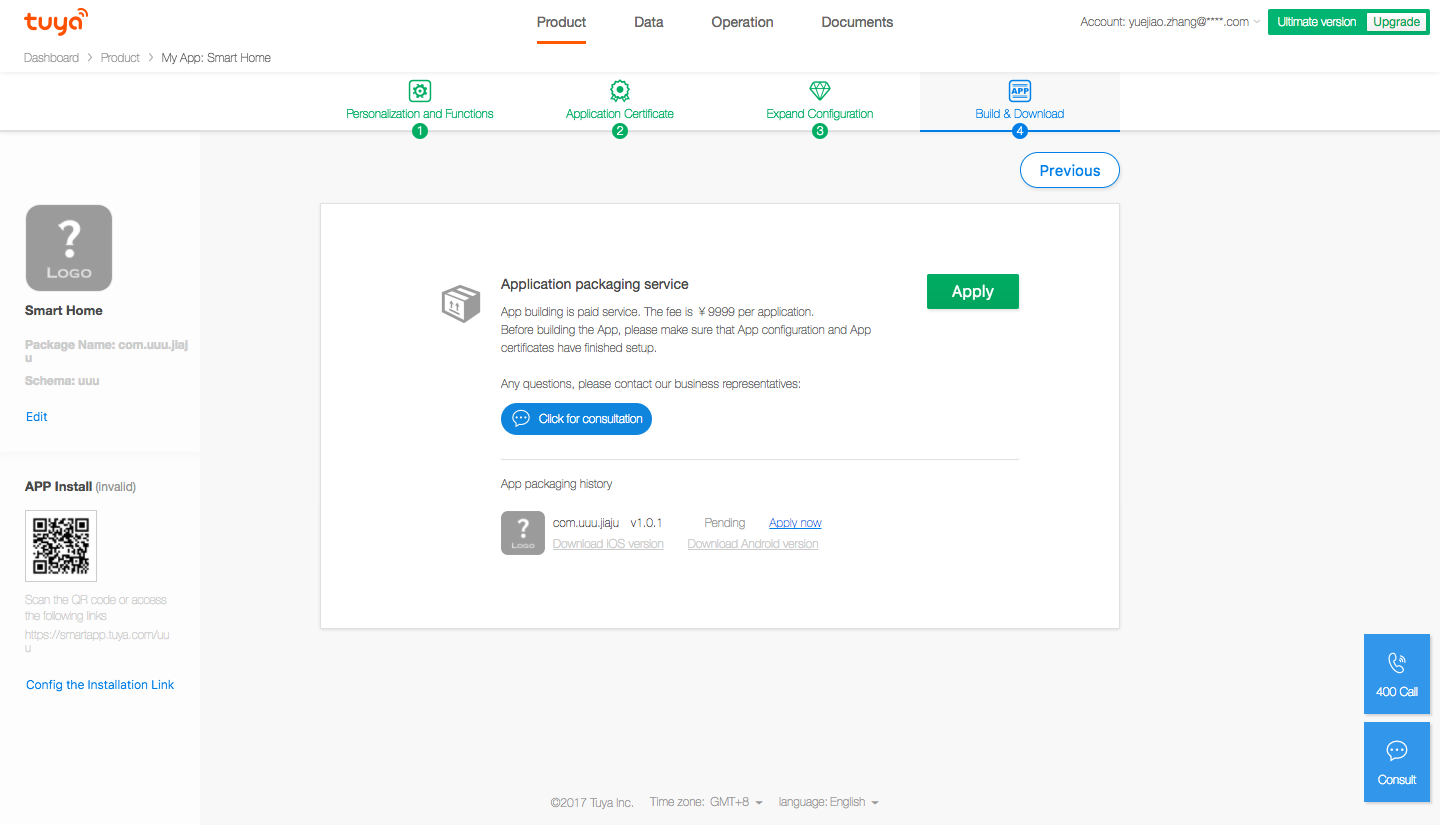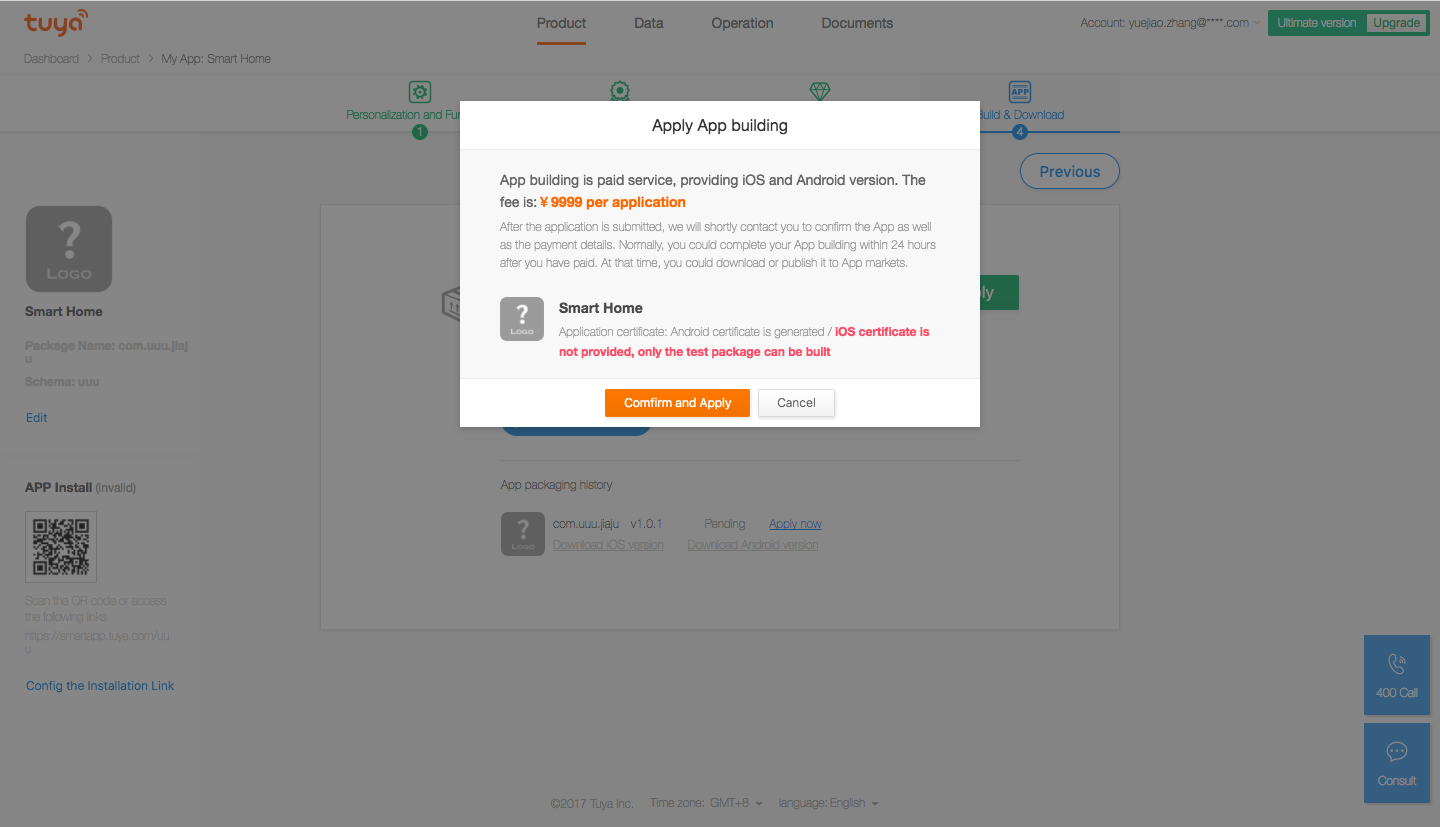 (2)Download App
iOS APPs can be released to App Store. Android APPs can be released to Google Play abroad or Myapp and 360 Phone Assistant at home. After the release, click [Configure Installation Links] on the left side of the page to maintain iOS and Android installation links. Then, you can give the installation address or 2D code (see the figure below) to your clients or print them on instructions, the clients can scan the code or click the link to enter the download page, which supports iOS and Android automatic identification; Click [High-resolution 2D Code], the system will automatically download 2D code to your computer.
If you scan the code by Wechat, please click the top left corner and open the page in browser to download and install.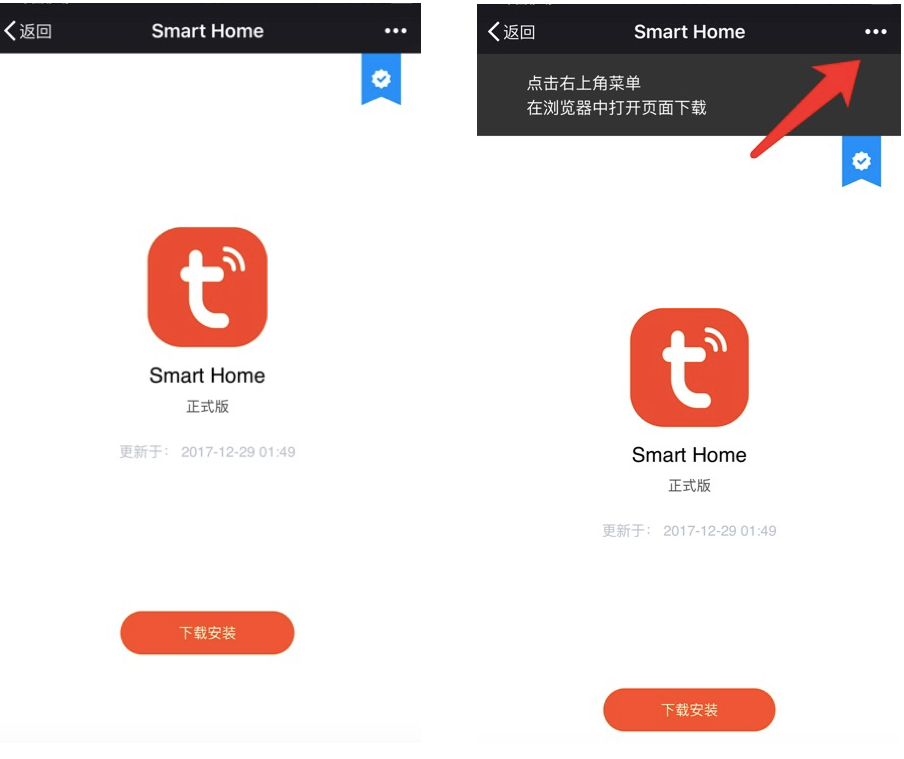 This is how a APP of your own brand is built.
---