OEM App Development
I. Overview
The Tuya OEM App service allows you to have a self-branded app quickly without needing to set up a technical team or outsource development. You only need to log in to the Tuya Smart platform and configure features, such as app functions, logo, and background colors. New OEM app functions will be available with continuous updates of the Tuya Smart app to meet your personalized requirements.
II. Process
1. OEM App Creation Entry


Trial and official OEM app services are available. Currently, only official OEM apps support certificate configuration and launch onto an app platform, whereas trial OEM apps do not. However, the service processes for the official and trial apps will be the same. When you are using the trial OEM app service, you can purchase the service to build an official OEM app at anytime.
The purchase method is as follows:
1)You can click "Buy now" in build page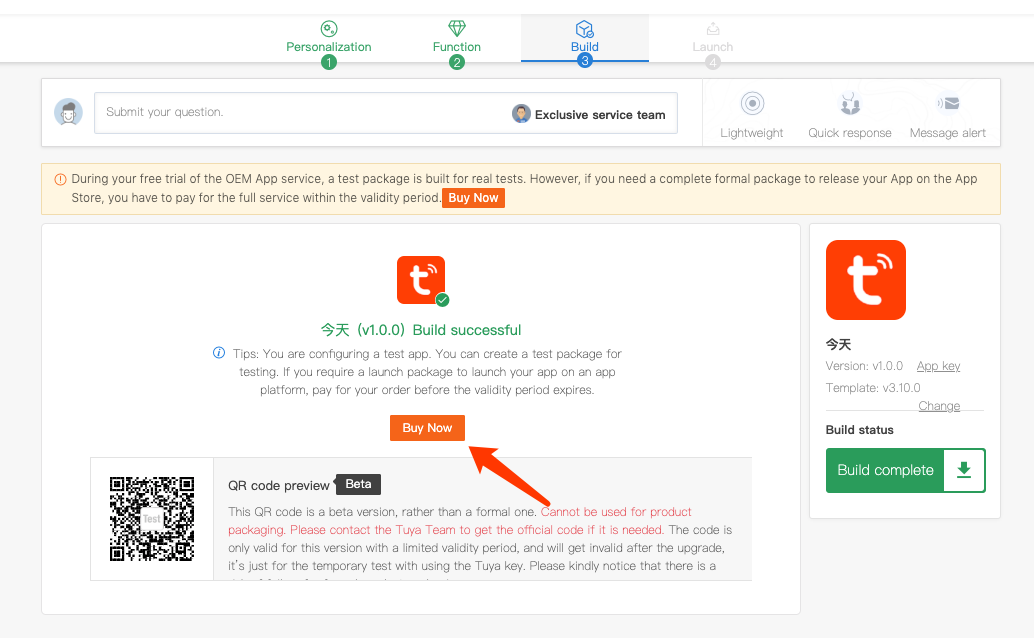 2)Choose OEM App service in the value-added service market
2. Process to Create an OEM App
The process for creating an OEM app consists of three steps. For details, visit https://docs.tuya.com/en/app/app-autobuilding.html.
(1) Create an app and set the app name and package name.
(2) Configure app functions.
Personalized features, such as the logo, startup page, and color scheme
Basic information, such as the icons, background images, map, and privacy policy
Personalized network configuration
Support for multiple languages and third-party services
(3) Test the app.
After you have completed the app configuration and created the app, scan the QR code to download the app and test it.