Advantages of selecting and customizing your own smart products Exclusive products
Before platform upgrades, you are unable to manage your products or check the data of sold products that under manufacturers' accounts, which leads to poor user and product operation.
However, Tuya Expo platform is now allowed you to customize and manage your own smart products and to contact directly to the developer online, where you can also add other value-added services to increase your competitiveness. And one of the most important things is that you are able to view the data about your products and users for business performance analysis. Manufacturers, at the same time, will help purchase the required materials, like modules, to complete your product customization.
Higher efficiency online
Tuya Expo platform will record the OEM operation of your product with its corresponding brand, manufacturer, business representative, and project manager, where you can quickly find the right person to answer any of your questions to greatly increase work efficiency.
OEM Steps
First step, choose a product
You can choose your interested smart products via Tuya Expo platform or the store links of Smart Site shared by business representatives or manufacturers. After login, you will able to view detailed product information, including product images, parameters, functions, app panels, etc. Click Customize to start to create your own smart product. The product page on Tuya Smart Site: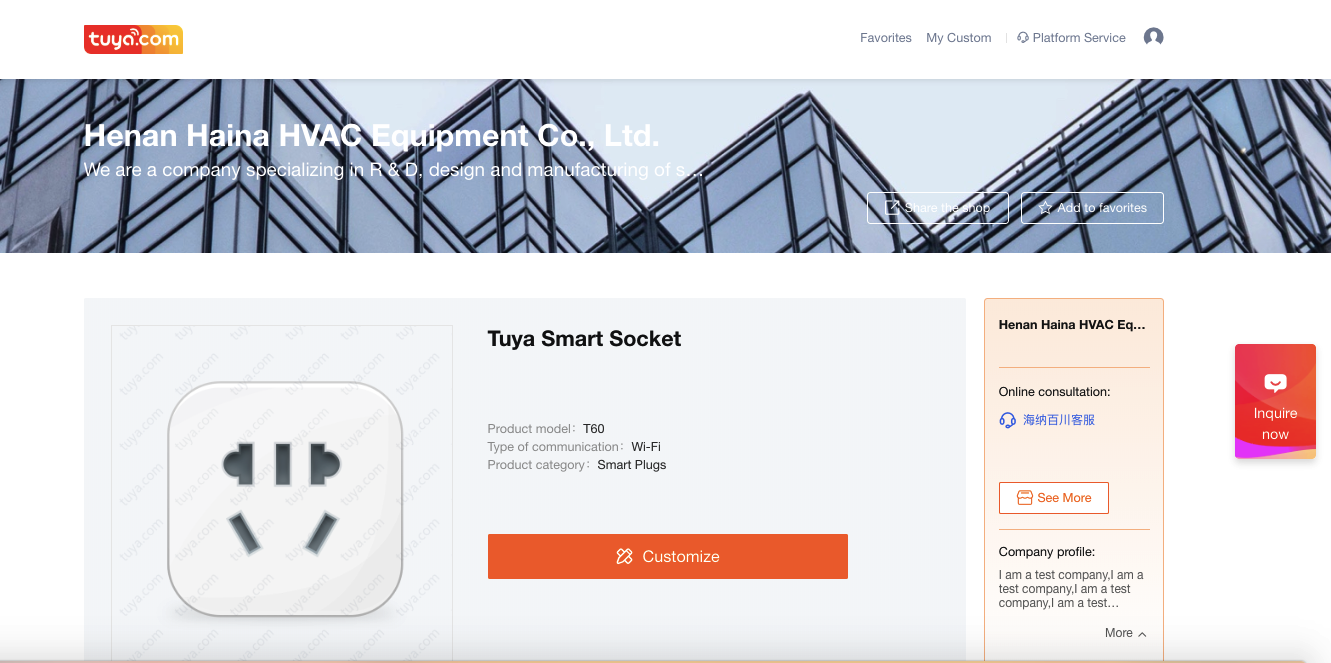 The product page on Tuya Expo platform: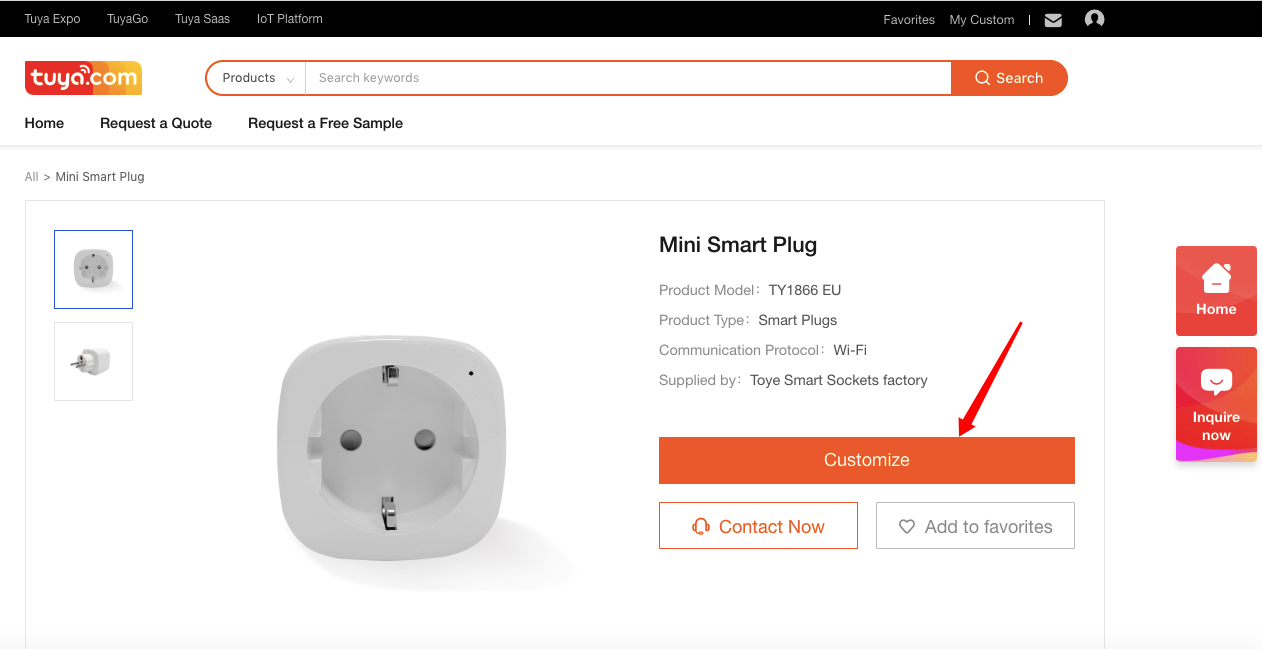 Step two, create your own product
After entering to product customization page (see image below), you will able to customize your product name and model and to select third-party smart speakers.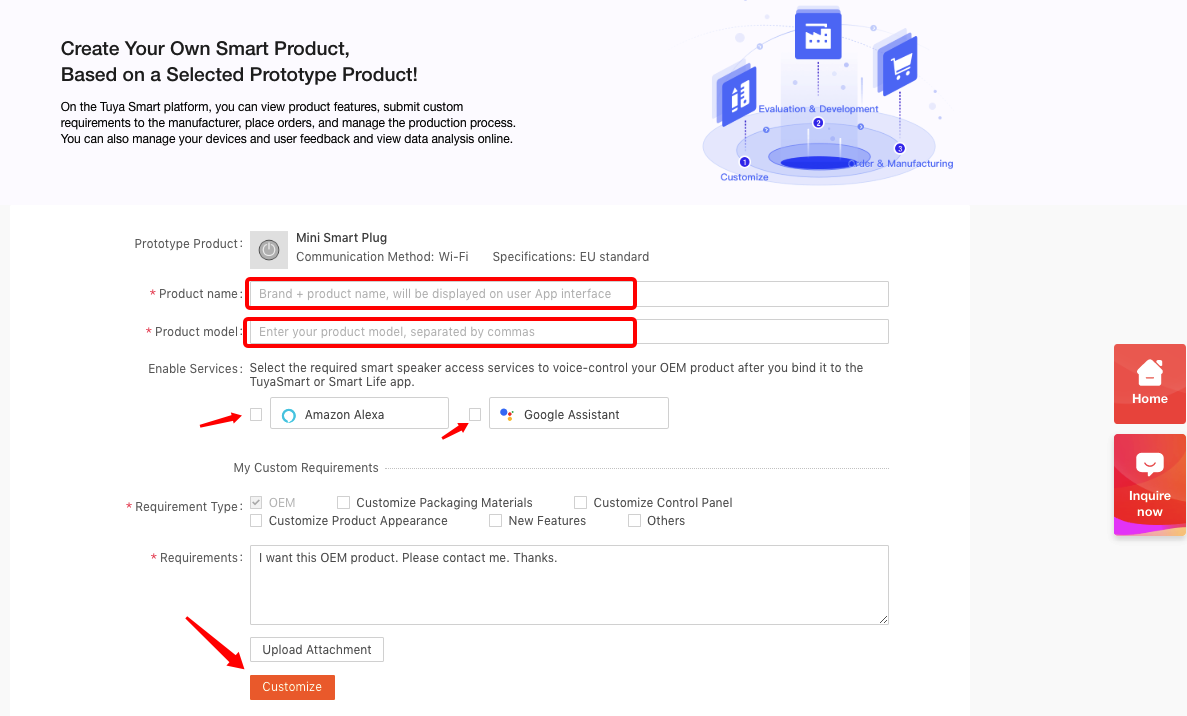 You can also choose requirement type and submit the description with attachments (see image below). If you do not have any requirements yet, you can add them later on Product Overview page. Click Customize to complete setting.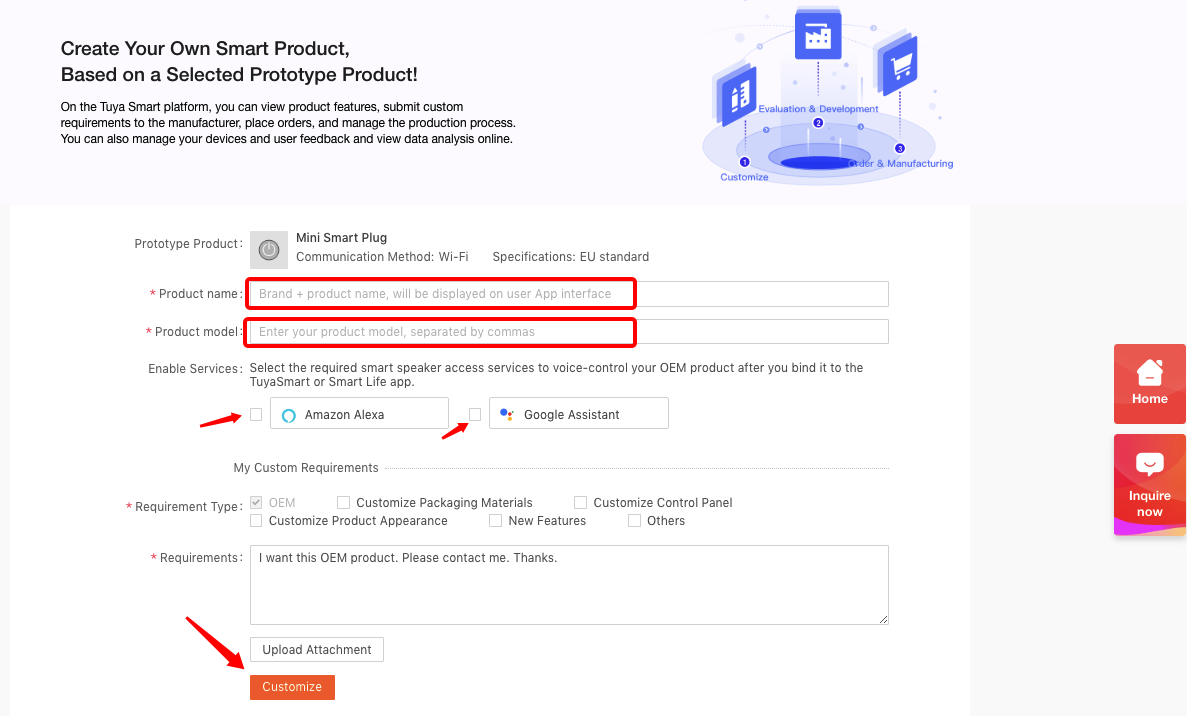 Step three, manage your products and needs
You can review and continue developing your OEM products on Product Overview page.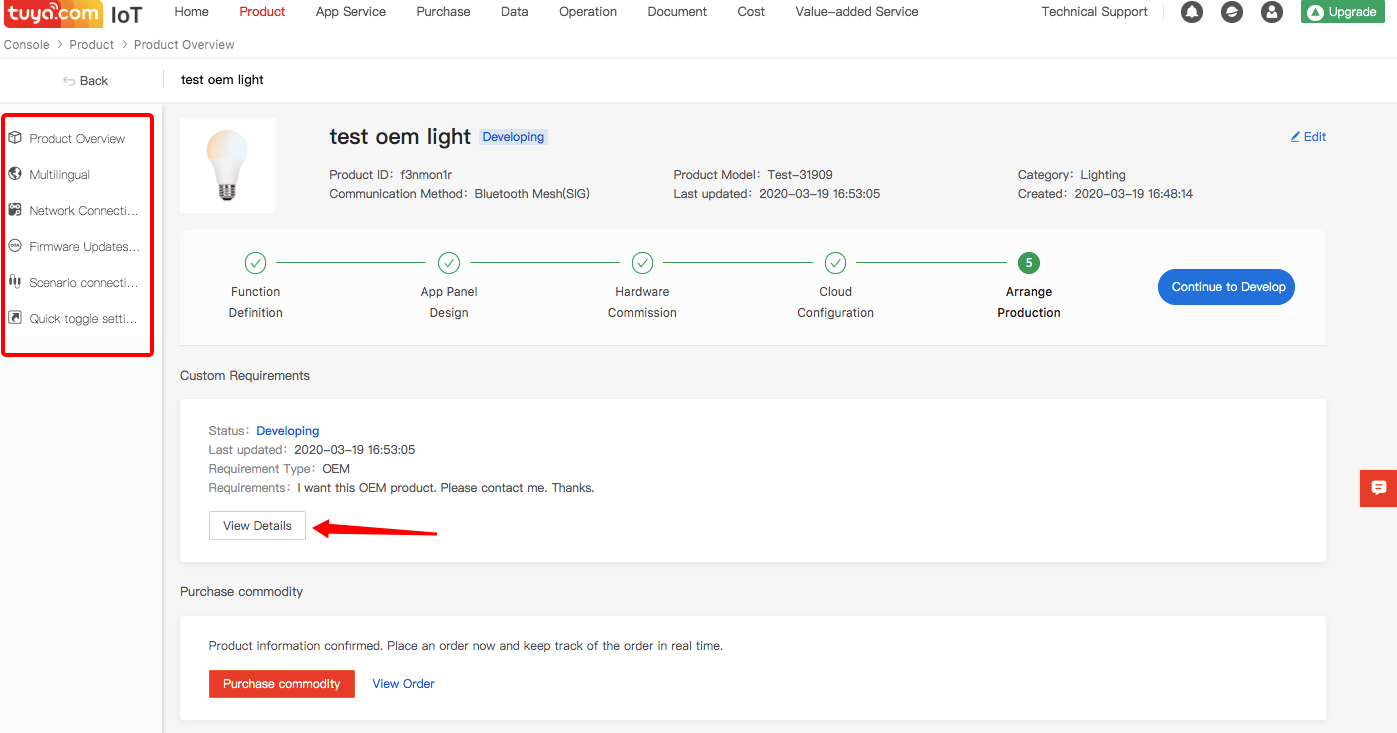 Your OEM products will be under Trial-production after all settings done. If you have any other requirements of product functions, please contact the corresponding manufacturer and project manager to continue improving your product. Then you can click Continue to Develop to go to the last step. After testing passed, your OEM product will be completed and turn to Mass Production status. You will be able to view your requirement details on your product page to follow up directly with manufacturers.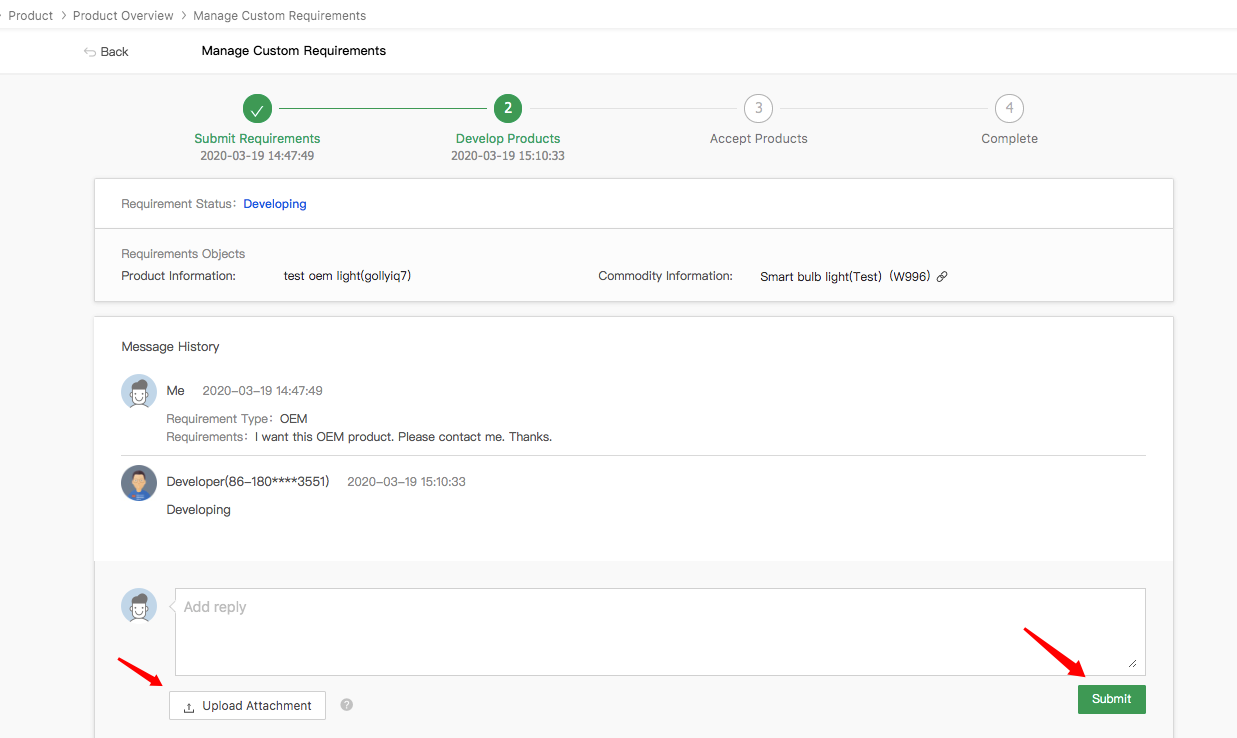 After confirming your customized product, you can click Purchasing commodity to directly order from manufacturers and check your order progress any time. Manufacturers will purchase the required modules and cloud services from Tuya, then arrange production for you.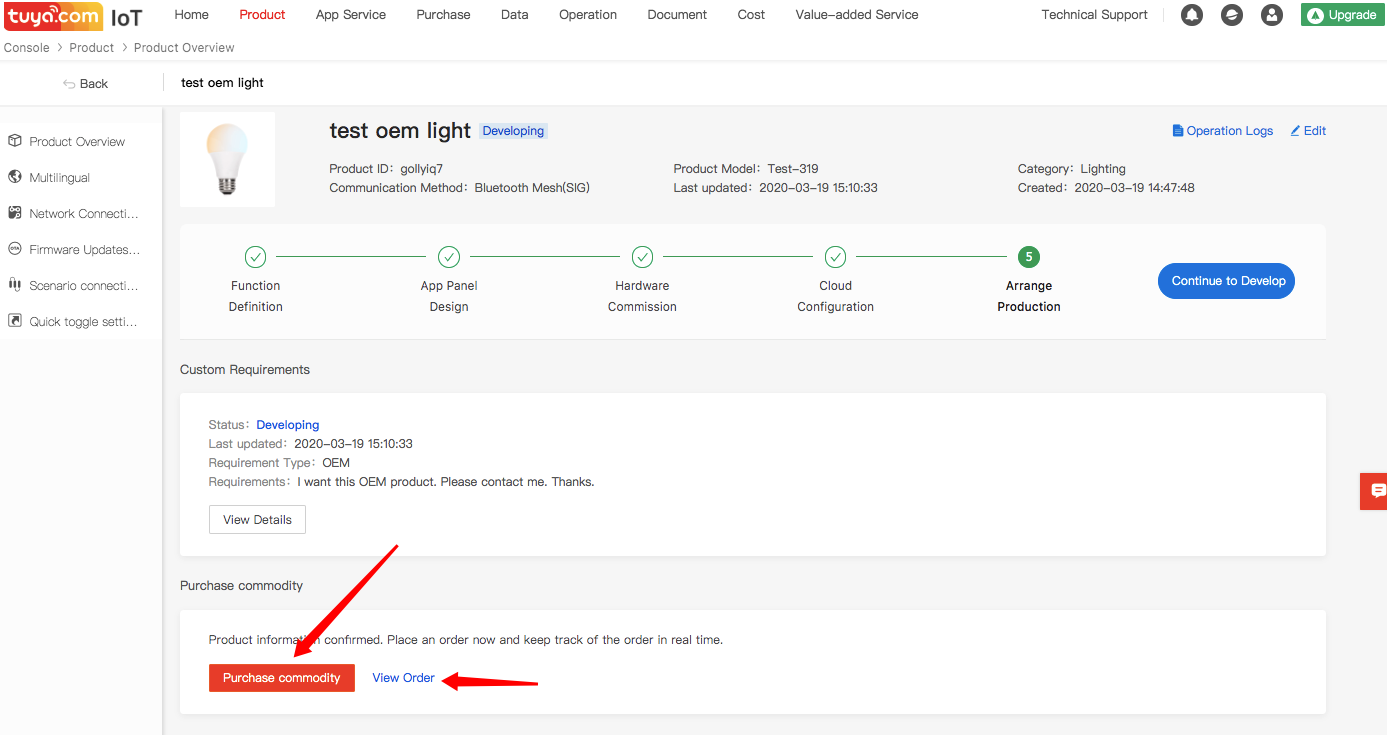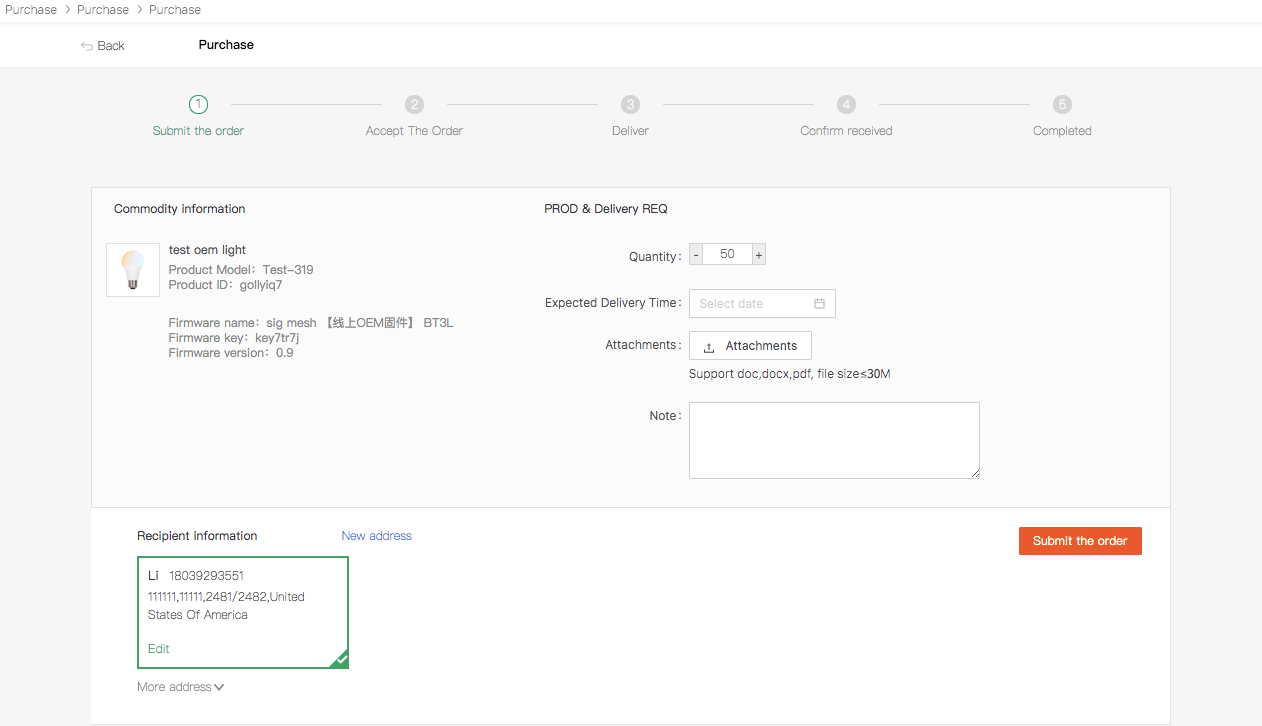 How to find my OEM products?
You will able to find your OEM products by clicking Product via navigation bar on the platform homepage. Your OEM product will be tagged OEM after creation and changed to ODM when it is under development.