The advantages of promoting your products on Tuya Smart Site
High efficiency
In combination of Tuya IoT platform, you can easily sell your developed smart products on Tuya Smart Site with detailed product information, including images, functions, parameters, etc., where your customers can also have product VR experiences and watch product videos by using a QR code.
Your customers are able to customize their own products on Smart Site, where you can be more efficient to follow up on their needs and to purchase the modules for them.
Channel expansion to improve leads nurture
Tuya Smart Site is a user-friendly e-commerce platform for you to easily share your store and product information, as well as be succeed in social media marketing. It also allows you to directly chat with your customers online to solve any of their questions and to nurture your leads more efficiently.
The products you're selling on Tuya Smart Site will also be displayed on Tuya Expo platform and get global promotions with a large number of customers across the world.
OEM Product Introduction
Customer OEM product management
Product search
You will receive a SMS or email notification once your customer has customized a product online, where your business representative from Tuya will also get the notification immediately to better assist you: You are then able to view your customers and their products information via "Platform - Product - Customer Products". The OEM tag on the bottom right corner of the product image represents that the product is customized, where the ODM shows that the customer has submitted a customized development requirement.
Click a product image to get its overview, where you will find the product is in Trial-production by default. You can also reach to its basic product information, linked voice assistants, functions, panel design, and more. The settings, including multi-language, pairing, etc., can also be accessed on the left hand side of the page.
Customer OEM requirement management
Message notification and requirement management
You will receive a SMS or email notification, depending on your account type, if your customer has submitted any OEM development requirements that can be viewed on product overview page, and you are allowed to directly communicate with your customers by entering the requirement management page, as shown below: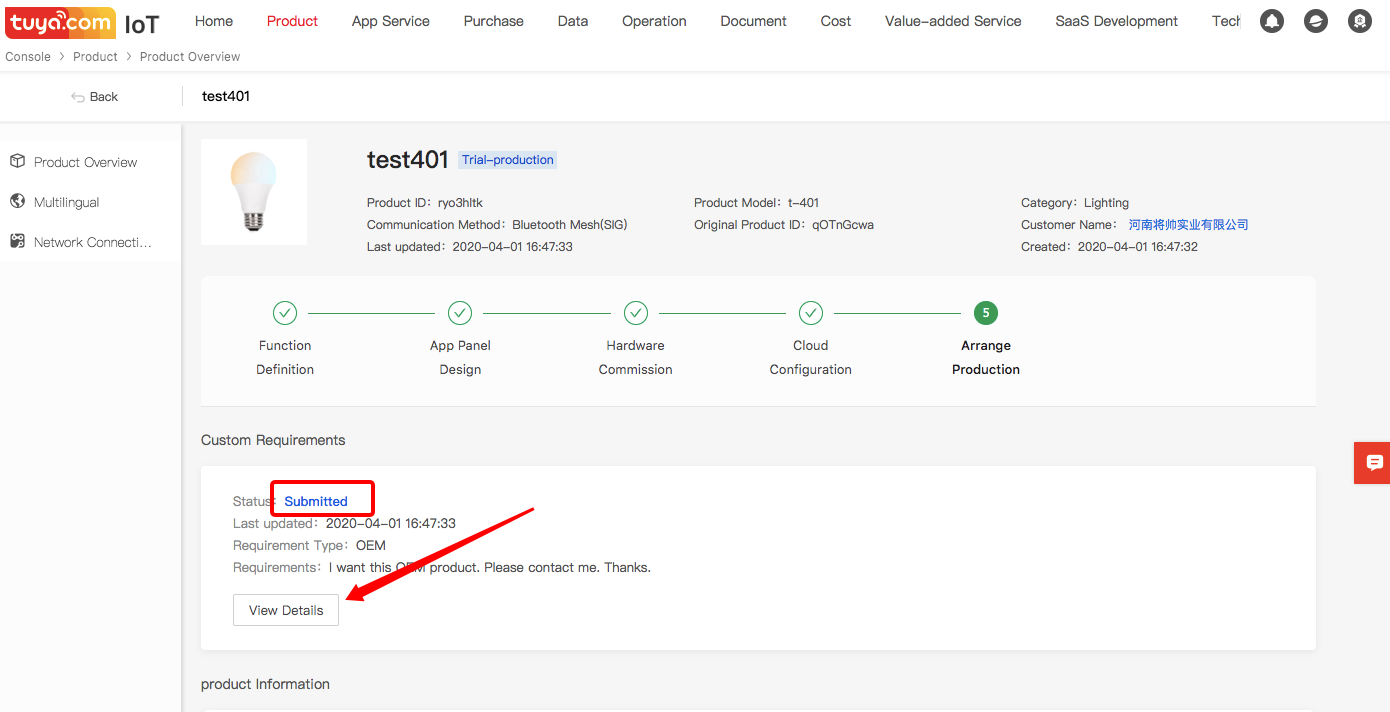 Online requirement communication
On the requirement management page, you can directly chat with your customers to get to know and to evaluate their requirements. Click Develop after all requirements confirmed to change the product status to Developing.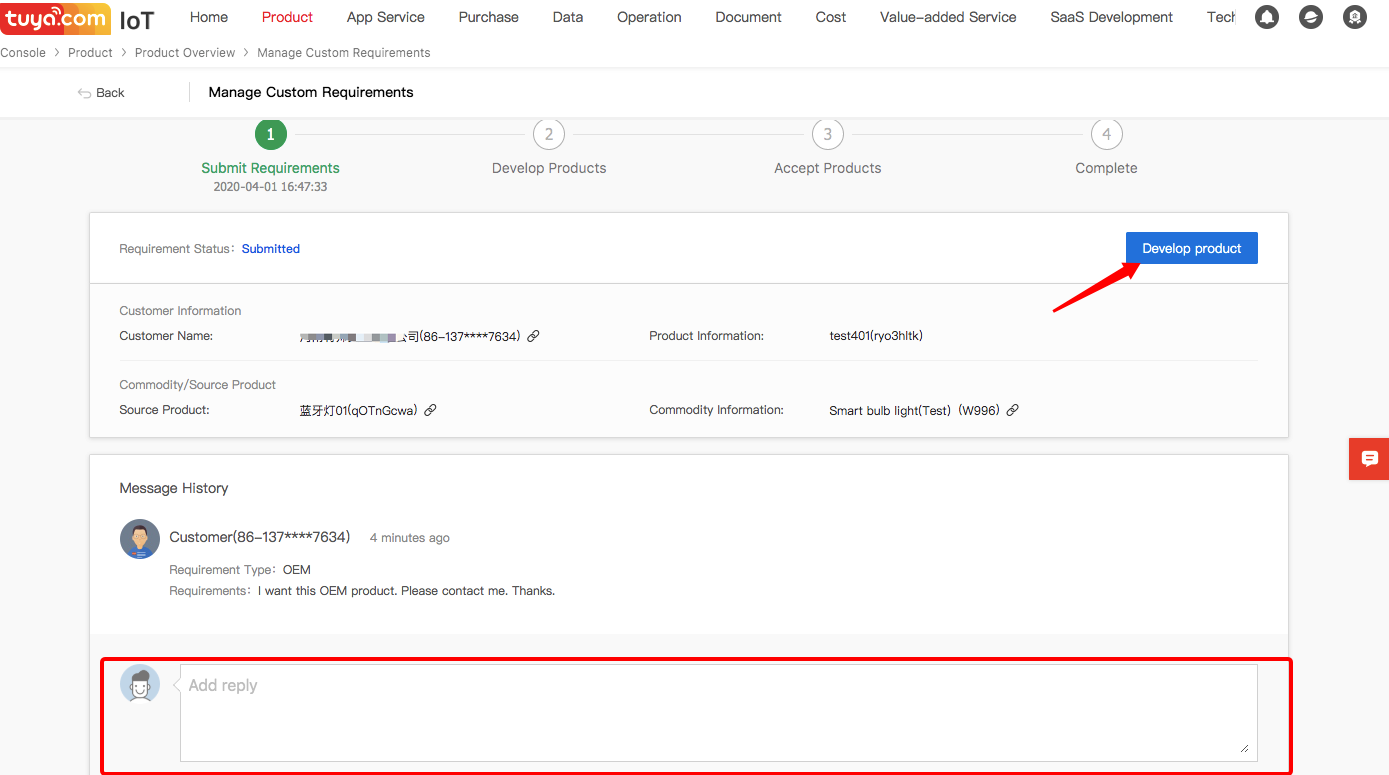 After going back to product overview page, you will find a Continue to Develop button for more function settings, where you can reach to your business representative if you have any questions. You can also check new messages from your customers by clicking View Details.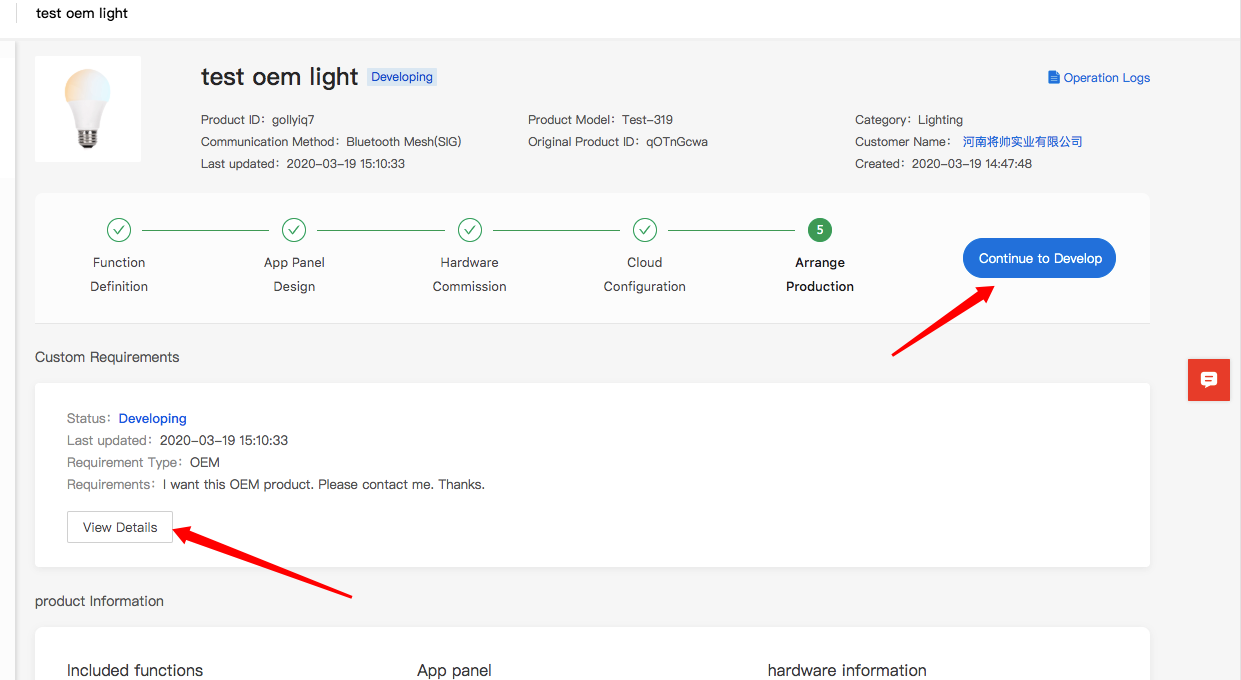 Once the development is complete, you are required to ask your customer for confirmation, as shown below: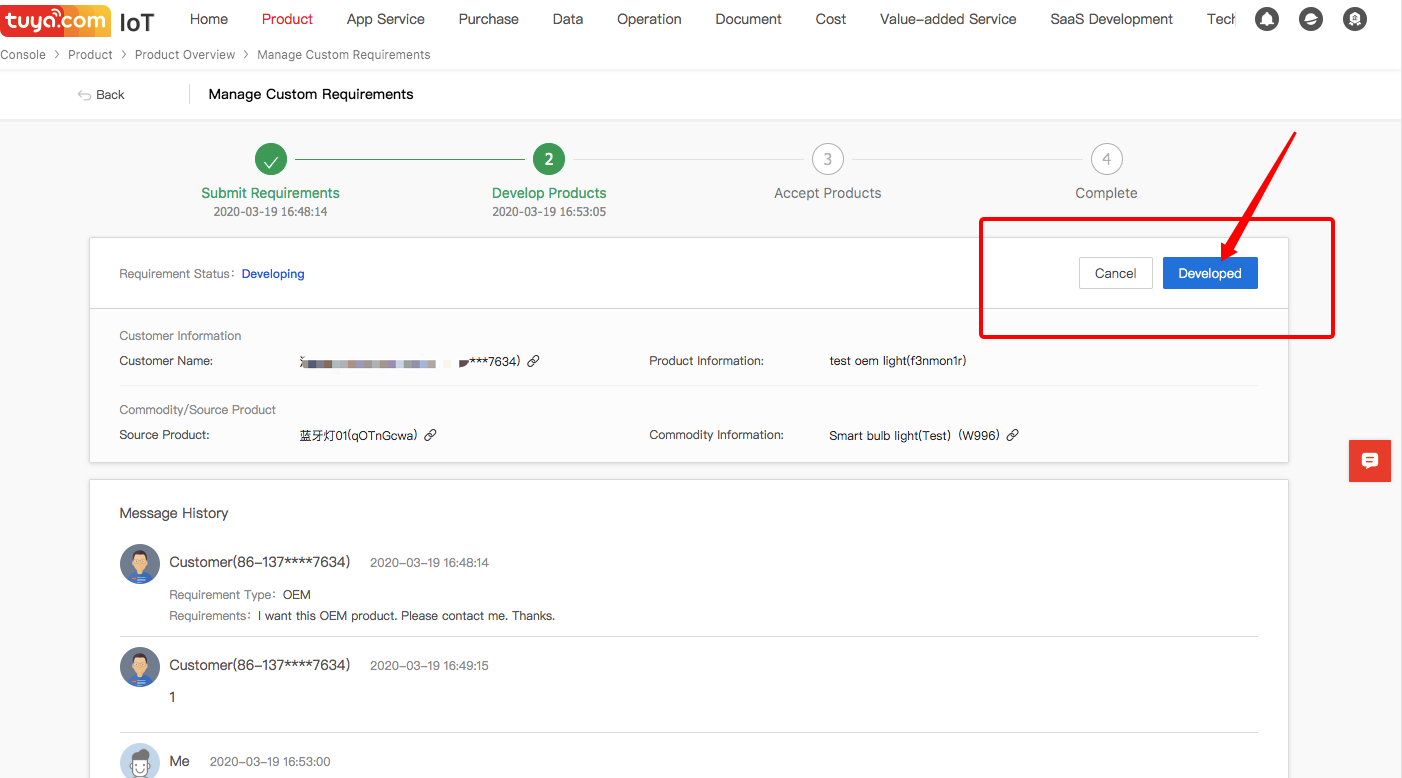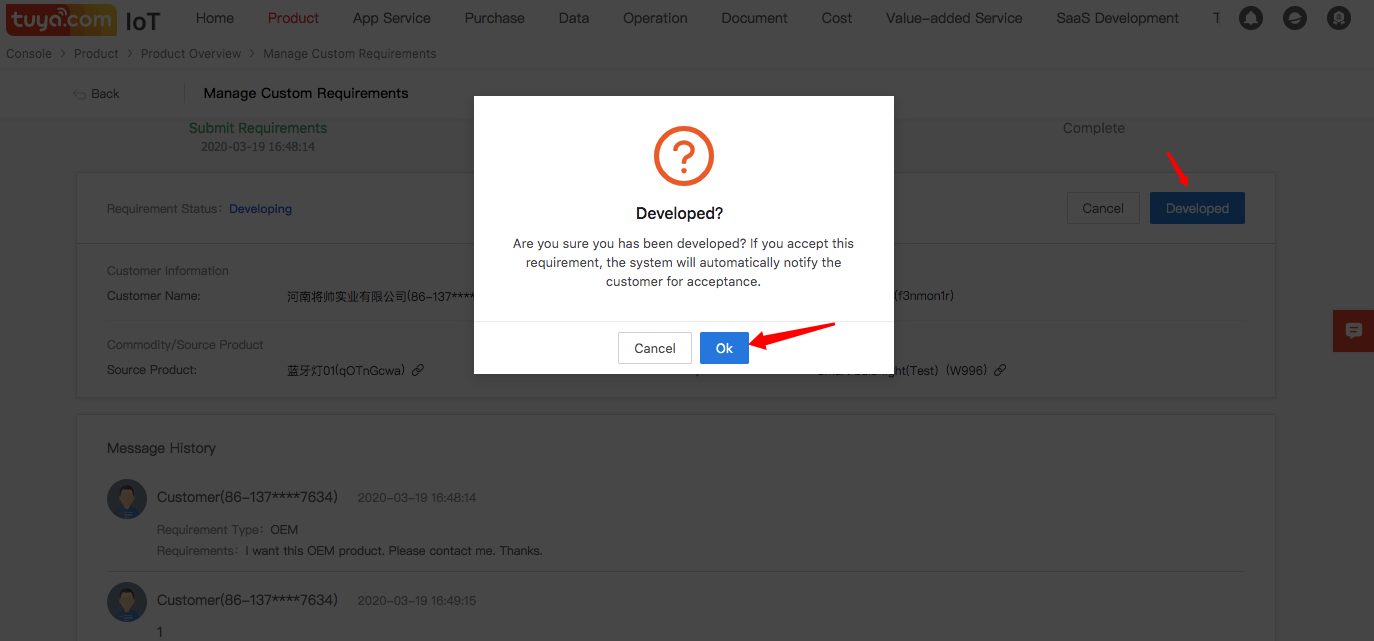 You will receive a SMS or email notification if your customer has confirmed the development, where the requirement status will turned to Complete, and the product will be in Trail-production. Finally, you and your customers can click Continue to Develop to start Mass production and module purchase.
Final product order management
After your customer has completed the OEM process and submitted the order, you will get a SMS or email notification and be able to view order details via "IoT platform - Purchase - Order Management - Sales Order - SmartSite commodity order". Please accept the order to continue to purchase the module, and send a shipment notification to your customers after completing and sending out the products, as shown below: