We are deploying cloud services around the world and are committed to providing safe, stable, and fast Tuya Smart cloud services to our customers worldwide. Tuya Smart cloud has 100 million massive data and 10 million users concurrent processing capacity, continuous service 99.99%. Integration of Ali cloud, Amazon global service node for users around the world to provide access to nearby services to ensure efficient and stable equipment experience, help China manufacturing services worldwide!
The platform provides service capabilities ranging from product definition, simulation testing, hardware development, client development, platform interaction, product testing, operational management and data analysis to intelligent hardware access and operational lifecycle. Tuya Smart cloud platform provides self-service hardware and software development SDK and open and perfect cloud platform API for creators and vendors. While providing debugging assistant, can minimize the hardware manufacturers to develop the threshold, saving research and development costs, enhance the manufacturers of intelligent products into production speed. At the same time can also help manufacturers to upgrade hardware and software intelligence, continuing to provide quality services to end consumers.
Tuya Cloud Advantage
Deployment across the Globe
Wide coverage: Tuya Smart cloud is deployed in China, the Americas, Europe, Indian. the deployment of data room, in Hong Kong, Japan and other places to deploy data acceleration services to protect the service high availability and user experience. Customer products have covered the main cities around the globe except for the Arctic continent.
Multi-available area: currently available in Asia, America west, America east, Europe, Indian five available areas. According to the user's area, it automatically select the nearest availability, with minimum data link service response speed to the user localization Experience. While Tuya Smart data drift to provide services to protect users in any country can be safe and stable use.
Global Acceleration
High-speed network: In domestic, Tuya Smart is having depth cooperation with Ali cloud, enjoy the same level of network link with Tencent. Outside China, it is having deep cooperation with Amazon and foreign countries and deploying multiple machine rooms (See third-party network test data)

Accelerated service: Tuya Smart cloud acceleration CDNs have covered 500 + city domestic nodes, 100 + mainstream city outside China. At the same time, Tuya Smart cloud provide different DNS acceleration and SMS acceleration and other localization services according to various local operator in order to help Chinese enterprises to sea

Data Drift: Tuya Smart cloud's own algorithm let Chinese enterprises in the country can publish global products and view the global data.
Elastic expansion
High availability: Tuya Smart cloud use the industry's latest Distributed Micro-service architecture, could automatically expan according to the business peak. Modular architecture design allows business modules can be parallel expansion and hot-swappable.
Service hot deployment: Service-oriented code release means that even if the Tuya Smart cloud releases new features weekly, it also provides an uninterrupted service experience for users with zero perception. Guaranteed user control instructions are not lost.
Massive data: Tuya Smart cloud core R & D team are from the BAT has a wealth of massive service architecture and processing power. The current Tuya Smart cloud process hundreds of millions of requests per day, the user data exceeded 3 billion, storage capacity of nearly 2P (2097152GB).
Data Security
User Device Security: Tuya Smart Cloud provides a FIve-fold Security Policy to protect the security of smart devices. (See the safety-related policy)
Enterprise data security: for enterprise clients, Tuya Smart cloud isolate their data, to protect customer data security. At the same time Tuya Smart cloud to provide different data storage services for different business scenarios and encrypted part of core data.
Open
OPENAPI: Tuya Smart cloud provides HTTP / HTTPS, MQTT, WEBSOCKET and other ways for companies to export their own data at any time
Partners: Tuya Smart cloud provides service to connect with 3rd platforms such as Amazon Alexa, Google Assistant, WeChat.
Analysis of Tuya Smart Cloud
Introduction of Available Zones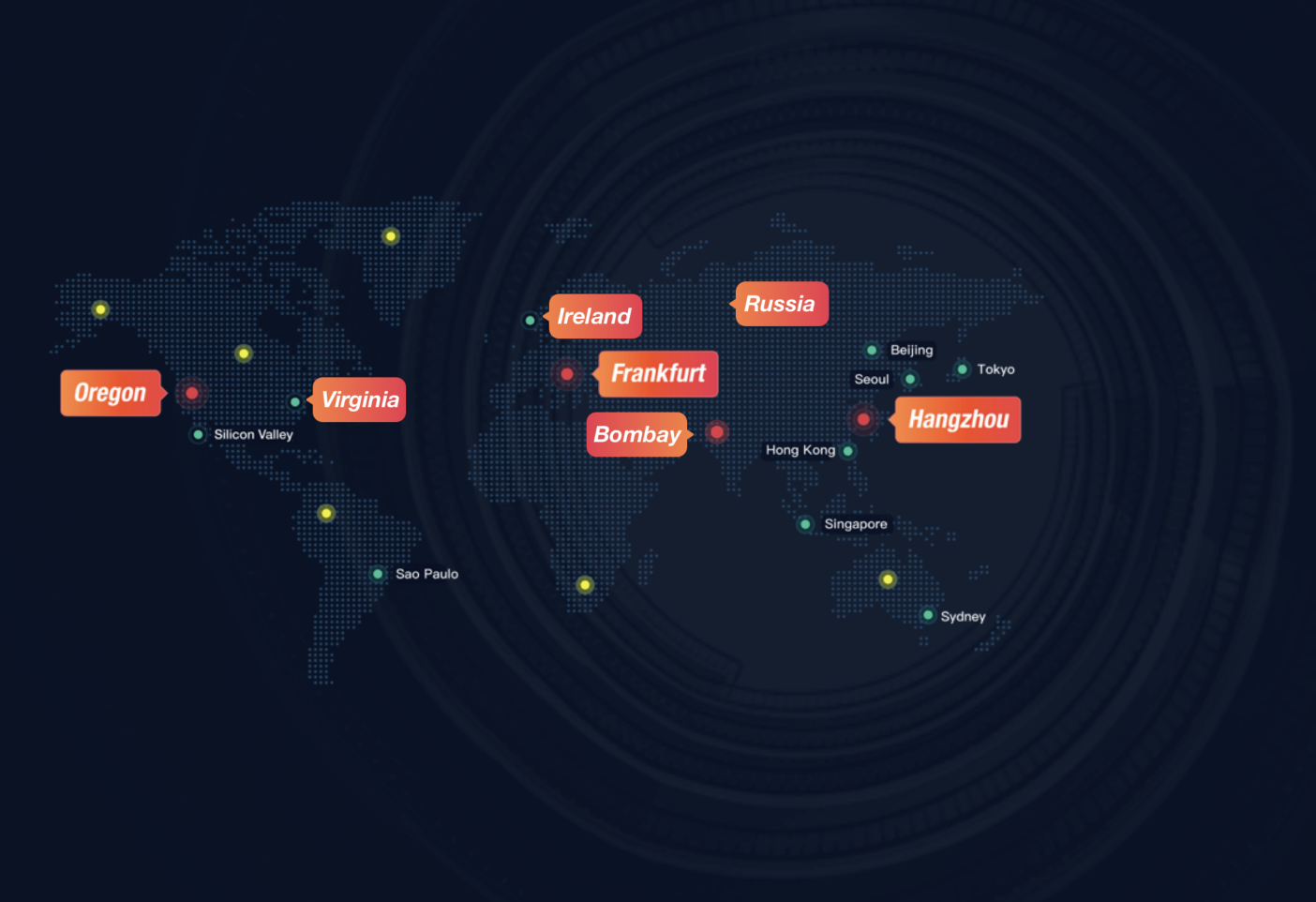 Tuya Smart cloud deployment covers Asia, Europe, the United States three available areas, according to Chinese enterprises' sales areas in the export of submarine cable distribution area and the global cities of the measured results,
Available area names are composed of two letters,the specific definition is as follows
| Availability | Service Area | Machine Room Area |
| --- | --- | --- |
| AY | Asia | Tencent ShangHai Core Machine Room |
| AZ | American west | AWS Oregan Main Machine Room |
| UEAZ | American east | AZURE Virginia Machine Room |
| EU | Europe | AWS Frankfurt Machine Room |
| IN | Indian | AWS Mumbai Machine Room |
Optional spare rooms: Hong Kong, Singapore, Mumbai, Tokyo, Sao Paulo, and other rooms (according to the region of corporate clients, machine rooms could be expanded)
Introduction to Network Acceleration
DNS Acceleration:
Tuya Smart cloud have done analysis and accleration operations in accordance with different operators of domestic and overseas also in different major cities in the country.
Tuya SMart automatic algorithm mechanism could maximize the stability of DNS resolution and resolving operator hijacking.
CDN Acceleration:
Domestic nodes:
500 + city nodes, enjoy the same level with the Taobao network edge acceleration
Real-time monitoring of accelerated stability through autonomous monitoring services.
Nodes outside China:
North American nodes: Ashburn, VA; Atlanta, GA; Chicago, IL; Dallas / Fort Worth, CA; New York, Newark, New Jersey; Palo Alto, CA; San Jose, CA; Seattle, WA; South Bend, Indiana; St. Louis, Missouri;
South American node: Rio de Janeiro, Brazil, Sao Paulo, Brazil
Europe, Middle East, Africa Nodes: Amsterdam, the Netherlands, Dublin, Ireland, Frankfurt, London, Madrid, Marseille, Milan, Paris, Sweden, Stockholm and Warsaw
Asia-Pacific nodes: Hong Kong, Taipei, Chennai, Mumbai, New Delhi, Manila, Seoul, Singapore, Melbourne, Sydney, Osaka, Tokyo
Global Network Report
Domestic cities network response time is less than 40ms (ie 0.04 seconds), and enjoy the same level with Baidu
Asian cities are less than 80ms (ie 0.08 seconds), with a speed response
Europe and the United States is less than 90ms (0.09 seconds), the nearest access to the computer room on the side
Middle East, Africa, can also provide better service response
Note: The data provided by third-party test platform, because of network volatility, each test may be a small range of bias
Secure cloud services