Service Introduction
Widget access for your OEM App allows you to control devices quickly without having to open the App, improving product use efficiency.
Note: A widget is an App extension that can display shortcuts for your App's devices or scenarios in the iPhone Notification Center or on the home screen of Android smartphones.
If you purchase the Widget Access service through an Android smartphone, Tuya can enable the service for your App directly. If you purchase the Widget Access service through an iPhone, log in to the Apple developer platform, configure the widget function, download the widget mobileprovision file, and send it to Tuya personnel to enable the service. For details on how to configure the widget function, see iOS Widget Configuration.
Service Subscription Process
Step 1: Logging In to the Tuya Smart Platform
Open the Tuya Smart platform login page https://auth.tuya.com. If you have an account, log in with the account. If you do not have an account, click Sign Up to register for an account and then log in.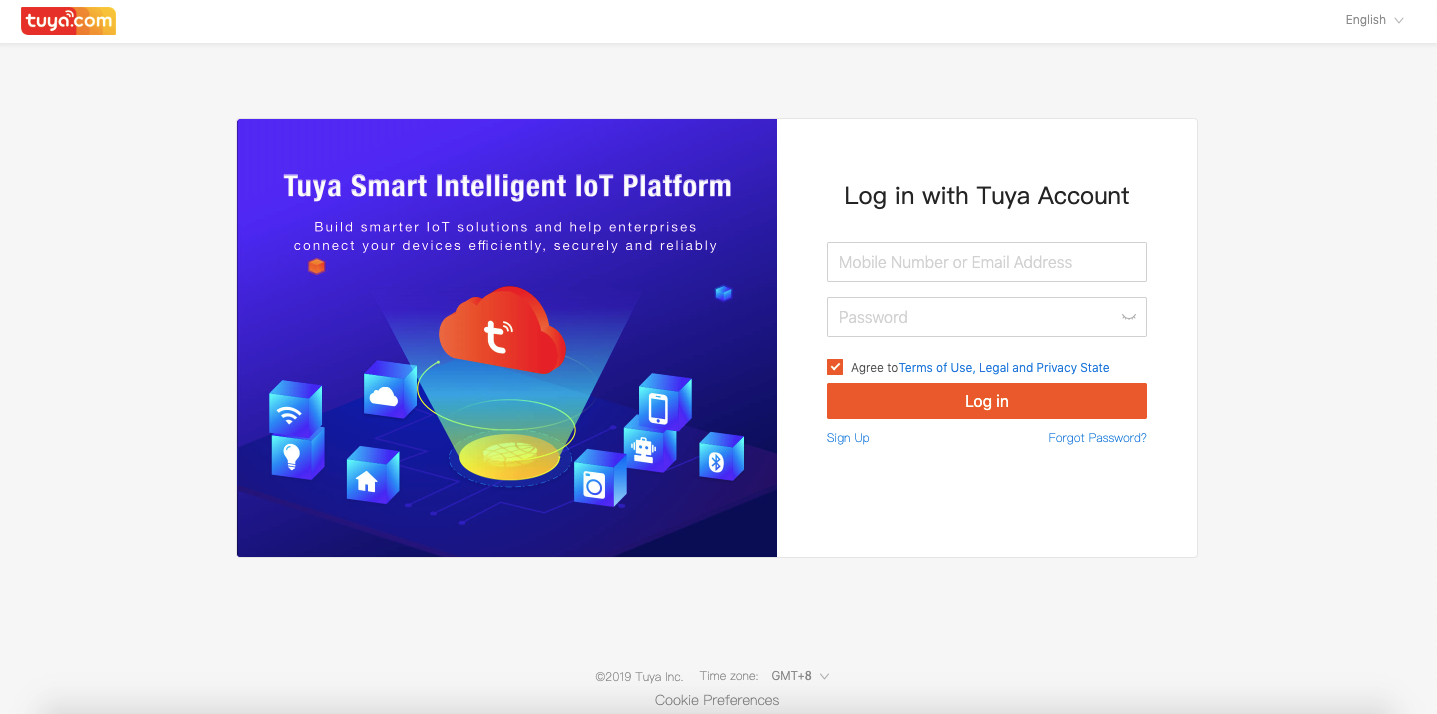 Step 2: Opening the Value-added Service Page
Click Value-added Service on the top of the homepage to open the Value-added Service page.
Step 3: Selecting the Required Service
Click App Service. Locate the Widget Access service, and click Subscribe to open the Create Service Order page.
Alternatively, click More or the Service cover picture to view the service details and then click Subscribe to subscribe to the service.
Step 4: Entering Purchase Information
Select an App for which to enable the Widget Access service.
Download the application template, fill in information as required, and upload it.
Specify your phone number and email address.
Click Buy now to pay for your order.
Step 5: Selecting a Payment Method
Select a payment method on the Paypal tab page.
FAQs
Is the Widget Access Service Enabled by PID or App?
The Widget Access service is enabled by App.
What Are the Prerequisites for Enabling the Widget Access Service?
You have your own OEM App.
Can I Continuously Update Widget Functions for Free?
Widget functions are iterated with App version updates. Use Tuya's official template to upgrade your App to the latest version. Tuya will iterate the widget functions for your App for free.
What Is the Relationship Between Controllable DPs in Widget and Device Shortcut Switch DPs Under Quick toggle settings on the Tuya Smart Platform?
Device shortcut switch DPs under Quick toggle settings on the Tuya Smart platform are desktop-level, whereas controllable DPs in widget are within an App. You can set DPs on the Tuya Smart platform and control them in the App.
What Devices Can I Use the Widget Access Service to Control?
Devices with an ON/OFF switch can use the Widget Access service. The service only supports the ON and OFF actions.
For more FAQs, visit http://faq.en.tuya.com/cateQuestion.htm?tntInstId=Dss_sP5T&helpCode=SCE_00000163&cateId=129726.
How helpful was this page?