OEM App
I. Service Introduction
The OEM App service allows you to build self-branded apps online in one stop without needing to set up a technical team or outsource development. You only need to log in to the Tuya Smart platform and configure data online. You can customize brand attributes, such as app functions, logos, and background colors. New OEM app functions will be available with continuous updates of the TuyaSmart or Smart Life app to meet your personalized requirements.
To create an OEM app, refer to https://docs.tuya.com/en/app/app-autobuilding.html and subscribe to the OEM App service based on the following process.
II. Service Subscription Process
1. Logging In to the Tuya Smart Platform
Open the Tuya Smart platform login page (https://auth.tuya.com). If you have an account, log in with the account. If you do not have an account, click Sign Up to register an account and then log in.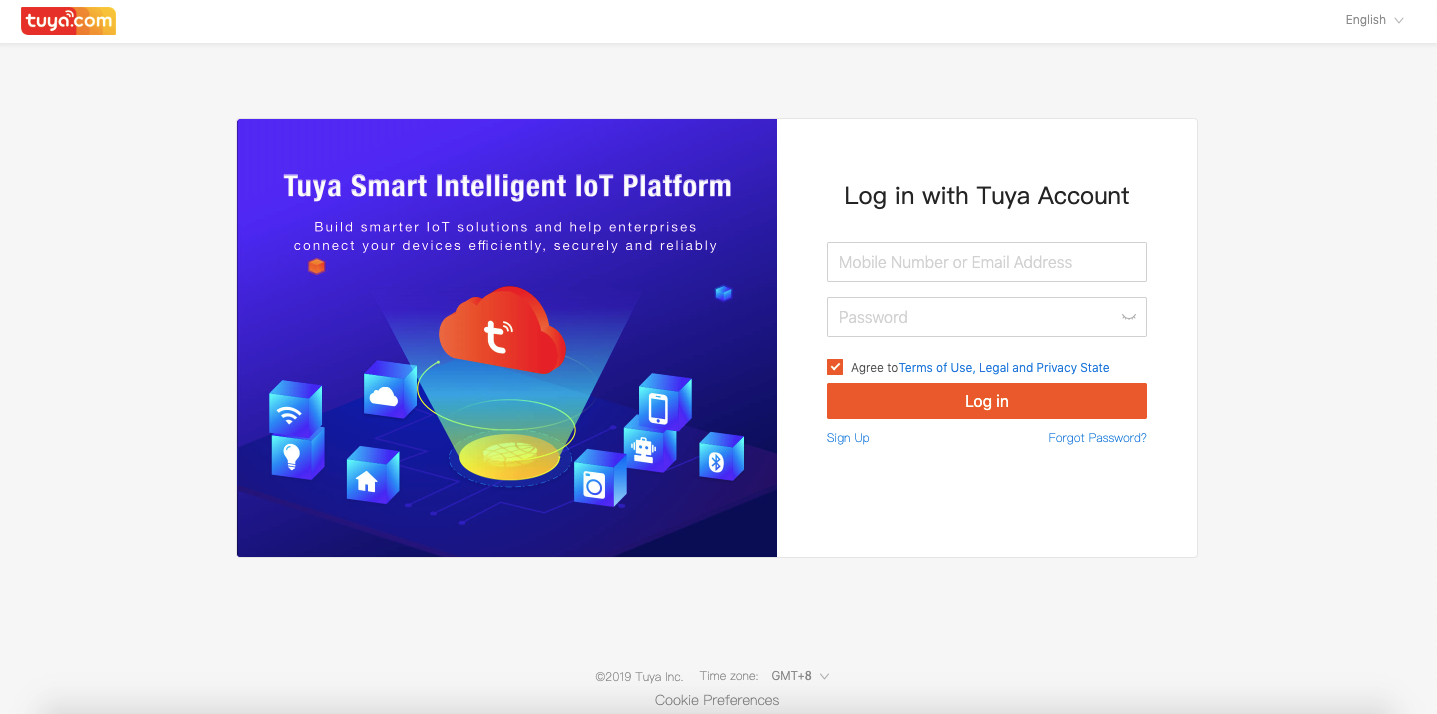 2. Opening the Value-added Services Page
Click Value-added Services at the top of the homepage to open the Value-added Services page.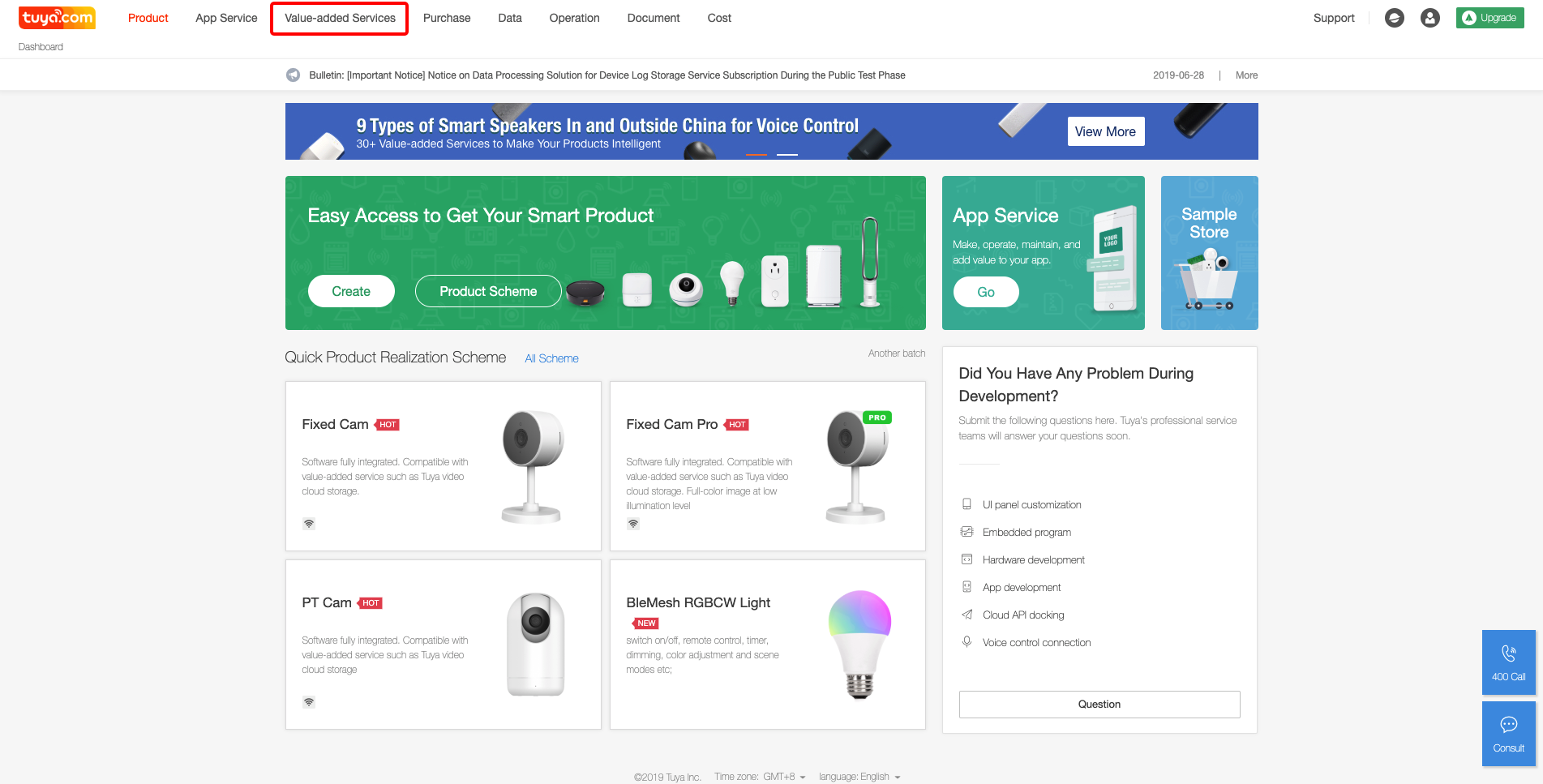 3. Selecting the Required Service
Click App Service from the service categories at the top.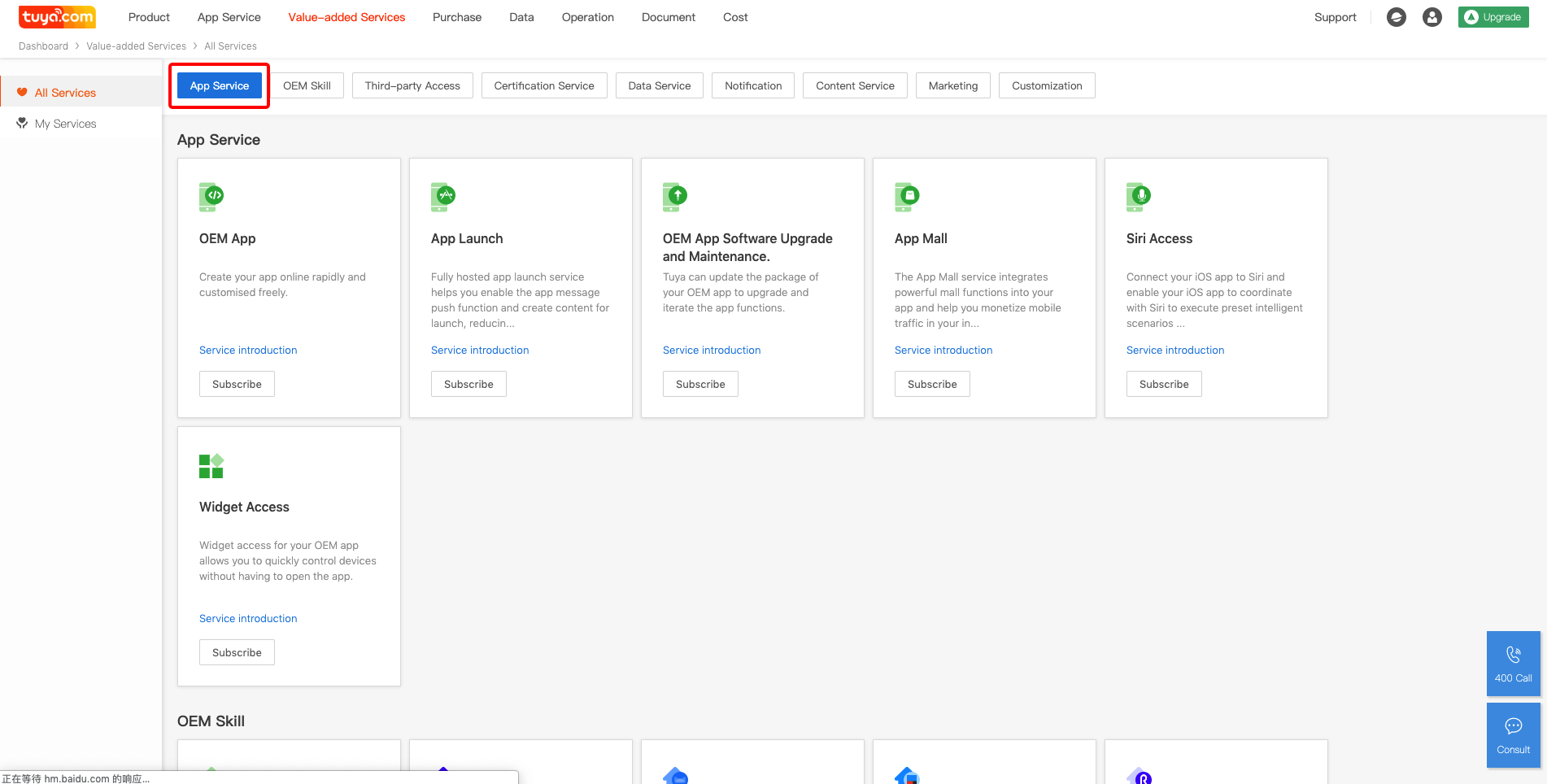 Locate the OEM App service, and click Subscribe to open the Create Service Order page.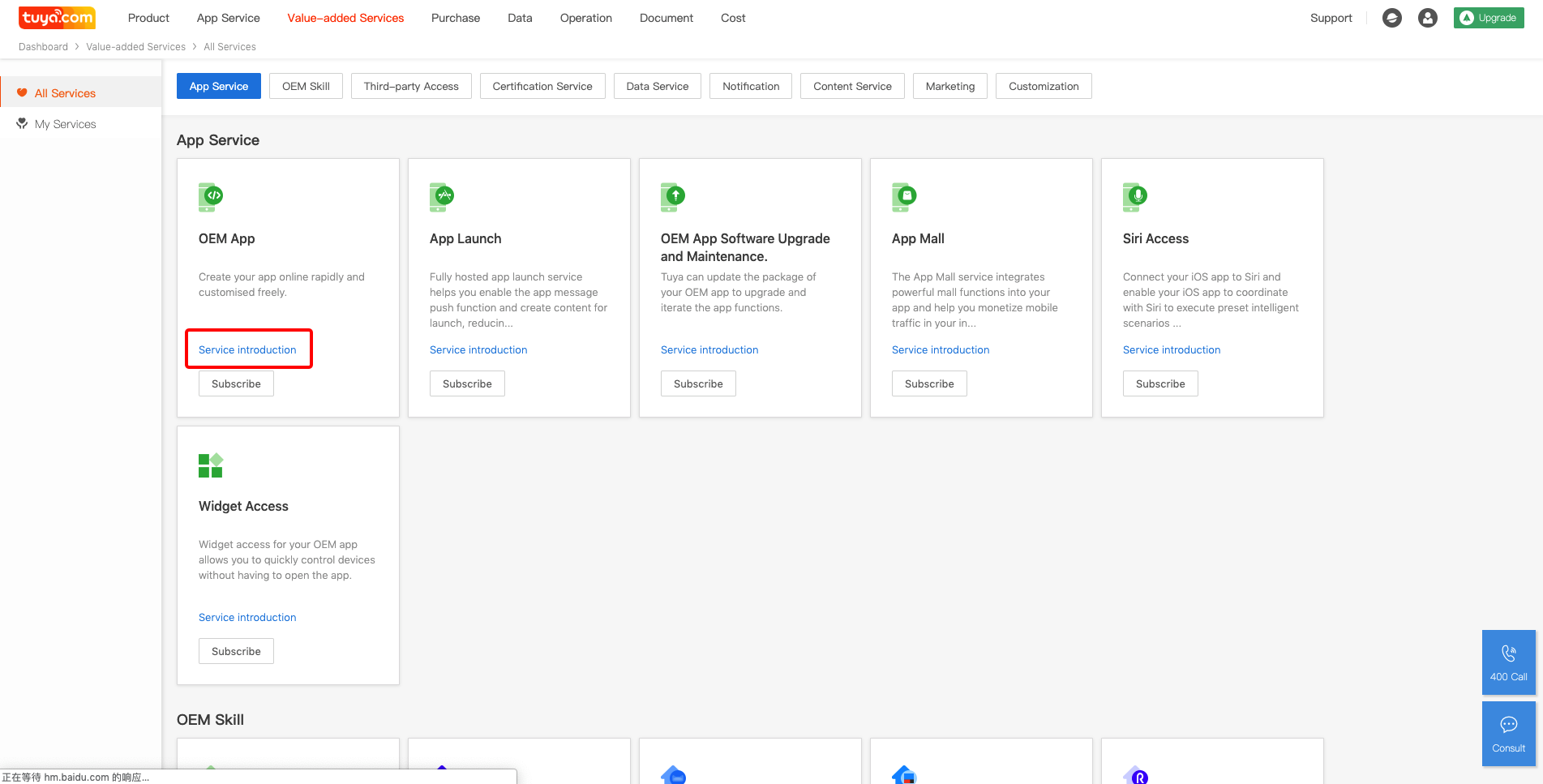 Alternatively, click Service introduction to view the service details and then click Subscribe to subscribe to the service.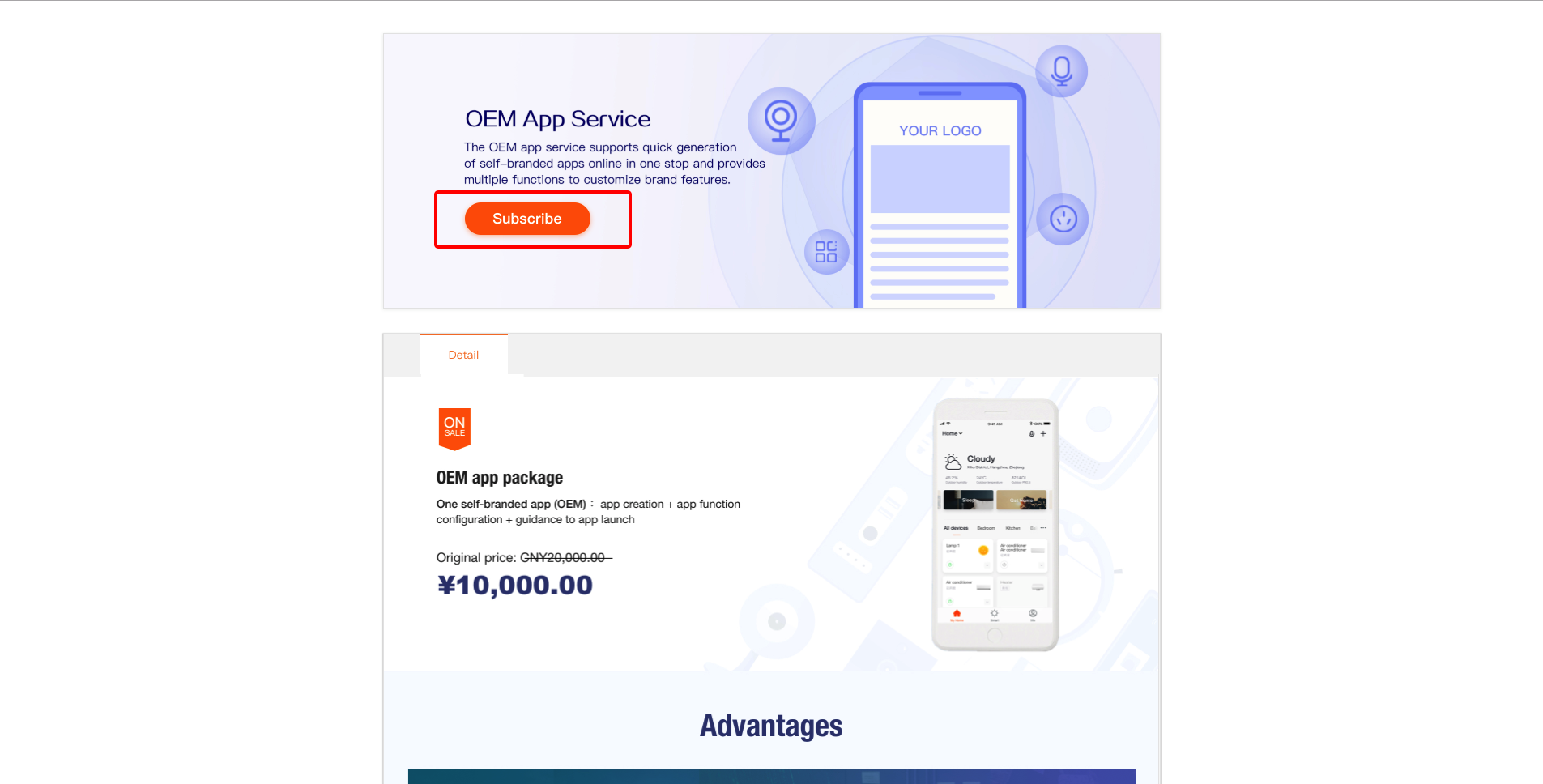 Note: The OEM app creation page also provides an OEM App service purchase entry.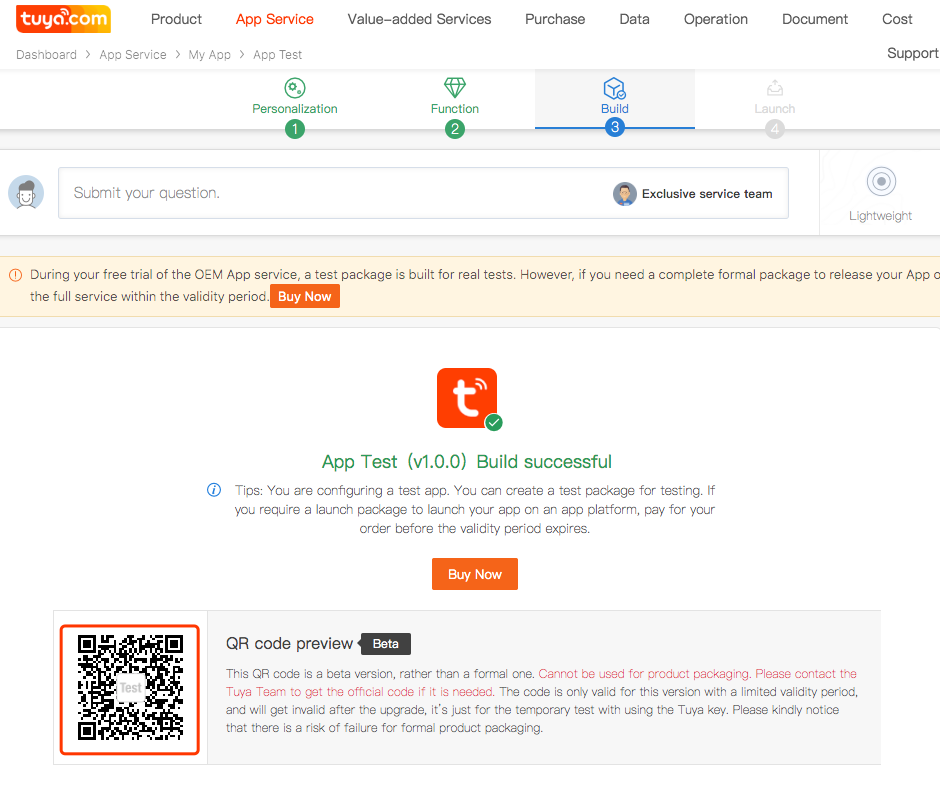 4. Entering Purchase Information
(1) Select a created OEM app.
(2) If you have a coupon, redeem it. If you require an invoice, select Need for Invoice and specify the invoice information. After the service is enabled, contact your Tuya business manager to obtain an invoice.
(3) Click Buy now to pay for your order.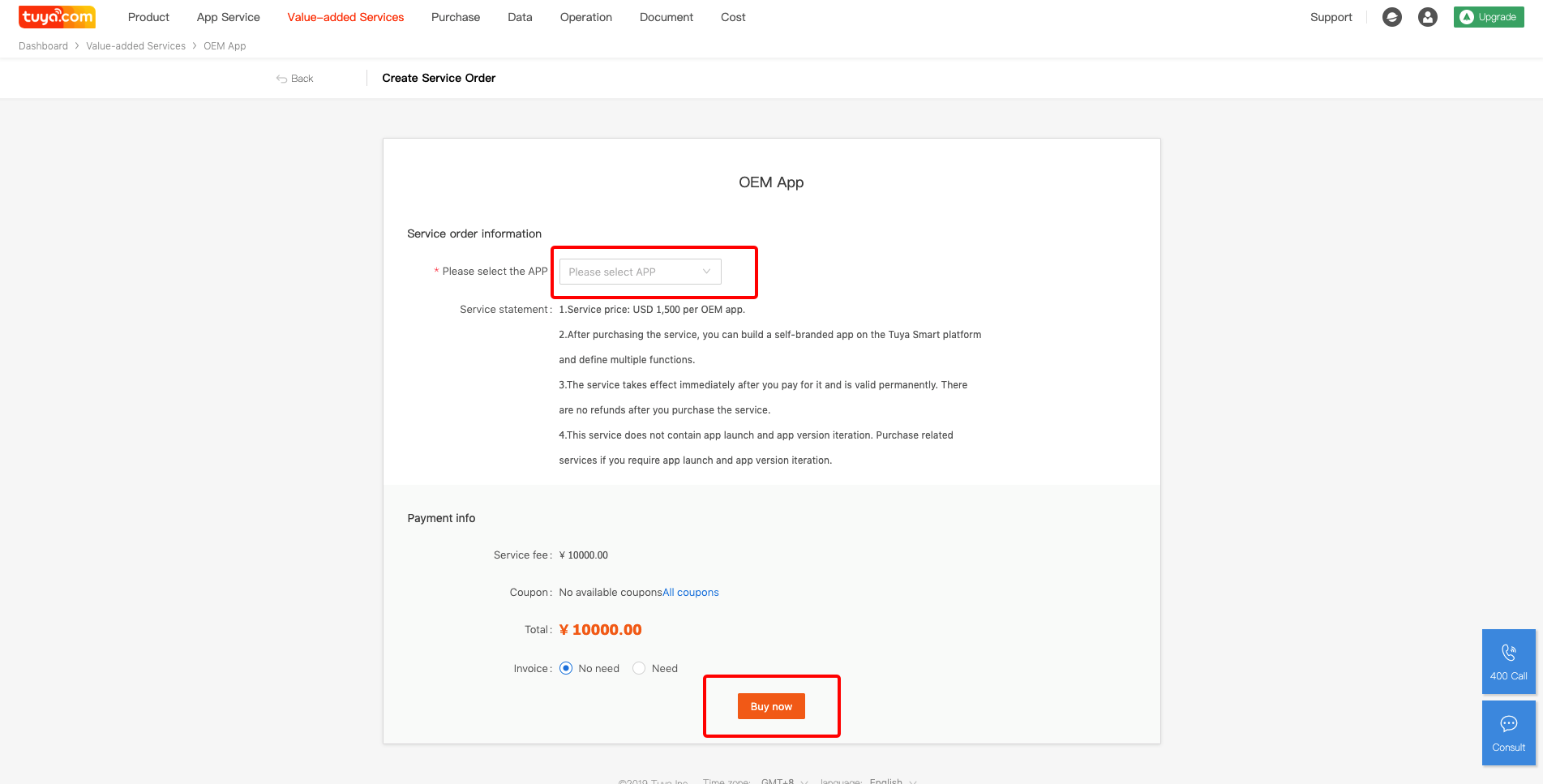 5. Selecting a Payment Method
Select a payment method on the Corporate online banking, Third party payment, or Offline remittance tab page.
III. FAQs
1. What Are the Differences Between the Trial and Official OEM Apps?
Only official OEM apps support certificate configuration and launch onto the market. Trial OEM apps do not. However, the service processes for the official apps and trial apps are the same.
2. Where Can I Check the App Schema?
If your app package name is com.aa.bb, the app schema is aabb.
3. Can I Create Multiple Apps with One Account?
OEM apps are classified into trial apps and official apps. The number of trial OEM apps that can be created is subject to your account level. You can create three trial apps with an individual account, 50 trial apps with a corporate account, and 100 trial apps with a flagship account. (Deleted trial apps are not counted.) You can create an unlimited number of official apps.
For more FAQs, visit http://faq.en.tuya.com/cateQuestion.htm?tntInstId=Dss_sP5T&helpCode=SCE_00000163&cateId=129712.