Cloud Recipe
I. Service Introduction
The Cloud Recipe service enables you to manage recipes and provide automatic cooking services for consumers.
All recipes are stored on the cloud, and a friendly interactive experience on recipe editing is provided.
A public panel is supported to reduce the product development period.
This service applies to all devices that support customized cooking, including rice cookers, blenders, sous-vide machines, frying machines, and airfryers.
II. Service Subscription Process
1. Logging In to the Tuya Smart Platform
Open the Tuya Smart platform login page (https://auth.tuya.com). If you have an account, log in with the account. If you do not have an account, click Sign Up to register an account and then log in.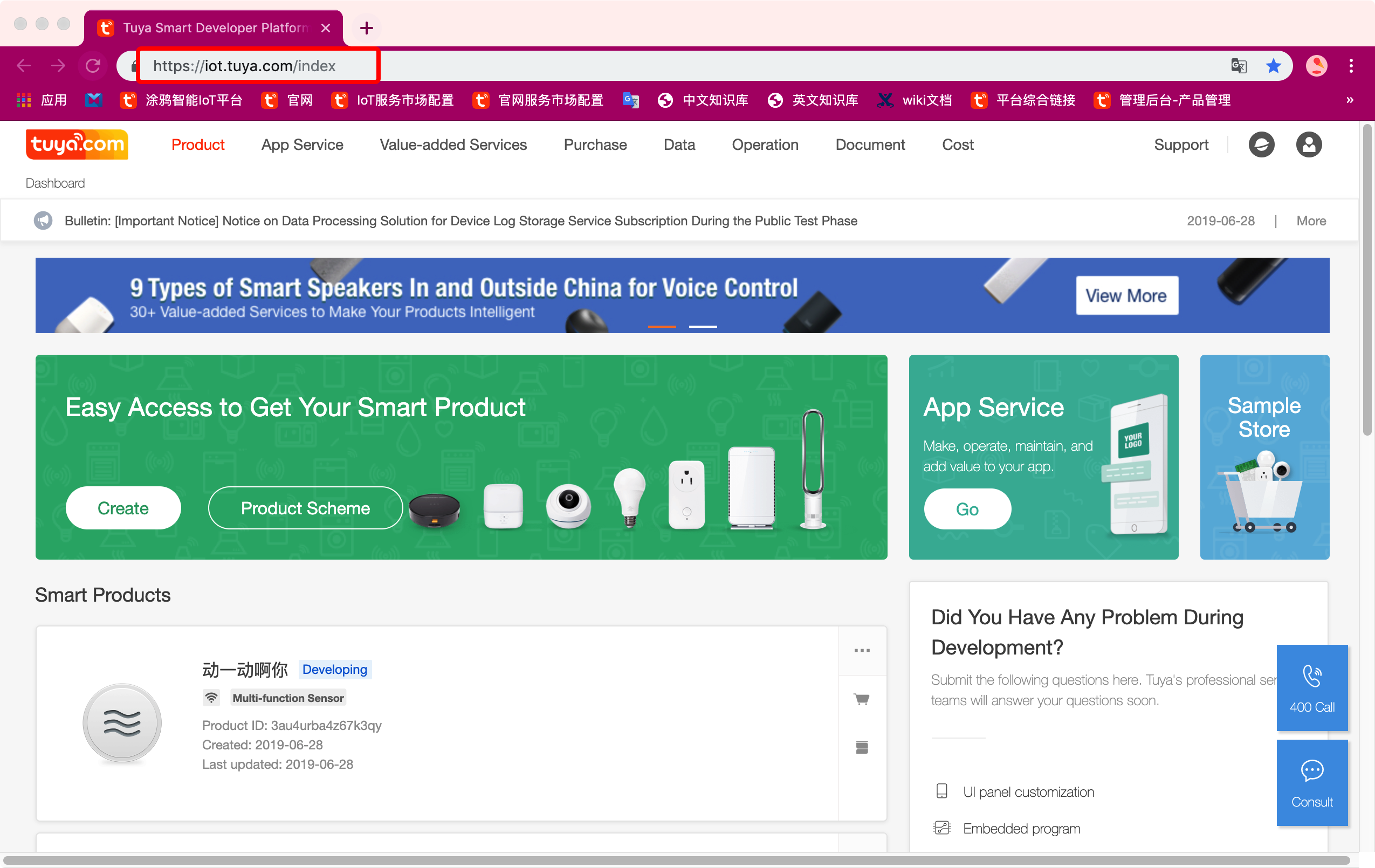 2. Opening the Value-added Services Page
Click Value-added Services at the top of the homepage to open the Value-added Services page.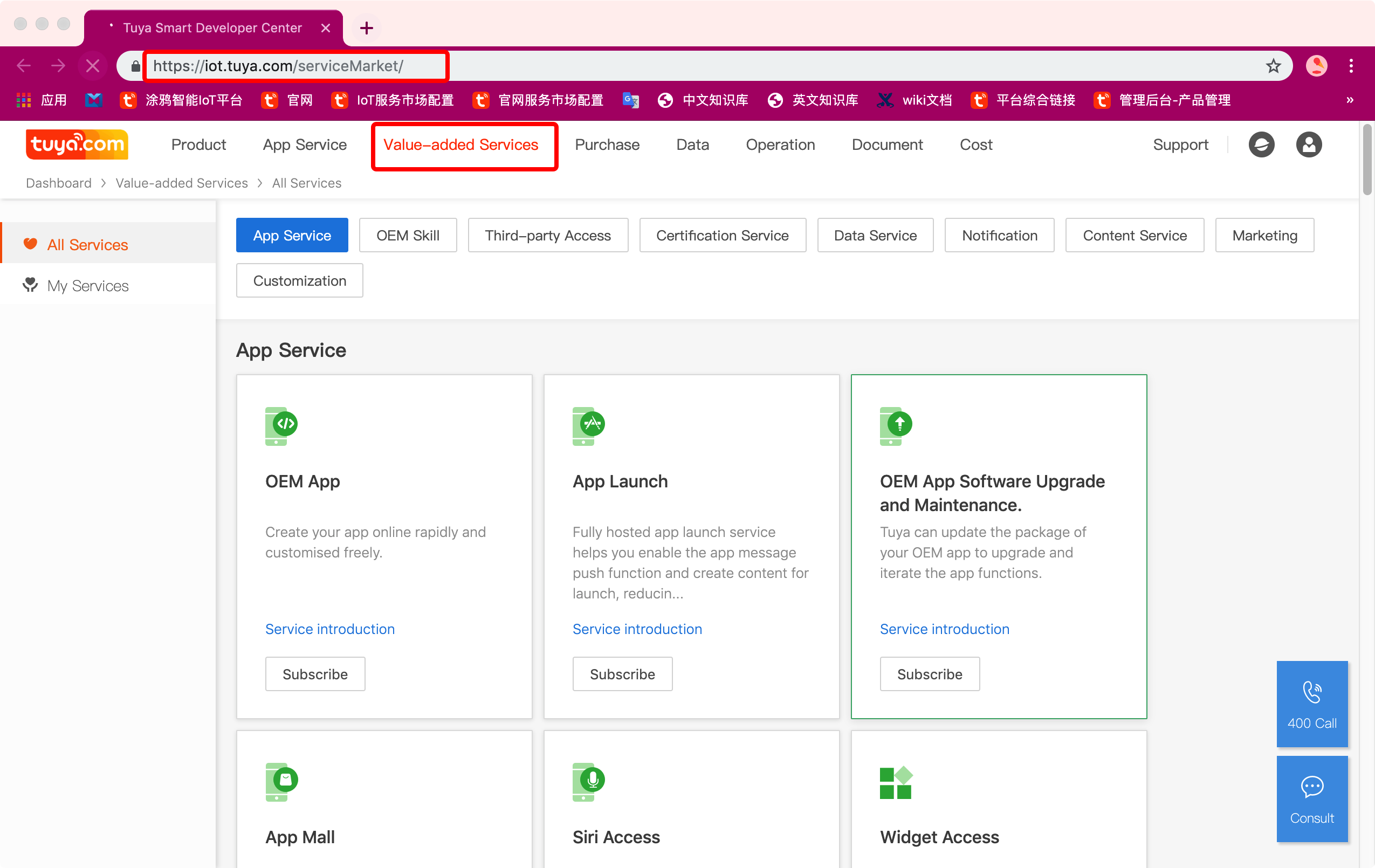 3. Selecting the Required Service
Click Content Service from the service categories at the top. Locate the Cloud Recipe service and click Subscribe. Alternatively, click Service introduction to view the service details and then click Subscribe to subscribe to the service.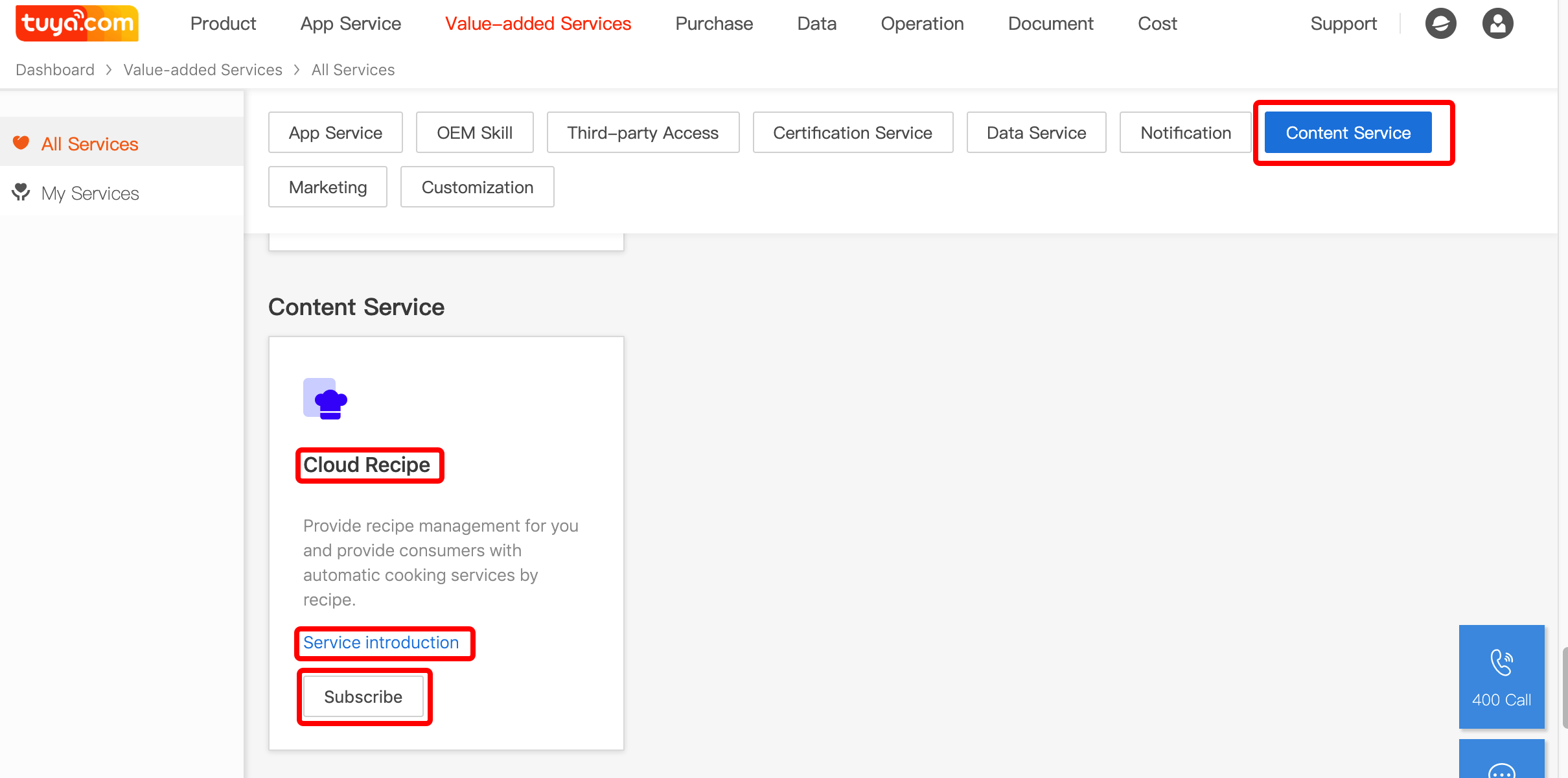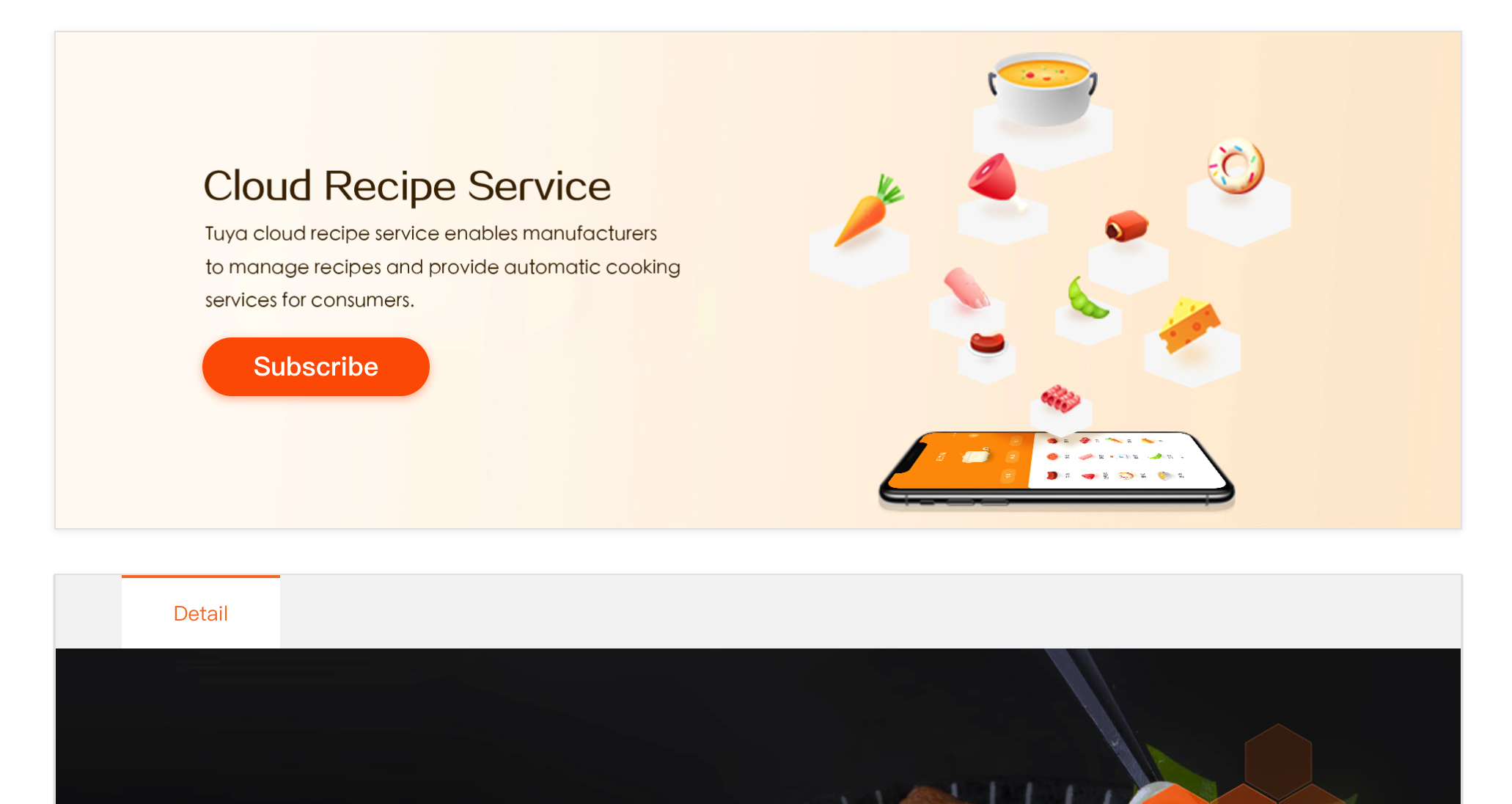 4. Entering Purchase Information
(1) Select a package based on actual requirements. The package description is provided under the package.
(2) If you have a coupon, redeem it. To redeem a coupon, contact your Tuya business manager.
(3) If you require an invoice, select Need for Invoice and specify the invoice information.
(4) Click Buy now to pay for your order.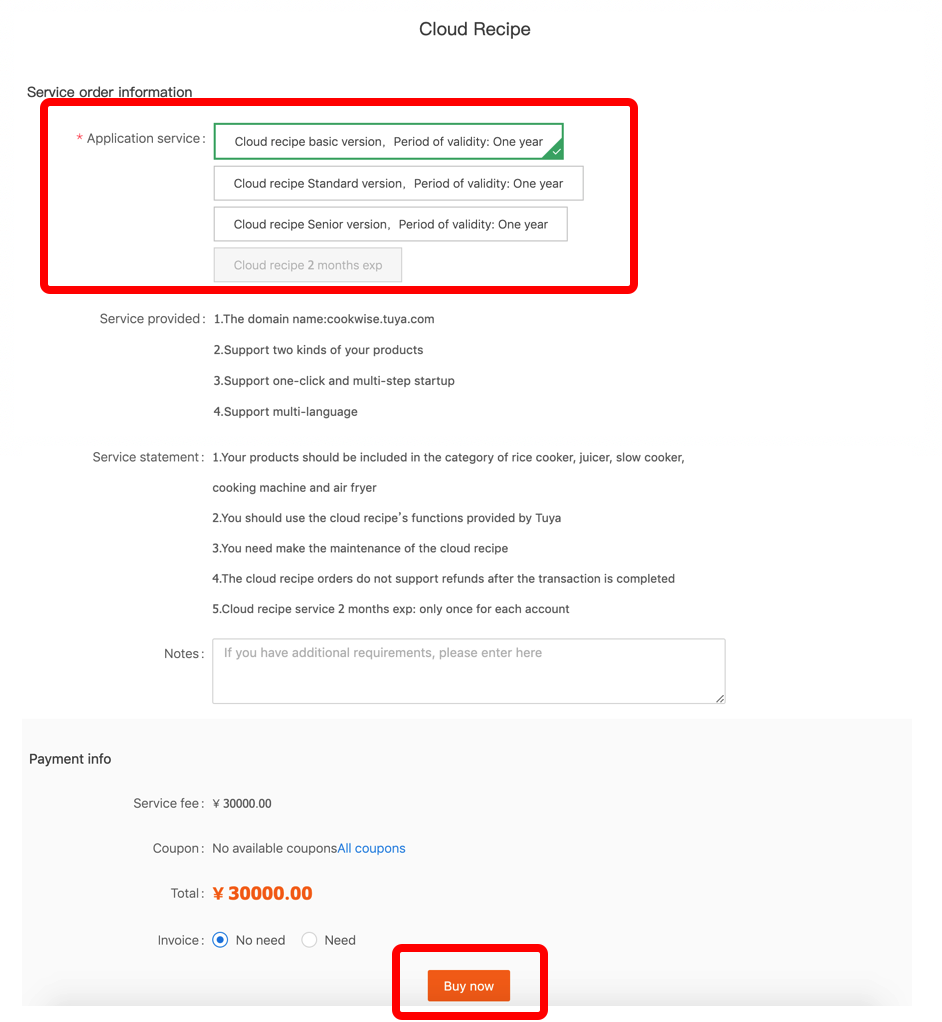 5. Selecting a Payment Method
Select a payment method on the Corporate online banking, Third party payment, or Offline remittance tab page.
6. Completing Service Subscription
After payment, the Cloud Recipe service is enabled. Click Value-added Services and then My Services to view purchased services. Click Management for the Cloud Recipe service to manage recipes. To renew the service, click Add Fund.

III. FAQs
1. Can I Upload Recipe Videos?
The cloud recipe standard and senior versions support recipe video uploading. Tuya also provide third-party content resources for selection.
2. Are Public Recipes Supported?
Only the cloud recipe senior version supports public recipes.
3. Why Can't I Preview an English Recipe that I Entered?
By default, the Tuya Smart platform shows a preview of Chinese recipes. If you want to preview English recipes, switch the language to English in the background.
4. Why Is a New Recipe that I Added Not Displayed in the App?
(1) A newly added recipe is in offline state by default and needs to be switched to the online state manually. Offline recipes are not displayed in the app. They will appear only after being switched to the online state.
(2) Check whether you have selected Cook Mode under Function Definition. Either Cook Mode or Cloud Menu List can be selected. To show the latter, delete the former.
5. How Can I Apply for the Cloud Recipe Service in Languages Other than Chinese and English?
The Cloud Recipe service in other languages is not available yet. Stay tuned.
For more FAQs, visit http://faq.en.tuya.com/cateQuestion.htm?tntInstId=Dss_sP5T&helpCode=SCE_00000163&cateId=129732.