Door Lock SMS Notification
I. Service Introduction
Tuya provides temporary setting of passwords and short messaging service (SMS) for smart door locks, improving operational efficiency and user experience.
Multiple Packages
This service supports SMS notifications in 204 countries and regions. It is enabled immediately after you pay for it.
Temporary Password Generation
Door lock users can set temporary passwords in the smart door lock control panel of the mobile app and send them to visitors using SMS messages to manage temporary passwords of visitors conveniently.
SMS Notification Templates
This service provides free SMS notification templates.
II. Service Subscription Process
1. Logging In to the Tuya Smart Platform
Open the Tuya Smart platform login page (https://auth.tuya.com). If you have an account, log in with the account. If you do not have an account, click Sign Up to register an account and then log in.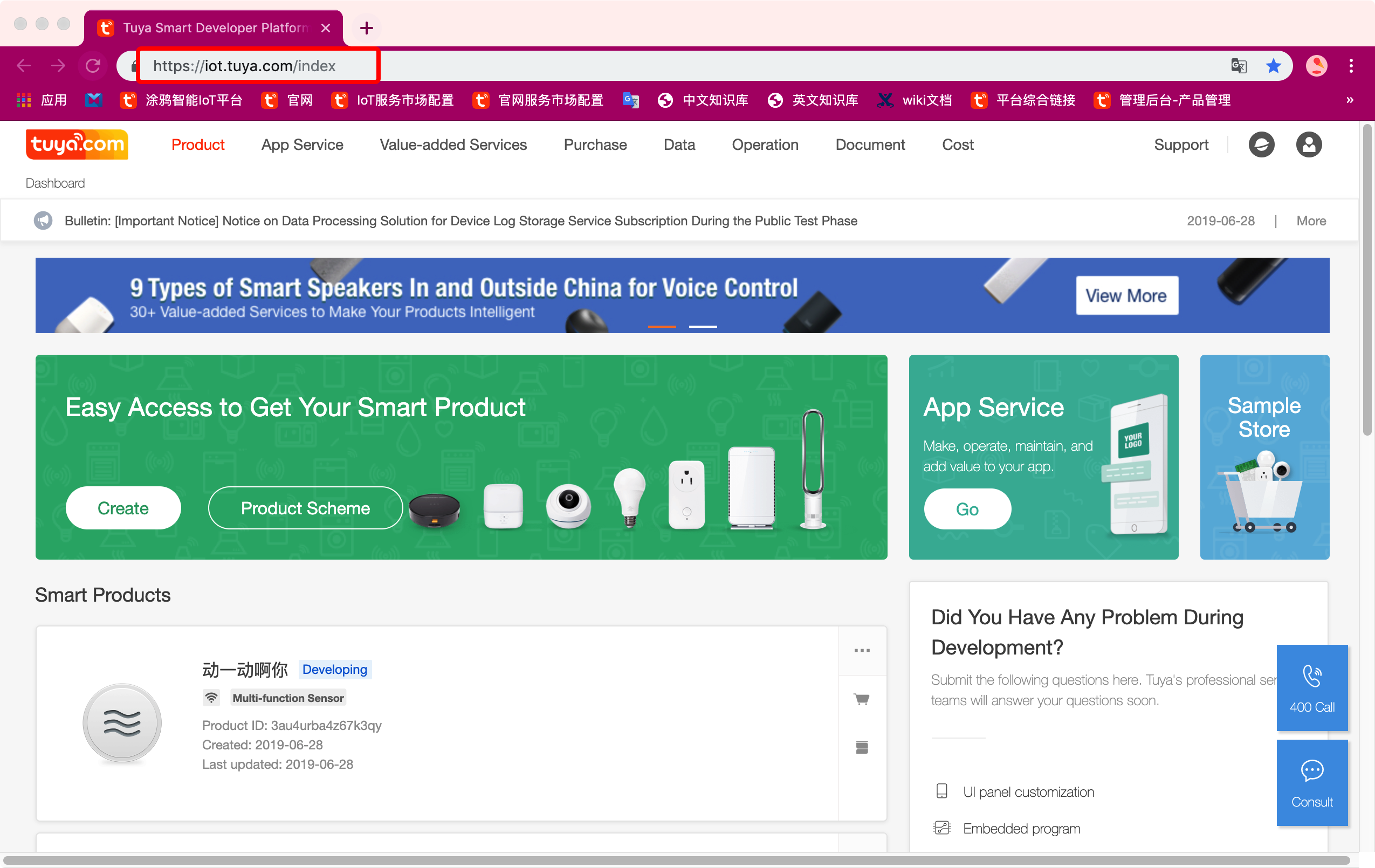 2. Opening the Value-added Services Page
Click Value-added Services at the top of the homepage to open the Value-added Services page.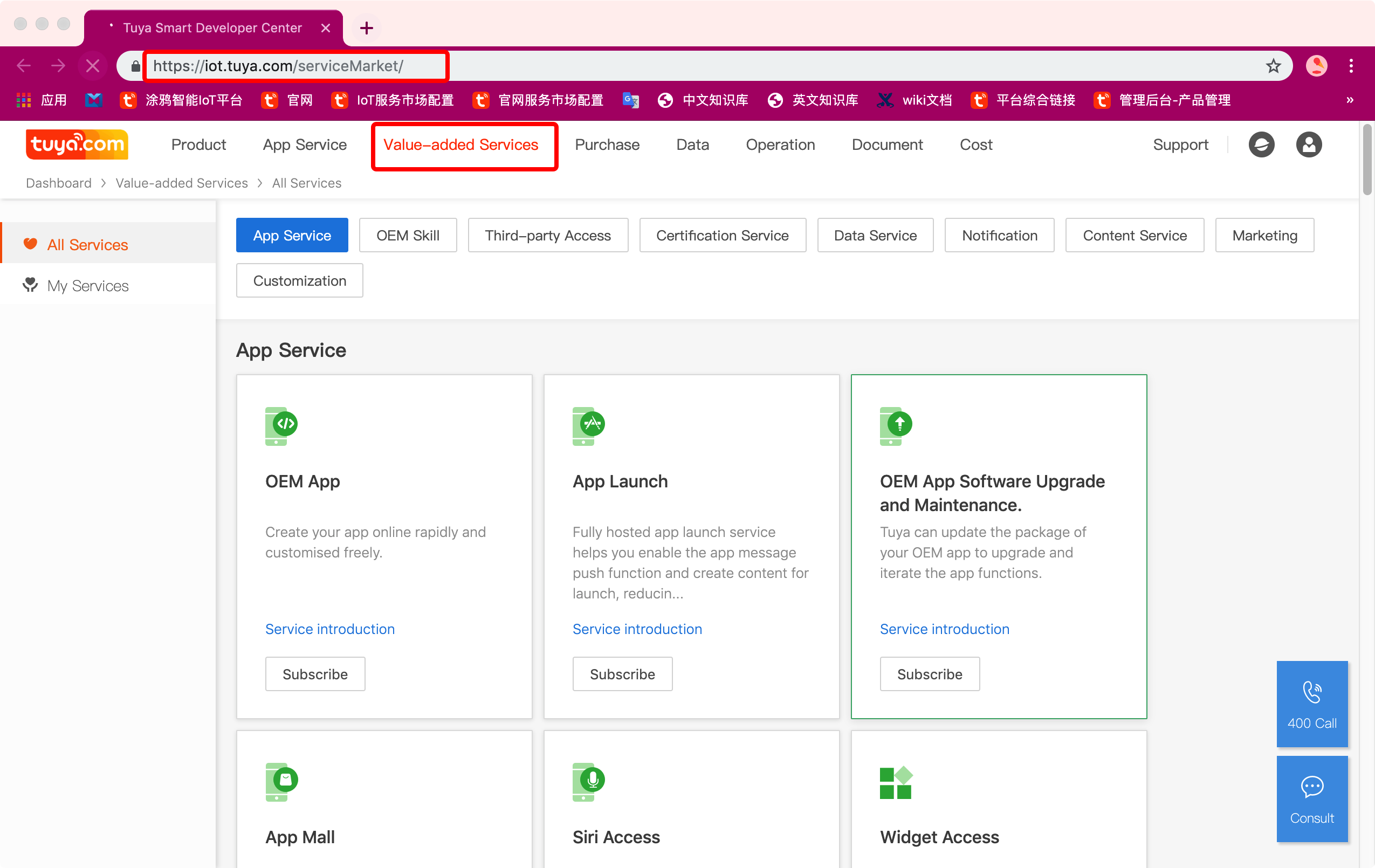 3. Selecting the Required Service
Click Notification from the service categories at the top. Locate the Door Lock SMS Notification service and click Subscribe. Alternatively, click Service introduction to view the service details and then click Subscribe to subscribe to the service.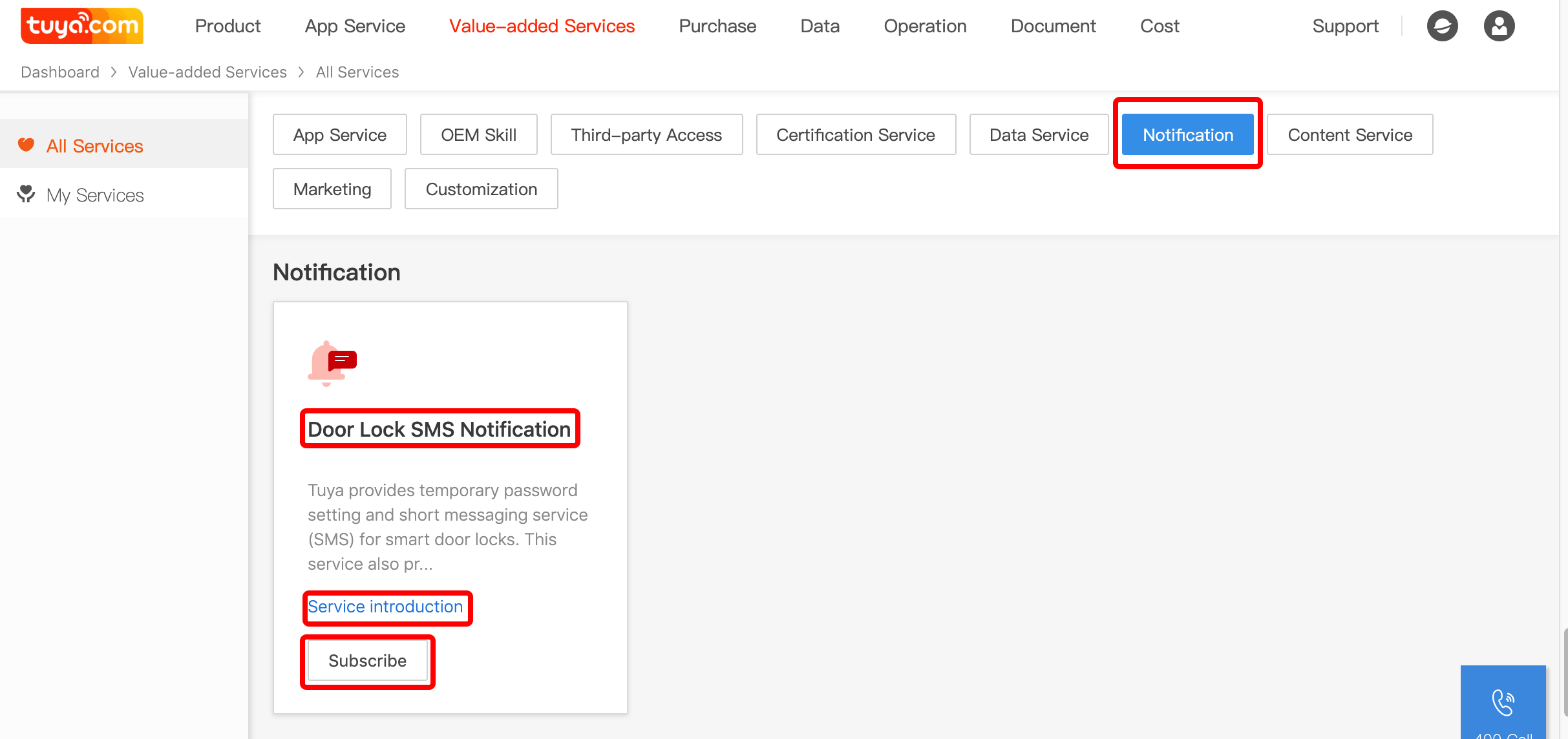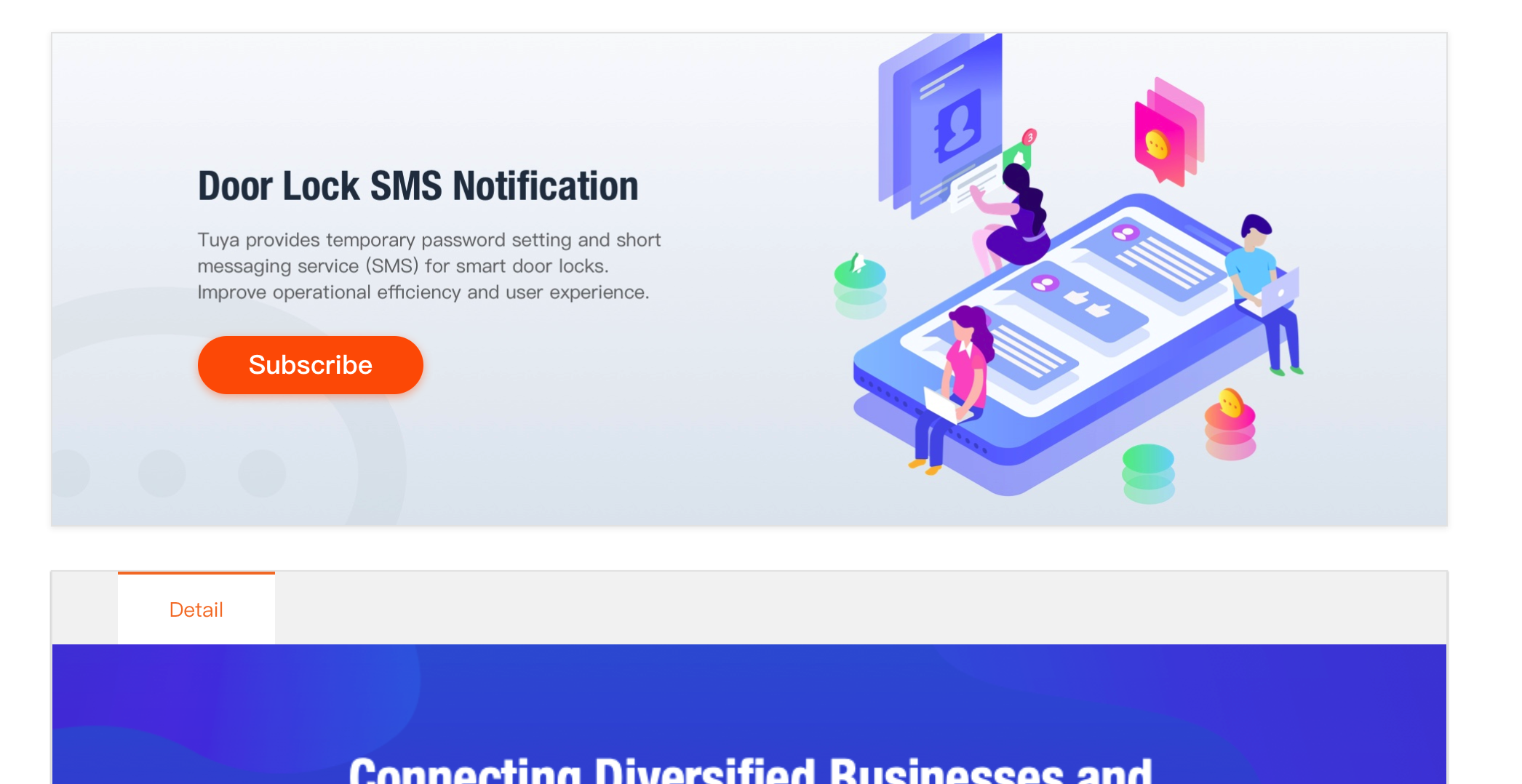 4. Entering Purchase Information
(1) Select a package based on actual requirements.
(2) View service information.
(3) If you have a coupon, redeem it. To redeem a coupon, contact your Tuya business manager.
(4) If you require an invoice, select Need for Invoice and specify the invoice information.
(5) Click Buy now to pay for your order.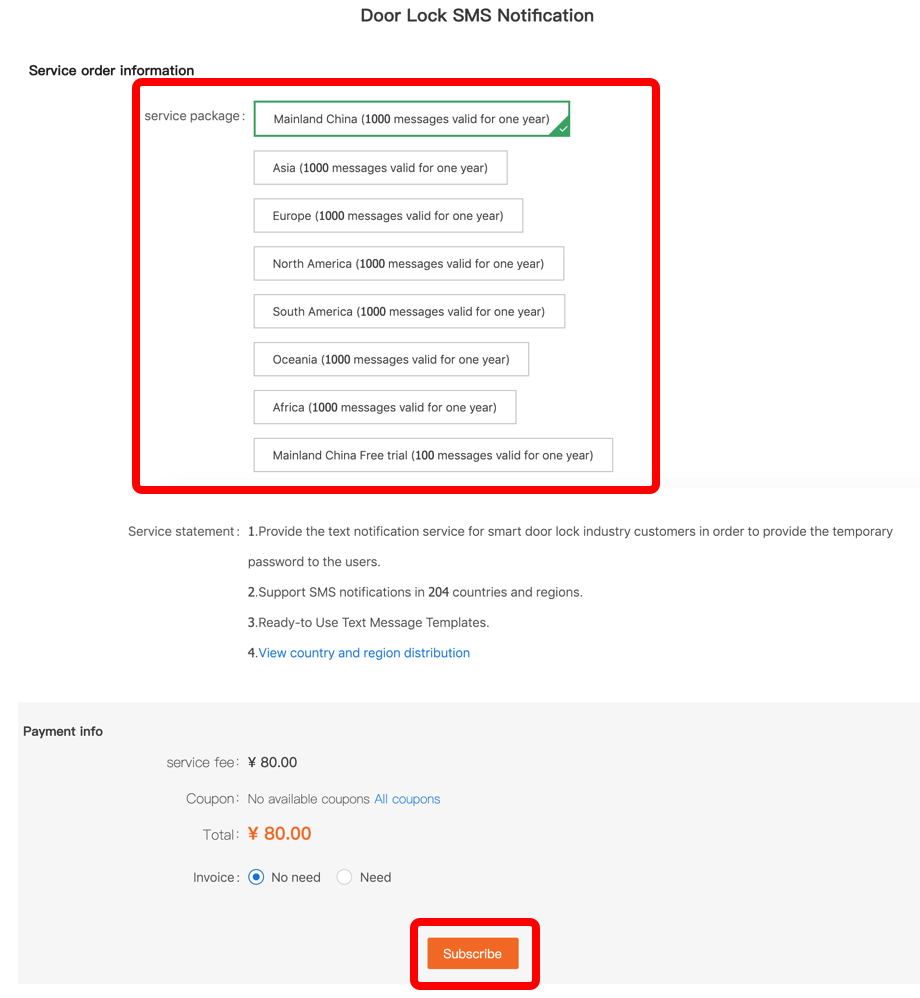 5. Selecting a Payment Method
Select a payment method on the Corporate online banking, Third party payment, or Offline remittance tab page.
6. Completing Service Subscription
After payment, the Door Lock SMS Notification service is enabled. Click Value-added Services and then My Services to view purchased services. Then, click Management for the Door Lock SMS Notification service. You can renew the package, view SMS notification sending records, and set the use scope on the Service Details page.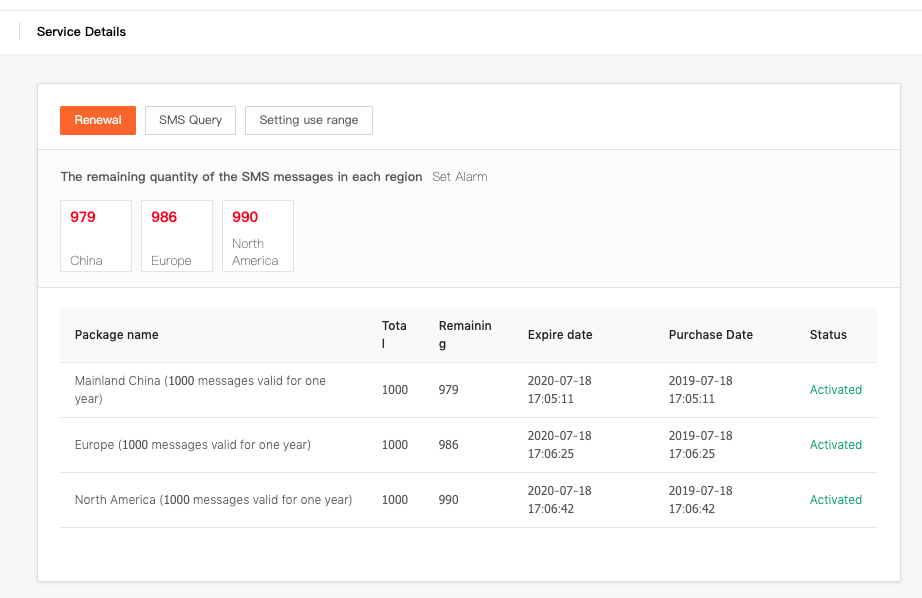 III. FAQs
1. Is the Sender's or Receiver's Mobile Phone Number Displayed in the SMS Notification Sending Records?
The receiver's mobile phone number is displayed. The area code of the SMS notifications is determined by the area to which the sender's app account belongs.
2. How Many SMS Notifications Can One Mobile Phone Number Receive Every Day?
Click My Services and click Management for the Door Lock SMS Notification service to enter the Service Details page. Click Setting use range to set the maximum number of SMS notifications that a mobile phone number can receive each day.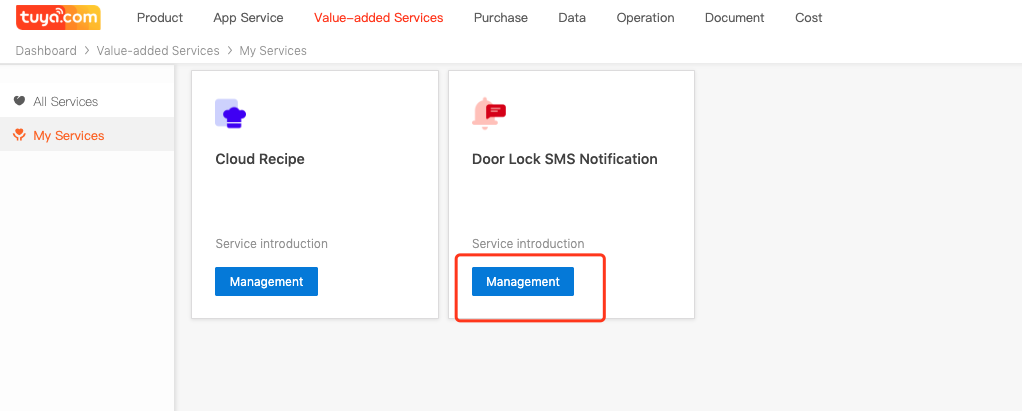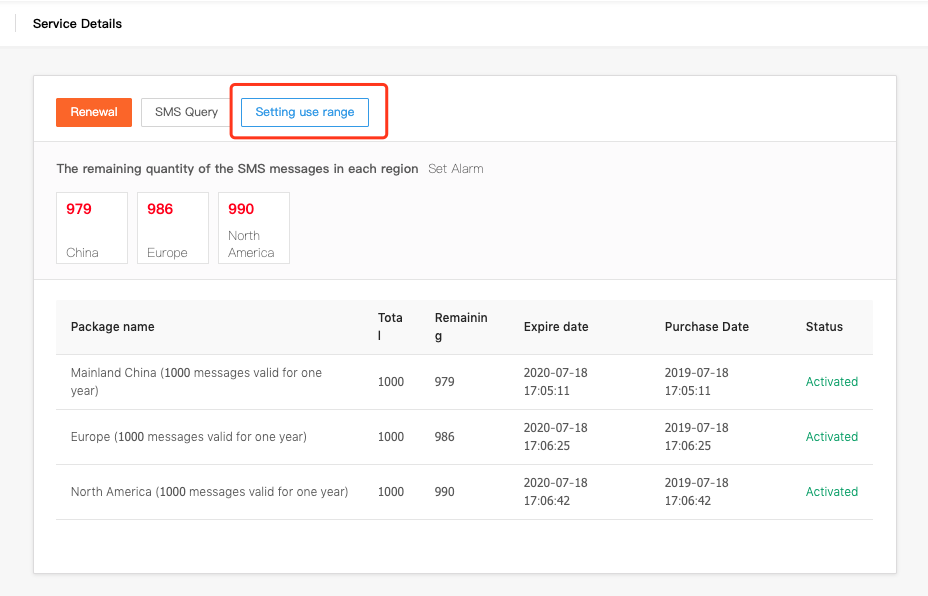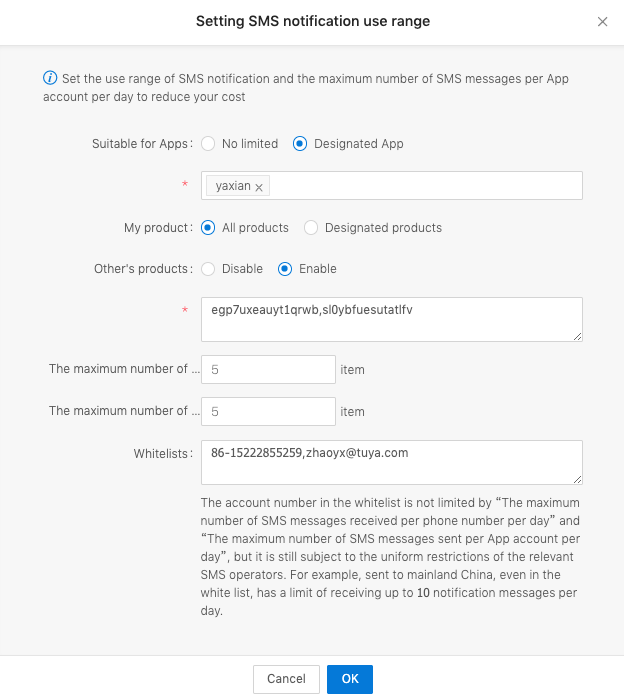 3. Will I Receive a Notification after the SMS Notifications Contained in the Package Are Used Up?
On the Service Details page, click Set Alarm to set the threshold for triggering an alarm and the mobile phone number to receive alarm notifications. When the number of remaining SMS notifications is fewer than the threshold, an SMS notification will be sent to the mobile phone number that you have specified.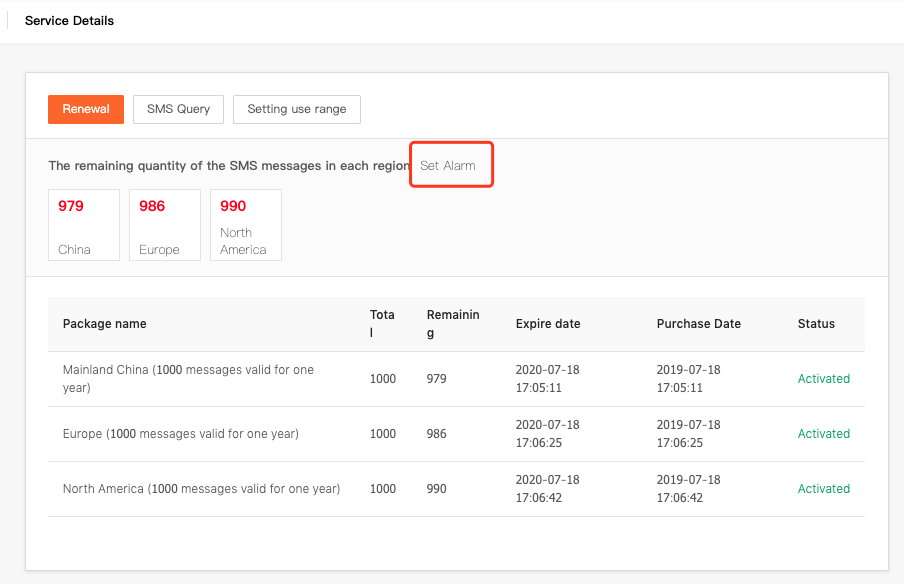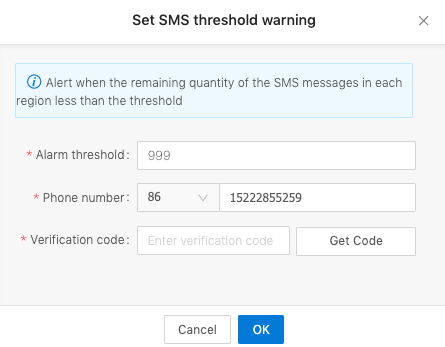 4. How Long Does It Take for the Door Lock SMS Notification Service to Take Effect After I Pay for It?
The Door Lock SMS Notification service is enabled for you immediately after you pay for it.
For more FAQs, visit http://faq.en.tuya.com/cateQuestion.htm?tntInstId=Dss_sP5T&helpCode=SCE_00000163&cateId=129731.