Third-party Access
I. Service Introduction
Tuya connects your smart devices to nine mainstream voice assistants in and outside China for users to control your smart devices with voice commands and allows users to set specific conditions and actions on the IFTTT platform to ensure automatic smart product association.
Supported third-party voice assistants and platforms include:
In China: Tmall Genie, Rokid, Xiaodu, Xiaowei, Tencent Jingle, DingDong, and Xiaoai Outside China: Alexa Echo, Google Home, and IFTTT
II. Service Subscription Process
1. Logging In to the Tuya Smart Platform
Open the Tuya Smart platform login page (https://auth.tuya.com). If you have an account, log in with the account. If you do not have an account, click Sign Up to register an account and then log in.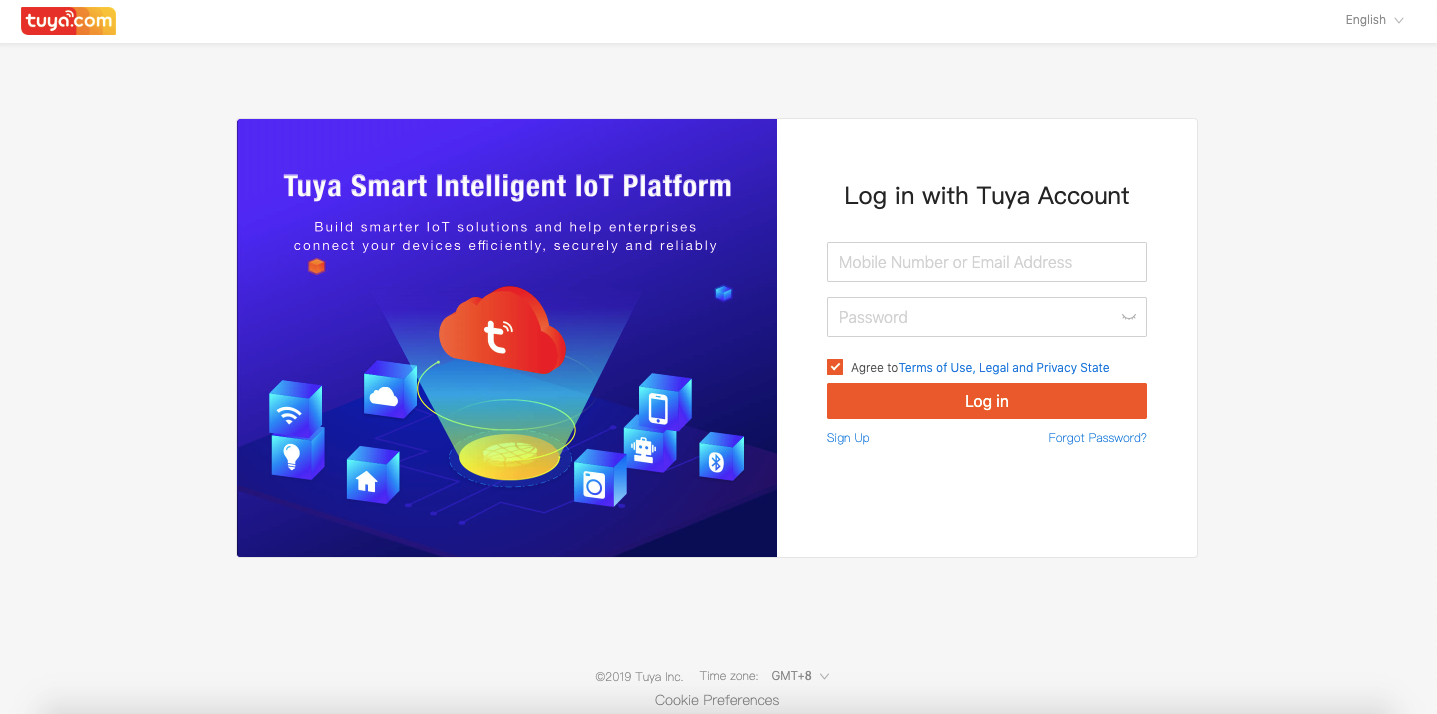 2. Opening the Value-added Services Page
Click Value-added Services at the top of the homepage to open the Value-added Services page.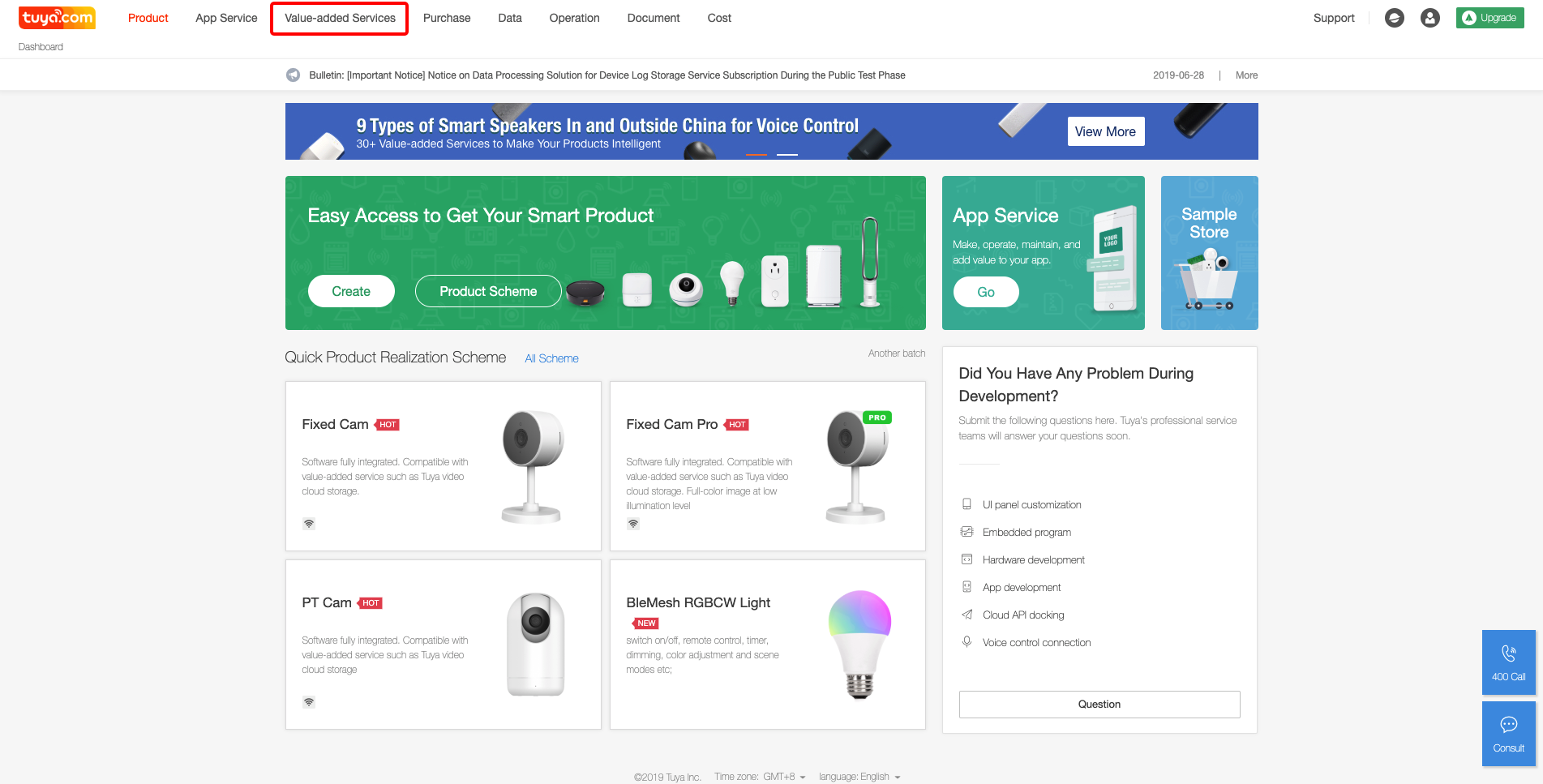 3. Selecting the Required Service
Click Third-party Access from the service categories at the top. The Amazon Alexa Access service is used as an example. Locate the Amazon Alexa Access service, and click Subscribe to open the Create Service Order page.
Alternatively, click Service introduction to view the service details and then click Subscribe to subscribe to the service.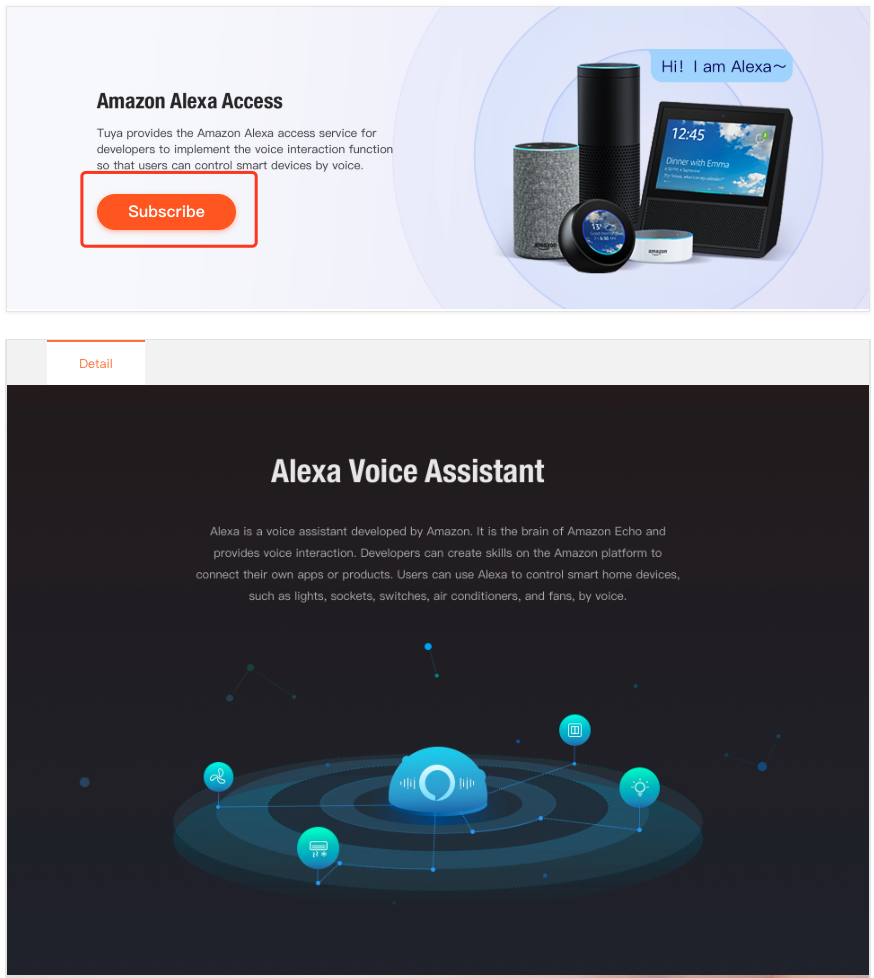 4. Submitting an Application
Select one or more products (PIDs) for which to enable the Amazon Alexa Access service. (Typically, about 100 PIDs can be selected.) Click Submit Requests.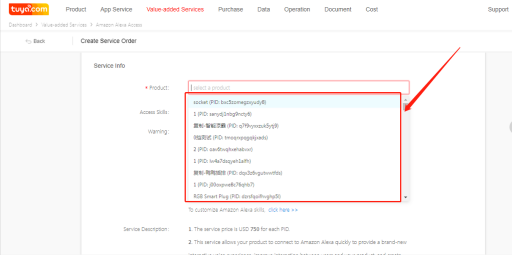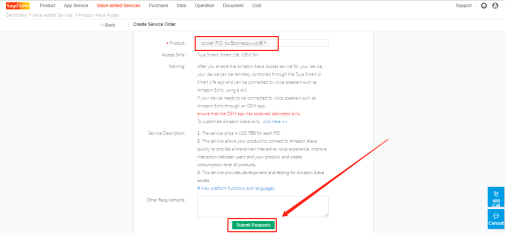 5. Waiting for Service Approval
After you select products and submit an application, the platform automatically determines whether the products can connect to Amazon Alexa.
If a product can connect to Amazon Alexa:
(1) Refresh the page to subscribe to the service automatically within 2s for most standard product categories, including electrical engineering and lighting products, IPCs, remote controls, fans, curtains, curtain switches (plug-and-play), air purifiers, air conditioners, and heaters, as shown in the following figure.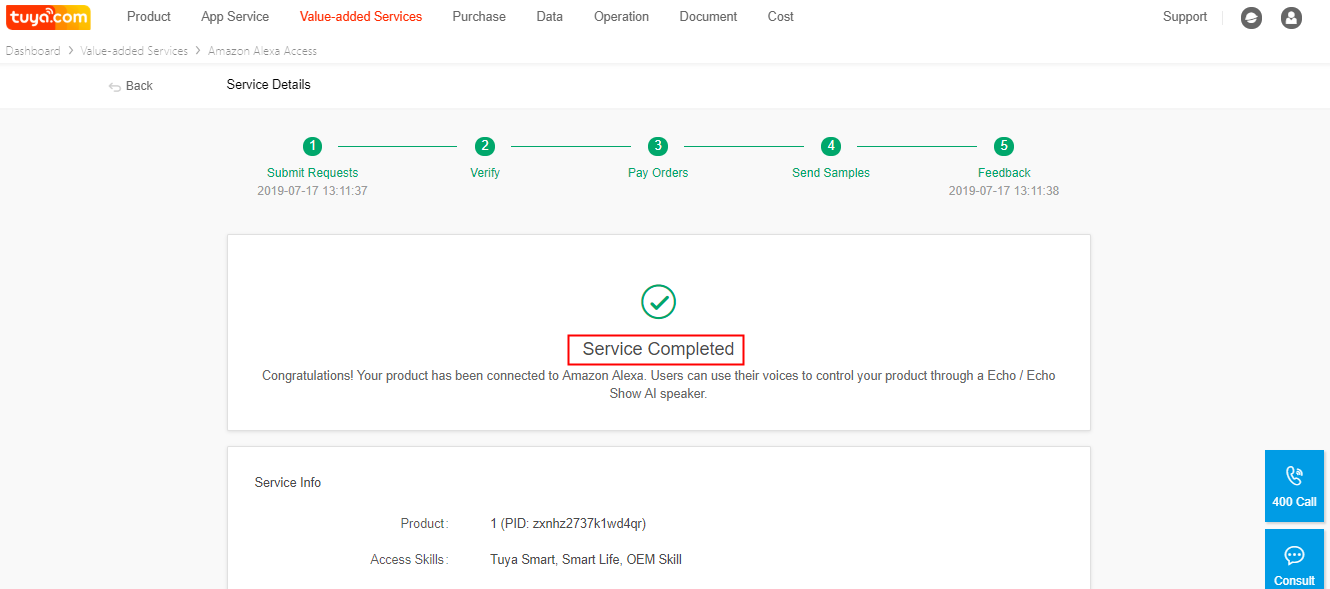 (2) Contact Tuya personnel to subscribe to the service within two workdays for non-standard product categories, as shown in the following figure.

If a product cannot connect to Amazon Alexa, the following page is displayed after you submit an application and refresh the page.
Note: Tuya provides free third-party access services for cooperated customers. If a message, indicating that you need to pay RMB 5000 is displayed contact your Tuya business manager.
III. FAQs
1. Can Sold Products Use a Third-party Access Service that I Enabled after Mass Production?
If the sold products are under the PID for which a third-party access service is enabled, the products can be upgraded automatically to connect to the third-party voice assistant or platform without needing re-subscription.
2. How Do I Check Functions and Languages that a Third-party Voice Assistant or Platform Supports?
On the service application page, click the link for supported functions and languages to view detailed information.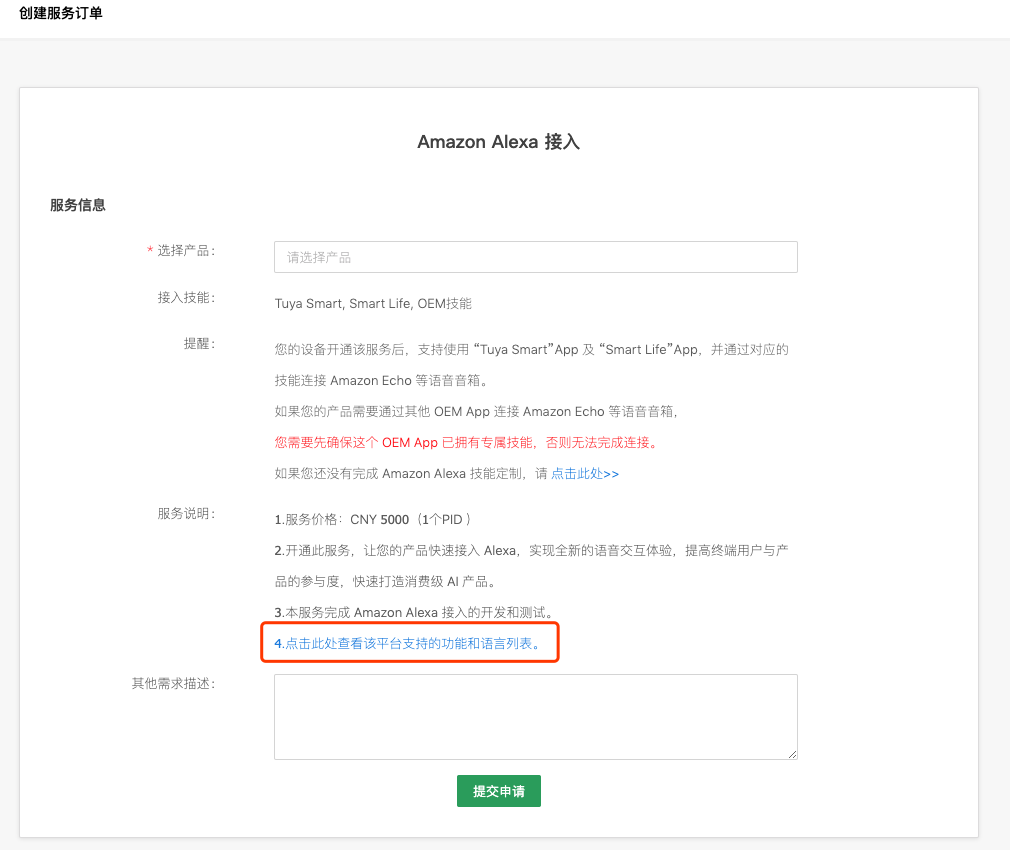 3. Why Do I Need to Provide the Product Model, Brand, and Purchase Link to Enable the AliGenie Access Service?
The product model, brand, and purchase link help increase traffic and exposures for a larger purchase volume. The product model will be displayed next to the Tmall Genie device list, and the product brand and purchase link can be displayed in the smart home entry of the Tmall Genie app.
The purchase link must meet the following conditions: (1) It is a link on Tmall or Taobao. (2) The store name is the same as the brand name. (3) Unless otherwise specified, the Chinese and English brand names are provided. If you want to enable the AliGenie Access service, contact your Tuya business manager.
4. Can I Enable a Third-party Access Service without Sending Samples?
Samples are not mandatory. You are advised to send samples to Tuya for testing to ensure service quality and a good user experience.
For more FAQs, visit http://faq.en.tuya.com/cateQuestion.htm?tntInstId=Dss_sP5T&helpCode=SCE_00000163&cateId=129631